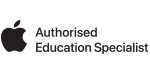 The Journey to an Apple Distinguished School
We helped Alderley Edge School for girls become an Apple Distinguished School. There's just 39 Apple Distinguished Schools in the UK, with invitation to apply extended only to schools that meet strict programme requirements.
See how we've helped an Apple Distinguished School
Overview - Alderley Edge School for Girls
Alderley Edge School for Girls (AESG) provides girls with outstanding pastoral support, innovative teaching, a broad curriculum and a fantastic array of extra-curricular opportunities. Their aim is to educate girls aged 2 to 18 within a positive, empowering environment which encourages them to think creatively, aim high and play an active part within the school community.
Achieving Apple Distinguished School (ADS) status was a target that AESG had set their sights on. Not only would they be recognised as a centre of leadership and educational excellence that demonstrates Apple's vision for learning with technology, but it would also celebrate their digital transformation journey. Executed with the support of BT, in November 2018, AESG achieved official ADS status.
The Challenge - Becoming an Apple Distinguished School
Apple believes schools with ADS status are amongst the most innovative in the world. Apple Distinguished Schools need to demonstrate continuous innovation, and cultivate environments in which students are excited and curious about learning - all empowered through iPad and Mac products which inspire student creativity, collaboration, and critical thinking.
Implementing a full 1:1 iPad solution comes with certain challenges. Like ensuring the Wi-Fi network and infrastructure can handle the demand of a growing device estate. Over the last 3 years the numbers of iPads connected to the school's network has tripled. So ensuring that AESG had a network that was scalable and reliable was key in their overall IT plan.
Also, ensuring that teachers, educators and staff were on board with accepting and integrating iPads into the classroom proved challenging. BT and Apple helped the school train staff and build their trust in the technology and overcome any worries.
The Solution - How iPad can help your school
A Complete Classroom solution with iPad
There was already a large Apple user base in the school and pupils were comfortable with the intuitive user experience. This meant the need for technical support was minimised, freeing up internal IT resources to work on other priorities. Cost, available apps, reliability and long battery life also made iPad the right choice for them.
Adopting mobile technology in the classroom has allowed teachers to create a dynamic learning environment focused on active learning and deeper engagement. iPad has given students instant access to a world of information which teachers utilise to deliver dynamic and engaging lessons. Students develop into autonomous researchers and independent thinkers.
Teachers are able to bring a topic to life in ways that were previously unimaginable. They guide and coach their students with well-designed tasks and can respond to the differing needs of individual students within the lesson.
iPad provides teachers with the platform they need to tailor learning to meet individual needs more effectively. The technology has inspired creativity and students have greater choice over how they record, develop and communicate their ideas.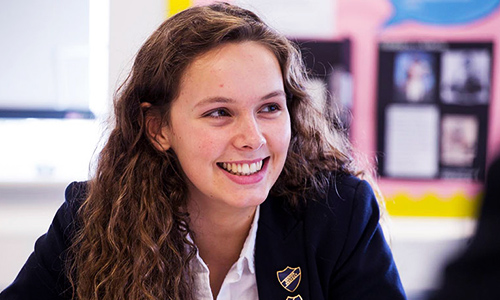 "I really love using my iPad. In English we wrote a poem and the teacher let us record it using GarageBand. I was able to add a backing track which really made it special."
Student
Learn more
The Result - A 1:1 iPad solution for your classroom
Journey with BT and Apple
At BT, we're proud to have been awarded the prestigious Apple Solution Expert for Education (ASE) status. This means we've been specifically selected by Apple for our proven expertise in providing technology solutions to education institutions, and can work with them to transform teaching and learning.
BT and Apple supported AESG with a 1:1 iPad solution that works reliably and securely with the rest of the school's IT infrastructure. Working with the school we've built a successful solution. We've provided Apple Professional Learning training to teachers and faculty and have helped the school create innovative and enriching classes.
"We had to ensure both the network and the Wi-Fi capability across school was up to scratch so we could get the best out of using iPad. Choosing a partner like BT who can not only provide devices, but also support your whole IT ecosystem makes this easy...BT has been an invaluable partner to Alderley Edge School for Girls throughout much of the 1:1 process, both as the supplier of our iPad devices and an incomparable source of advice and support."
Neal Plews
IT Development Manager
Achievements - Why choose iPad for your classroom?
AESG have fully implemented an iPad 1:1 programme which is now well established and used across all subject areas. Their sixth form also supports both iPad and MacBooks via a Bring Your Own Device (BYOD) programme.
With technological innovators amongst their teaching staff, along with high quality facilities and the latest technology in classrooms, AESG are now able to provide a unique learning experience for all their students.
94
%
agree that iPad improves their learning experience1
75
%
agree that iPad allows them to be more creative in their work1
97
%
agree or strongly agree that the school Wi-Fi is reliable1
90
%
prefer to present their work using iPad1
AESG Senior School iPad Survey, Jan 2018
Related content
Get the conversation started
BT has a dedicated team of education specialists. We're here to support you with all aspects of your school, college or university's technology strategy across network, devices and apps. Just tell us how we can help and we'll have one of our education specialists call you back with free, no obligation advice.
---