Make sure you can always be heard
The Speak series has been created by Jabra as a way of enabling crystal clear communication. When it comes to staying connected it's never been easier with intelligent, industry leading audio solutions from Jabra: allowing you to get on with work without distractions.
Collaborate the easy way with Jabra Speak
The feature-filled Jabra Speak Series makes conference calls easy with intuitive interfaces, multiple connectivity options and superb sound quality. Intuitive and easy to use, Jabra Speak offers all the capabilities and benefits of a conference call without the complexity. Simply connect via USB and/or Bluetooth® with crystal-clear sound, meaning no repetition or interruptions and calls that start on time
Key features of the Speak series
Slim and compact design
USB plug-and-play solution
Certified for Skype for Business
Outstanding sound quality
Stream music and sound or take voice calls
Picks up sound from virtually any direction
User-friendly call controls on the speakerphone
Connect via Bluetooth for smartphone/tablet when not at your PC1
Easy integration with your smartphone
Easy voice-guided pairing – with up to 2 phones simultaneously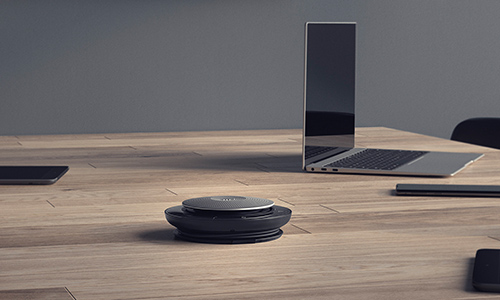 Jabra Speak 750
Engineered to power your meetings with seamless, premium audio
The Speak 750 is a premium speakerphone with full duplex sound enabling the transmission of audio from both sides of the conversation, in real time. Communicate effectively with your colleagues, collaborate on complicated projects and tasks and ensure everyone gets to participate. The Speak 750 is UC-certified, working with all leading UC platforms and also comes in a Microsoft Teams variant, with a dedicated Microsoft Teams button for easy access to your meetings, so you get maximum flexibility for your huddle room.
Shop now
Jabra Speak 710
Engineered to fill a room - Amazing sound in a portable speaker
High performing omni-directional microphone and HiFi grade speaker with ability to pair two Speak 710 devices for a full stereo experience. Intuitive and easy to use exclusive portable design. Allowing you to be mobile with a lightweight design, protective travel pouch and 15 hours battery life.
Shop now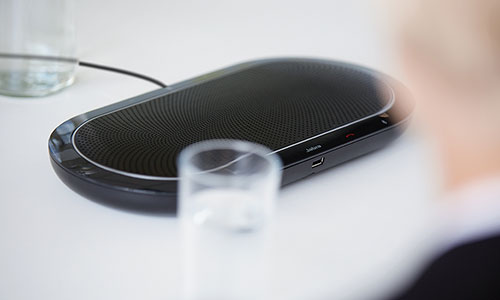 Jabra Speak 810
Engineered to make conference calls easy, and collaboration simple
The Jabra Speak 810 is a professional stationary speakerphone with crystal clear sound perfect for larger conference rooms. Increase productivity and stay focused wherever you are. The Speak 810 gives you the ability to collaborate and discuss business issues with perfect sound and simple set up. Picking up sound from virtually any direction it allows you to give people that much needed space whilst we're working differently during the pandemic.
Shop now
Jabra Speak 510
Engineered for simplicity
Take audio conferencing to a new level with Jabra Speak 510, a unique portable speakerphone enhanced with Bluetooth. You can turn any room into a conference room to stay focused wherever you are. Increase your productivity in meetings, crystal clear voice experience means everyone is heard.
Shop now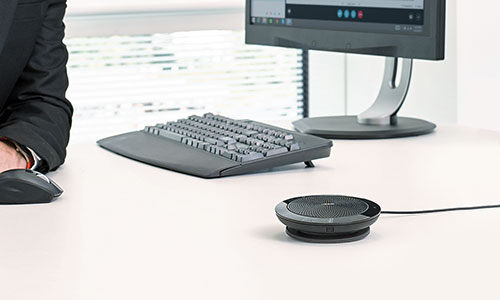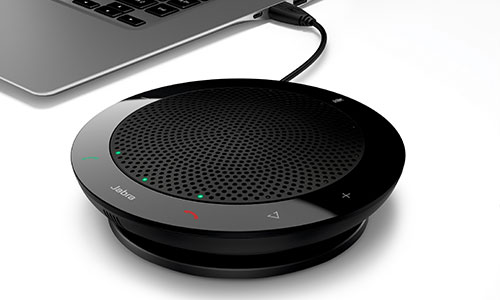 Jabra Speak 410
Engineered to simply deliver sound
Make sure your meetings run smoothly with crystal clear sound quality. The Jabra Speak 410 makes sure that everyone in the room is heard with an omni-directional microphone. Compatible with all leading UC platforms setting up for a meeting is simple. The compact design and simple plug-and-play connectivity means you can hold a meeting wherever you go.
Shop now
Browse the full Jabra Speak range
---