BT is your trusted education partner for Apple
It's not always easy for an IT Manager or school IT lead to get their vision across to the senior leadership team. BT can make this a little easier, by supporting the turning of your vision into an actionable plan that secures the buy-in you need to get going.

Together with Apple, BT can support you right from initial planning, through to managing devices and training staff.  Our team of education IT experts are here to support you with any questions or issues you face. Not only that, but we work with Apple Professional Learning Specialists to ensure the solution you've chosen is embedded and properly utilised by the rest of the faculty, helping you see the benefits come to life.
Expert advice and support
Our team are here to help you whatever your needs
Funding and Finance options
There's multiple options out there, which is right for you?
Mobile Device Management
Our MDM solution helps you manage and control all your devices easily
Added Value for Schools
We don't just provide IT, we deploy it, personalise it and work alongside you
We're an Apple authorised specialist in education. This top-tier accreditation from Apple recognises BT's expertise in supporting education customers to achieve digital transformation with Apple Solutions.
Learn more
---
Getting started with your Apple deployment
Apple Planning Essentials workshop
Get your IT transformation started with an engaging and inspiring Planning Essentials workshop. One of BT's Apple Education Specialists will support you and your school's lead team to set a vision, targets and assign actions owners. After the workshop, you'll have a directional vision and a clear plan to help you get key decision maker buy-in.
Find out more about Planning Essentials
---
A full classroom IT solution
We understand that schools need help and support when it comes to IT. Together with Apple, we've come up with a range of solutions that bring your IT requirements into packages or offerings. So it's easier for you to implement and you can get back to concentrating on teaching and learning.
Complete Classroom
Whatever stage of your Apple journey, BT can help. Whether it's implementing an MDM to help manage your devices, or giving your teachers some additional training.  Or maybe you're right at the start of your journey and want some help in planning out your strategy. We can provide your Complete Classroom and support you with a full end-to-end solution.

Learn more
---
Apple School Manager
Apple School Manager is a simple web-based portal that has everything you need to deploy iPad and Mac in your education organisation. You can automatically create Managed Apple IDs for all students and staff and give them access to iCloud, Classroom and Shared iPad, while maintaining the control your school needs.
Get your school up and running
Apple School Manager provides a central system which allows IT managers to create accounts for everyone in the school, as well as define roles and permissions, manage devices, and buy and distribute content right from the start.
Set up devices automatically
Apple have streamlined device setup for both 1:1 and Shared iPad environments. You'll be able to wirelessly configure settings and restrictions according to your school's requirements, and then easily assign devices to your students, teachers or class groups.
Get the right learning materials to the right classes
Because all your accounts, devices and their content are in sync, it's easy for your IT managers to provide classrooms with the right apps, books and learning materials when they need it.
Share devices
Shared iPad allows you to assign any student any shared iPad. They can access their personal content using a password or four-digit PIN. Because data is locally stored on the devices, after they log in, their homework, apps and assignments are exactly as they left them.
Azure AD (Active Directory) federated authentication and managed Apple IDs
It's normal to have spreadsheets of Apple IDs to make sure your devices don't get locked if someone leaves. By using Managed Apple IDs you have full control over your school's IDs, and can even federate them with Azure Active Directory if you have this in place.
---
Apple and Cisco management
Maximise your network potential with Apple and Cisco
Whether your campus is better suited to a cloud-hosted environment or an on-premises server, our solutions offer you flexibility in deciding how to bring Apple devices into your school.
Apple and Cisco work together to deliver a better user experience. You can optimise how your iPads communicate with a Cisco wireless network, helping your students, teachers and staff get the best possible experience. Your iOS devices and Cisco networks recognise each other and provide an optimised connection for your devices, even as you roam around the school. Your iOS devices will "talk" to Cisco networks to determine the best available wireless access points, which they then automatically transition to, without interruption.
You can also specify which apps are priorities for your learning environment, ensuring they always get the best possible bandwidth, even if your network is congested with other traffic. This is ideal in BYOD (Bring Your Own Device) environments as it makes sure that your education critical apps are not competing for network resource with students' leisure apps.
---
Apple Devices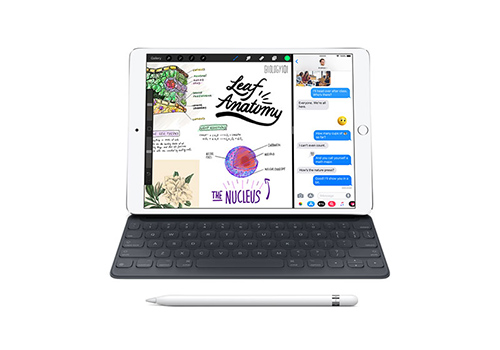 A familiar OS
Lots of your students and teachers will already have iPhones or iPads at home, so will already be familiar with the iOS interface. This can help to avoid a lot of the difficulties that can occur when introducing a new and unfamiliar OS that neither students, nor teachers are confident using. Once students venture out into the world of work, they may be required to work on a device that runs on an Apple operating system.  Getting your students familiar with producing high quality work on both macOS and iOS provides them with a desirable skillset. This could set them apart from other candidates when applying for jobs in the future.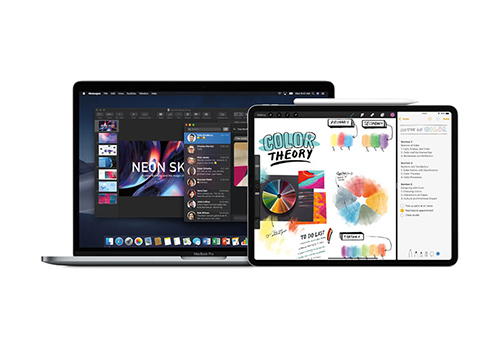 OS and devices from a single manufacturer
Alongside the familiarity that macOS and iOS offer, you can also be confident that performance and usability will be consistent across different devices. This is because only Apple makes devices which run on macOS and iOS. When device and operating systems are made by the same manufacturer, there's lots of benefits. This differs from other operating systems which are made to run on devices made by many different manufacturers and therefore the quality ranges from device to device. With Apple, you know what you're getting and won't get any nasty surprises.
Long lasting
Apple devices are extremely durable and tend to have a long life span, not to mention fantastic support and customer service.
Learn more
Long battery life
iPad, MacBook and MacBook Pro all provide up to 10 hours of battery life, while the MacBook Air provides an impressive 12 hours – more than enough to last the full school day.
Low maintenance costs
You always get the latest updates free and they're available to download the moment they're released. Your devices even alert you when it's time to get the latest version.
Simple and easy to use
Easy to navigate interface, which is extremely intuitive, with sophisticated features like proactive suggestions, predictive typing, and Siri – your personal assistant.
Learn more
Secure
Macs are very rarely prone to viruses, while iOS is designed to protect against malware and viruses. Touch ID prevents anyone else accessing your devices and all apps have been vetted by Apple.
Learn more
Get the conversation started
BT has a dedicated team of education specialists. We're here to support you with all aspects of your school, college or university's technology strategy across network, devices and apps. Just tell us how we can help and we'll have one of our education specialists call you back with free, no obligation advice.
---