BT's Complete Classroom makes going 1 to 1 easy
Get everything you need to make Apple devices the perfect fit for your learning environment with our Complete Classroom. Empower your educators and help your students take control of their learning with our solution. Whatever your strategy for deploying Apple technology, we can help you create a bespoke solution that makes the most of your investment.

We've identified two key barriers to technology being used effectively in the classroom - finance and teacher confidence. Our Apple Complete Classroom solutions helps to eliminate both.

Request a callback from our Education IT Specialists to find out more.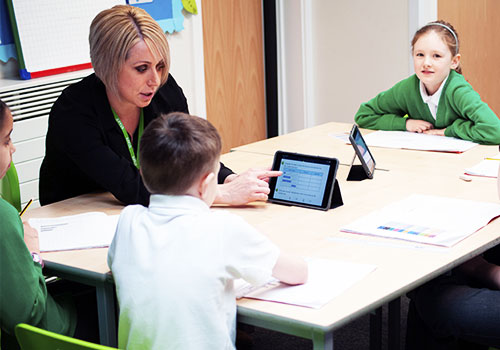 Empower your educators with Apple Professional Learning
Apple Professional Learning, or APL is a tailored form of CPD that'll cover topics your teachers and technicians will benefit from at a level and pace designed for them. We offer a "standard" APL course called "Planning Essentials". We highly recommend it for schools who want to get started with a plan to deploy many Apple devices in their learning environment.

Apple Professional Learning sessions can also be tailored to cover a whole host of training needs. One of BT's Apple Education Specialists will match you with the best trainer for your needs.
Learn more
---
Get the most out of your investment
As part of our Complete Classroom offering, we've put together great options to help you optimise your Apple investment. BT's Apple Education Specialists will support getting you all set up with these great ways to reduce admin, reduce costs and keep in control.
Device Enrolment Plan (DEP)
Deployments made simple
Zero touch administration
Get up and running quickly
Integrates with your MDM
Volume Purchase Program (VPP)
Purchase apps and books in volume
Benefit from education discounts
Quick and easy to enrol
Use your MDM to quickly distribute apps
Learn more
Apple School Manager (ASM)
Web based portal for IT admin to manage your estate
Configure device settings
Create students and staff accounts
Buy and distribute content
Learn more
---
Apple Classroom
Apple Classroom is a powerful tool to enhance learning and guide students through lessons. It helps teachers manage their classroom and support their pupils' learning. With options to lock and mute all iPads in the classroom, teachers have control over when the iPads are used. There're also ways to personalise learning by setting up groups to enable collaborative working.
Launch a specific app or webpage on all or some devices
Help students stay on task by locking them in one or a couple of apps
Use Screen View to see what students are working on
Navigate to specific content
Reset student passwords from your app
Share content on your iPad by using Classroom with Apple TV
Student work is synced at log out and ready for your next lesson
Learn more
---
Mobile Device Management
An MDM will enable you to integrate your DEP, ASM and VPP all in one location. It supports 1:1 device roll-outs, including supporting a BYOD strategy. And it'll help you unify the way your devices look and operate. Whichever MDM solution you choose, it'll help you structure the design of your Apple Classroom roll-out to make it even easier to manage.

Mobile Device Management is recommended for schools who have, or are planning a large device roll-out. MDM solutions are particularly beneficial to multi-academy trusts, because you can centrally manage all your devices, whilst still being able to create a more personal profile for each school. BT offers a range of MDM solutions, and our Apple Education Specialists will help you choose the most appropriate approach for the needs of your school.
Manage the devices
Streamline admin tasks:
Easy remote distribution of Apps, iBooks and course materials
Restrictions help maintain the iPads as required
Set up Wi-Fi, VPN and email with ease
Create classroom lessons
Assign devices as shared or 1:1
Monitor your deployment
Clear visibility of the device activity:
Clear view of workflow command progress
Dashboard view gives an instant view in real-time
Monitor the lifecycle of the devices from enrolment to deployment and beyond
Easy inventory searching to manage licenses
Secure controls
Ensure safe administration:
Devices are initially set up with a suitable level of governance
Ongoing management is easier as it follows set up protocols
Lost mode protects the device in the event of loss, theft or simply being misplaced
It takes just minutes to securely wipe and reset devices
There are a variety of MDM solutions available depending on your specific needs and budget, please contact our Education IT Specialist for bespoke pricing and packages
Get the conversation started
BT has a dedicated team of education specialists. We're here to support you with all aspects of your school, college or university's technology strategy across network, devices and apps. Just tell us how we can help and we'll have one of our education specialists call you back with free, no obligation advice.
---