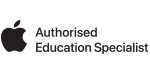 Join our free series of webinars for schools and colleges.
Take learning in music and visual arts to a new level with Apple Mac 
Better than ever for the creative curriculum
Mac is built with engineers, artists and designers in mind. And that includes the students of today, who'll become the creative professionals of tomorrow. Its high-performance graphics and highly powered processors are perfect for creative students, coders and writers. Mac is packed with advanced storage and memory, so is perfect for the most ambitious, collaborative projects in class.
And what's more, the brand new Apple M1 iMac range packs an even bigger punch thanks to the new M1 chip. 
It's the most powerful Apple has ever created and the first chip designed specifically for Mac, delivering amazing performance for the power-hungry apps used in specialist subjects like music, art and design. It's also equipped with a 24-inch 4.5K Retina display for superb levels of life-like clarity.  Combined with a range of new funky colours, the new iMac brings learning to life in a whole new way.
Six great reasons to join our webinars
Learn how Mac technology and Apple's suite of in-built apps can promote creativity, spark imaginations and support attainment in specialist subjects like music and art
See some of Apple's key apps in action like GarageBand for Music, or Photos and iMovie for visual arts
Get ideas for lesson plans and projects you can set for your students
Learn how easy it is to deploy and manage your Mac devices
Hear how affordable investing in new Mac technology can be for your school or college, with flexible leasing options from Apple Financial Services
Focus on your Continued Professional Development - Sessions 1 and 2 count towards your CPD hours
Who should attend?
Teachers
Our webinars take a "hands-on" look at creative apps for the music, media and art curriculum. Learn why the Mac range is better than ever for supporting your students with their creative subjects. You can also learn a host of useful tips on how Mac technology can be used in lessons, along with ideas for student projects.
School Leaders and ICT Coordinators
See the "art of the possible" and understand the powerful capabilities of Mac and iMac for creative subjects. Discover how Apple technology can be used to enhance learning experiences, as well as the key benefits of integrating Apple technology in your school or college. Use this knowledge to help shape your future ICT strategy.
Three "bite-sized" webinars at the end of the school day
You can attend one, two, or all three of our free webinars.
The sessions will run at the end of the school day, with the first two lasting an hour (4.00pm to 5.00pm) and the final session lasting 30 minutes (4.00pm to 4.30pm).
We've teamed up with Apple Professional Learning Specialist and experienced education consultant David Kirtlan to deliver the first two sessions, so they'll be packed with practical and useful advice.
The final webinar will be delivered by Eric Perry, one of our BT Apple Education Specialists.  It's an informative session about Mac and iMac deployment and professional services. We'll also talk you through the new affordability options from Apple Financial Services which make investing in Mac a reality for schools and college budgets.
And what's more, the first two sessions count towards your Continued Professional Development hours.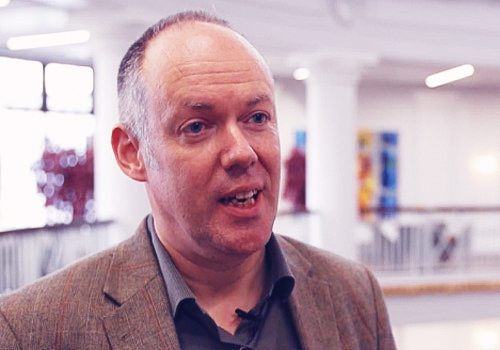 Because the first two webinars are run by an Apple Professional Learning Specialist, they'll count towards your CPD hours
Webinar 1 - Apple Mac in specialist subjects: Music
4:00pm to 5:00pm - Thursday 24th June 2021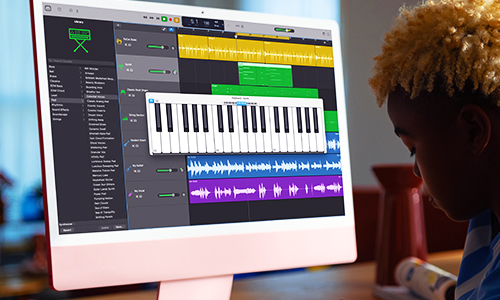 We'll take a deep dive into Mac, with a focus on GarageBand and its exciting capabilities as a music creation tool
Explore how to create music, as well as tips for setting up a music workstation with Mac and all of the kit you'll need to create an immersive music experience for your students
Still using GarageBand, we'll also take a hands-on look at recording and editing music, as well as how to build a song using this technology
Register now
Webinar 2 - Apple Mac in specialist subjects: Creative and visual arts
4:00pm to 5:00pm - Tuesday 29th June 2021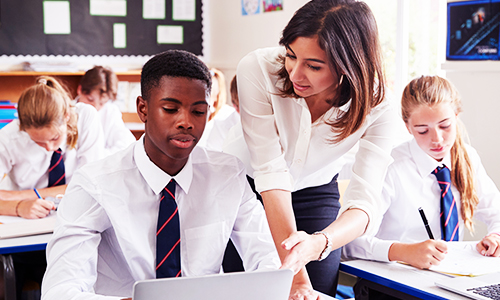 In this creative and visual workshop, we'll showcase the powerful image and video editing and creation tools for Mac. We'll share some practical tips too on how to make your own projects
We'll showcase the editing facilities of Photos for Mac, by manipulating and editing images from a high-end camera
Using the photos, we'll combine these with video footage using iMovie for Mac to create a fun final film
Register now
Webinar 3 - Apple Mac: Deployment, services and funding for education
4:00pm to 4:30pm - Tuesday 6th July 2021
In our final webinar, we'll discuss deployment capabilities and our professional services to support roll out of Apple Mac in schools and colleges
We'll explore systems, security, storage and networks.  Plus we'll also cover how Apple Financial Services' leasing offers for schools and colleges make investing in Mac and iMac a realistic and affordable option
Introducing the new M1 iMac, we'll take you through everything you need to know about this ground breaking new Apple range
Register now
BT is an Apple Authorised Education Specialist (AAES)
We're one of just a few partners in the UK to be awarded this prestigious status. It shows that BT is an expert provider of Apple solutions to education customers, with a proven track record of supporting schools at every stage of their digital transformation journey. The experts in our dedicated Apple Education Practice are all here to help you turn your school's digital vision into reality.
Learn more
---