ComputAbility is a fully managed, parent partnership programme for 1:1 computing devices, delivered by our finance experts. It provides pupils with the technology they need to enrich their learning experience, without using your school or college's computing budget.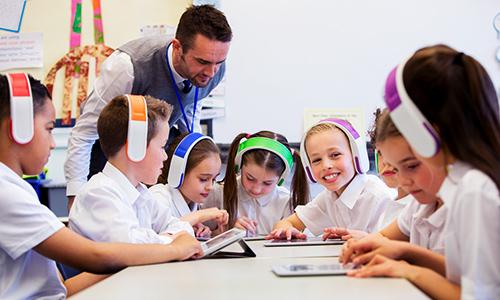 Empowering parents to change how technology is used in the classroom
ComputAbility presents an alternative way for schools and colleges to close the IT skills gap in education, and enable technology-based learning. It's a "parent partnership 1:1 programme" between your school and your pupils' parents or guardians, where they fund the technology their children need to get the most from the teaching and learning experience, both in school and at home.
Compared to buying outright on the high street,1 the investment is made affordable for parents thanks to both the economies of scale that come from a large group purchase, and regular "bite-sized" monthly payments. Plus, once the final payment is made the device is theirs to keep.
Wide range of devices from the quality brands you trust
We offer a huge range of devices from lots of brands you know and trust, including Apple, HP, and Lenovo. We'll help you decide on the right devices to include in your programme that complement both your existing systems and your school's wider technology strategy.
ComputAbility at a glance
Gives students the latest devices for use at home or in the classroom
Minimal cost to the school or college, devices are funded by monthly contributions from parents
It's affordable – the cost is broken down into small monthly direct debit payments, with no credit checks
Devices are chosen by the school/college, all students have a uniform piece of tech that meets your needs and strategy
No obligation advice about device types and your current IT structure
Easy to launch with light-touch admin for schools/colleges
Fully managed parental contributions collection, with full communication to the school
Could help to improve your Ofsted rating for technology
BT name builds trust and confidence in the programme
How it works
1
We'll help you decide if ComputAbility is right for your school, your students, and their parents.
2
We advise and you decide on the range of devices you'll offer with pricing pre-agreed with you.
3
Our finance experts build a safe, simple to use bespoke portal. This lists the devices and pricing you've agreed.
4
We provide you with marketing materials for parents and ComputAbility is launched.
5
Parents place orders and make direct debit agreements via the portal.2 Orders are reviewed and signed off by the school.
6
Once the portal closes, orders are processed and we deliver pre-configured devices ready for use.
Case study: Aldridge School
'Aldridge School is a converter academy located in the West Midlands. The school has 1,470 students on roll providing education from Year 7 to Year 13. In 2012 Aldridge were focused on moving the school forward by embracing the use of technology to deliver further improvements in teaching and learning.

This vision focused on the use of a virtual learning environment to deliver resources to students and a one-to-one device ratio in the classroom.'
"BT's programme handled everything and that was the big selling point for us."
Stephanie James Fendek | Business Manager
Aldridge School
Learn more
Introduce new technology into the classroom
This programme offers students the chance to own the latest technology devices, for use at home or in the classroom, in an affordable way. Using technology in the classroom can help improve students' IT skills and overall engagement in their individual learning. We can offer training to your teachers and advise on ways to include technology in lessons so it adds value to your students and engages them. We can also advise on your current infrastructure.
Easy to launch with light-touch admin for schools
ComputAbility is really easy for schools to roll out, with minimal admin required. Our managed process provides you with a customised 'portal' especially for your programme, which manages the full range of technology products on offer to your students. The order process, all the paperwork, and programme delivery is handled by us.
Can help with your Digital Inclusion strategy
Digital Inclusion is about improving the UK's overall IT skills and knowledge. The affordability of the ComputAbility programme makes IT more accessible for all, which may improve overall computing confidence and boost the general IT skills of your students, something which could assist your Ofsted rating in this area.
Cash flow neutral programme for schools
ComputAbility is a cash flow neutral programme – unlike some other 1:1 computing programmes, we don't ask schools for a cap-ex investment upfront to cover the costs of the students' devices. Although the school technically owns the goods, payments are spread out in small monthly direct debit payments, so there's no negative impact on cash flow. This means the cash for your school stays where it should – in the school.
Sign off and governance for schools
We work collaboratively with schools to ensure you're happy with the range and affordability of devices on offer to your students. Once all the orders have been placed and we've collated all the paperwork, we await a simple sign-off from you before we start processing.
Case study: The Leigh Academy
The Leigh Academy is one of 16 schools that make up the Leigh Academies Trust. When they spoke to us about their plans, we knew the ComputAbility programme was the way forward.

Designed in partnership with Freedom Technology (an IT finance specialist), ComputAbility helps schools introduce new tech to students. It means teachers can include tablets, laptops and mobile devices into their lessons. Pupils can even take them home with them. Better still, it doesn't have to cost schools a thing.
"BT manage the collection of payments from parents, follow up on late payments and deal with breakages and insurance claims. Basically, they handle everything, and that was the big selling point for us"
Sarah Tucker | IT Services Project Coordinator
Leigh Academies Trust
Learn more
Benefits for students and parents
Great products from great brands
Through ComputAbility, children gain personal access to a device from big brands you know and trust, such as Apple, HP, Dell, or Lenovo. We help schools decide on the right devices to include in their programme that complement both existing systems and the school's wider technology strategy, so that you know devices ordered will be useful both at home and in the classroom.
Cost effective access to the latest technology
Students can use websites for research to assist with homework. With an online presence, students can also engage in more independent learning, helping them to prepare for the future.
Affordable computing products with no credit checks
Costs are broken down into small monthly direct debit payments (usually spread over a 2 year agreement). Thanks to savings made by purchasing through your school, the overall price paid is usually cheaper than an outright purchase on the high street2. This makes the programme an exciting proposition for parents.
Benefits for home-life too
Because your students use the technology products they choose at home as well as at school, the programme is particularly great for childrens' homework needs.
Fast delivery direct to the school
All orders are swiftly delivered directly to the school. The school can also choose whether the devices are pre-configured for use, already in their protective cases and clearly marked with each child's name.
Total peace-of-mind package
ComputAbility purchases are fully insured with an extended warranty and have no hidden costs. Even better, your students' purchases are theirs to own at the end of the payment term.
BT brand trust
ComputAbility is brought to you by BT – a familiar and trusted brand that gives you and your parent stakeholders confidence in the programme. The programme itself is delivered by our finance partner, with BT Business Direct fulfilling all your students' orders.
We're IT experts
BT is one of the very biggest IT resellers in the UK. When it comes to advice and guidance, you're in safe hands. Our technology hardware experts at BT Business Direct have been trained directly by the world's leading IT vendors, so they're perfectly placed to offer advice and support with every aspect of your ComputAbility programme.
Logistical excellence and right-first-time approach
At BT Business Direct, our whole business has been built on logistical excellence. We despatch thousands of parcels every day, correct first time, and on time, to addresses all over the UK. Students will get the devices they ordered when they're expecting them, so there's no fuss for you.
Only quality products
As you'd expect from BT, we've only included products from vendors with worldwide reputations for quality and reliability, to maximise student and parent satisfaction with their goods.
Because BT cares about Digital Inclusion too
As part of BT's better futures programme, we want ComputAbility to improve your students' lives. Digital Inclusion is about making the internet and the digital world more accessible. The ComputAbility programme can help achieve this by supplying devices to your students in an affordable way.
It's so easy
The ComputAbility programme is really easy for schools and colleges to roll out. You and your organisation enjoy all the benefits that ComputAbility can bring to employee engagement and retention, with minimum impact on the administration workload.
Savings depend on the actual make and model of products selected and the comparative typical alterative high street price at the time of your programme's launch. Full illustration will be provided.
One device per student, all orders are subject to school sign off prior to delivery.

The ComputAbility programme is delivered by Freedom Tech Ltd, a technology finance company that works with organisations to provide them with innovative solutions to engage and empower their students. Freedom Tech is not a BT plc company nor affiliated to BT plc. BT plc is not the provider of the ComputAbility programme. Please note you will be required to enter into an agreement with Freedom Tech Limited for the operation of the programme. ComputAbility programmes are subject to the organisation passing Freedom Tech Limited's credit criteria. Before rolling out a ComputAbility programme, you agree that you have relied on your own assessment in determining the suitability of the ComputAbility programme for your organisation. ComputAbility programmes are subject to the organisation passing Freedom Tech Limited's credit criteria. All equipment is supplied by BT Business Direct and their standard terms of business apply. All quotations are subject to credit and insurance approval via Freedom Tech and delivery of equipment is subject to agreeing to BT Business Direct Limited standard terms of sale found at www.businessdirect.bt.com/help/policies/bt-business-direct-conditions-of-sale.
Get the conversation started
BT has a dedicated team of education specialists. We're here to support you with all aspects of your school, college or university's technology strategy across network, devices and apps. Just tell us how we can help and we'll have one of our education specialists call you back with free, no obligation advice.
---