Great projects start with great plans. Take your first 1:1 steps with BT
Know-how. It's a challenge we speak about with lots of schools when they're considering 1:1 computing. We know you've got the vision, passion and drive to succeed, but without a dedicated IT function in school, it's sometimes difficult to know where to start. Here at BT, we've got you covered. We'll provide the expertise you need to shape your 1:1 thinking and create an EdTech milestone plan that'll help turn your 1:1 computing vision into reality.
One-to-one planning workshop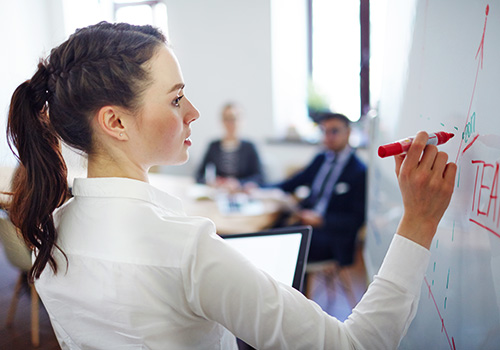 If you're struggling to get started with your digital transformation, then consider a BT 1:1 planning workshop. The workshop brings key stakeholders together; such as your senior leadership team, your IT leads and key teaching staff; to help you get started and think through your approach.
Our workshop will help you assess where you are now with your EdTech plans, where you want to be and how you'll get there.
It considers your teaching and learning approach, the environment in which you all work and your existing approach to IT. It'll also help you shape the digital vision for your school or college, as well as consider what a successful 1:1 deployment will look like. From all of this, an outline project plan is created that can be used as a framework to help you move forward by assigning actions, owners and timeframes.
BT's six steps to 1:1 computing success
We believe that a successful 1:1 deployment is about so much more than just buying the devices. It's what you do with them that counts. To be sure your 1:1 programme delivers the benefits you set out to achieve, consider all these important steps in your plan.
1. Create a plan for 1:1 success
---
Step one is to create your EdTech plan. It doesn't have to be huge and convoluted.
It just needs to be clear, actionable and help you easily articulate your vision, milestones and progress.
Don't worry about getting it right on day one. It can evolve as you go. The important thing is to write it down and start shaping your one-to-one strategy.
2. Secure early stakeholder buy-in
---
Share your plan and vision early to secure buy-in and support from key stakeholders.
Your SLT all need to commit to the digital transformation journey, whilst teachers need to believe in the benefits. Governors and students will want to understand impacts too. As will parents, especially if you're considering a parental contribution approach to funding.
3. Get your network foundations right
---
Look at your existing infrastructure and challenge whether it's fit for purpose considering your new vision.
Can your Wi-fi cope with an influx of additional devices? Is your internet connectivity reliable and fast enough? And what about network security?
As you'd expect from BT, we've got all the expertise you need to get it right.
4. Make the right choices for needs and budget
---
When it comes to 1:1, the choices and permutations can seem endless. You need to make sure you're making the right decisions on platform, apps and device models for the needs of your school, college or university, as well as your learners and budget.
But don't let it overwhelm you – get some expert advice.
BT's team of Education specialists are here to help break it all down and guide you to the right choices for you.
5. Embed use with teacher training and CPD
---
Your 1:1 investment will only deliver real return when it's being used. So banish those devices from the trolley or cupboard and get them used in every lesson, across the whole curriculum.
To do that, your plan needs to consider how you'll train teachers, foster confidence and shift to a more digitally inclusive approach. BT can help with all of this.
Consider appointing digital champions within your student community too.
6. Continual review and evolution
---
With the roll out of any project, particularly where it involves change, it's important to keep a close eye on what's happening.
Create a forum to get feedback from all your stakeholders, then show how you're addressing it to help keep them engaged and committed.
Every academic setting and its people are different, so it follows that every 1:1 deployment will be different too. Expect to get some teething issues and a few barriers to adoption in the early days, so build this into your plan.
Get the conversation started
BT has a dedicated team of education specialists. We're here to support you with all aspects of your school, college or university's technology strategy across network, devices and apps. Just tell us how we can help and we'll have one of our education specialists call you back with free, no obligation advice.
---