Empower your people to really leverage your IT investment
Through our carefully chosen partners, we can provide professional training for all aspects of IT. This means you can maximise return on investment throughout your organisation.
We offer IT training at many different levels, aimed at people responsible for managing your IT estate. And for end users who are using new kit.
You'll give everyone in your organisation the skills they need to use IT more effectively, increasing overall productivity
Staff retention and morale could improve. They'll recognise you investing in their development and the kit they need to be able to work smarter
Outsourcing your IT training requirements also means you have greater control over your training budget, ensuring it's spent effectively
Training for new ways of working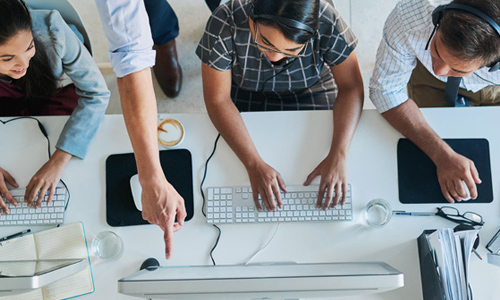 We can also provide training around specific solutions or areas of IT, helping to on board staff quickly and easily. One example of this might be around flexible working. It's becoming increasingly common as devices get smarter, WiFi becomes ubiquitous, and more companies choose cloud computing. All of this means that it's easier than ever to introduce flexible working in your organisation.
Of course, any new way of working will require a level of training, and flexible working is no different. You'll need to equip your staff with all the know-how they need to stay productive wherever they are, whether they're in the office, on the road, or at home. You might choose to provide training around new devices, explaining new features designed for productivity, or focus on best practice around security for mobile workers.
---