APC by Schneider Electric, the industry leader in data centre physical infrastructure
Today's IT rooms run on virtualisation and high-density processing. To make sure your business can keep up you need all the infrastructure essentials. From racks, and rack accessories, to management tools that allow you to easily adapt to ever-changing technologies. As the industry leader in integrated physical infrastructure and software, APC provides reliable and innovative solutions that help keep the power on, and the data flowing. From battery backups that safeguard against outages at home, to full-scale data centre infrastructure, our offers can help your home and business become more efficient, reliable, and connected. APC can turn any space into an IT environment. Whether you need racks and accessories for data centres, server rooms, network closets or offices, they have all the solutions you need to get started.
Get the server space you need without having a dedicated room
NetShelter CX enclosures are part of the NetShelter family: The NetShelter CX is a soundproofed 'Server Room in a Box'. This solution allows for IT deployment wherever and whenever it's needed, saving space, cost and deployment time. Designed for branch offices, small offices and any non-IT space where there isn't the room, the time or the budget to build a dedicated IT zone. The NetShelter CX server enclosure is an ultra-portable, secure, economic, plug-and-play IT solution. You simply roll it into the open office, put your equipment inside, plug it in and close the doors.
Key benefits of the NetShelter CX:
Save time with the simple "plug and play" solution meaning easy installation and fast deployment in any IT environment.
Preinstalled and tested solutions can be rolled into place and powered on in minutes.
Deliver any-IT-vendor compatibility, giving you the agility to redesign or retrofit your IT room without a costly overhaul.
Avoid wasting space and big costs for building a dedicated IT room.
Mobile and Secure -Keep your business agile with portable IT infrastructure.
Silence noisy equipment inside a Quiet Enclosure.
CX comes in multiple sizes depending on your business need.
Ultimate flexibility and mobility from the NetShelter CX means you can unplug and move when needed.
Remote manageable by offsite IT staff when integrated with APC Smart-UPS and APC Network Management Card.
The NetShelter allows you to grow your IT space as you grow your business.
Cisco certified equipment.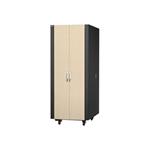 Make power distribution easy with Rack PDU
The APC by Schneider Electric Easy Rack PDU is an easy-to-install, easy-to-use rack mount. PDUs provide reliable power distribution to the equipment along with functionality to monitor and control. Easy Rack PDUs, put power in the rack enclosure near the equipment where it's needed most.

Take control of your power with active metering which enables you to closely watch energy optimisation and circuit protection. Rack PDU gives you advanced load monitoring features that give you the ability to use the power as you see fit. Remote on/off switching and control of individual outlets keeps you in total control of your energy consumption. Use real-time remote monitoring of each outlet allowing you to enable advanced energy optimisation and detailed capacity planning.
Key benefits of Rack PDU:
Easy for installation
Ultra-lightweight thanks to aluminium housing
Support both toolless mounting and bracket mounting
Built-in input cord with Industrial connector for vertical PDU
Low-profile in depth, convenient for equipment install
Easy for operation and maintenance
Easy web interface and LCD screen depending on the model
Support network port, easy for data communication
---