Name: Socrative
Age: Anyone
Available on: Everything – log in through browser
Socrative is a web-based application that allows teachers to quickly create discussions, quizzes and assess their students learning and knowledge. It also means you can introduce tech to your classrooms with tablets, iPads or BYO devices.
Getting started
First of all, you need to create a teacher account. Once you've done this, you'll be assigned a room number. When you have a room number, you can share it with your students. All they need to do is input the room number on the student login tab, this is how your students will gain access to your task and activities. You can use Socrative anytime, anywhere. The web browser means that it can be used on any devices without being downloaded.
There are multiple types of questions you can ask your students, whether it's a one-off question in a lesson or a quiz at the end. There's multiple choice questions, true/false question or short answer questions. You can choose whether pupils should input their names, whether you want to give instant feedback plus much more. With Socrative you'll find your students become more engaged with your lessons if they know there's a quiz after.
Quiz time
Creating a quiz is really simple, you can input your questions, select whether its multiple choice or true/false, enter your answers and move to the next question. Once your students have completed your quiz, you can select to have their answers emailed to yourself as a report. So setting quizzes as homework is really easy and you can review the answers in your class the next week.
To use Socrative live in your classroom, you don't have to input questions and answers. You can use the question options to answer a question you ask out loud. Or, use the multiple choice feature to get your pupils to interactively answer questions in their textbooks.
Space race
Another really interesting feature of Socrative is space race, this is an interactive feature that can be incorporated into your lessons as a way of making quizzes and learning engaging and competitive. To start a space race in your class, select one of the quizzes you've already made. Space race then turns it into a fun learning game. You can select the number of players or teams you want and automatically assign team colours. It's as easy as that.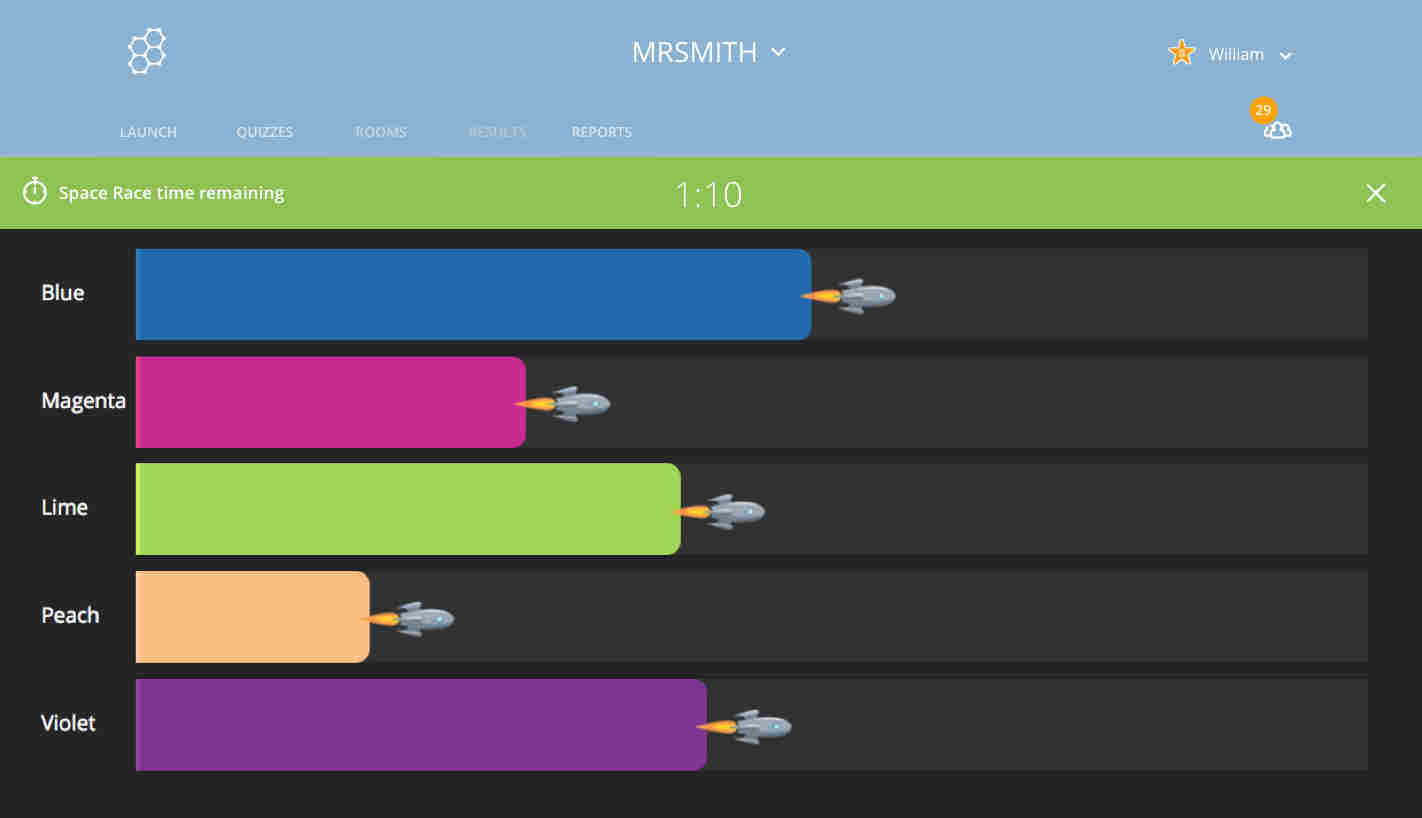 Students then use their own devices to answer your questions in the quiz, whilst on your screen is the progress of each team. Socrative only shows the teams by colour so you can keep team results a secret.
To find out more about Socrative and try it in your classroom click here