Build your school or college's digital strategy on solid foundations with dedicated, fast and reliable internet access. Choose BTnet.
Technology's changing quickly in education
And it's the key to delivering the best possible learning experience for every student you teach. With devices more affordable than ever, and the rising adoption of 1:1 programmes in schools and colleges, personalised learning experiences are now a reality.
And it's a reality based in the cloud.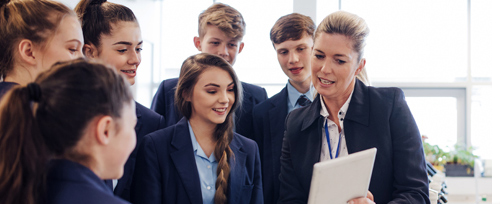 You need connectivity that's fit for cloud-based learning
A device for every pupil empowers a student-centred approach to all aspects of teaching and learning. Students can learn in the way that suits them best, using a wealth of cloud-based apps and internet resources.
Teachers can use classroom management apps to get better visibility of student progress. Not to mention more streamlined ways to set, assess and give meaningful feedback on work.
As the number of students and teachers using cloud-connected devices grows, so do the demands on your school or college's internet connection.
Technology is empowering. But it can only ever be as good as your connectivity.
Step up to BTnet. The UK's number one leased line internet service1
Get a dedicated internet connection for speed, performance and reliability
With more and more cloud-based activities, apps and solutions, it's easy to see why a standard internet connection may not be enough.
Your school or college needs speed, performance and reliability that go way beyond broadband. That's where BTnet comes in.
It's the UK's number one leased line internet service1, which gives you access to our unrivalled network. Ours is the largest network in the UK, with the widest coverage of any end-to-end provider. 
24/7 guaranteed bandwidth that you won't share
BTnet is a dedicated internet connection, so your school or college won't share it with anyone else. That means 24/7 guaranteed bandwidth, unlimited data usage, and no restrictions.
We're committed to reliability. We're so sure we've got it right that BTnet is backed by our market leading Service Level Agreement (SLA), including 100% target availability. BTnet offers nothing less than ultimate reliability. With scorching speeds.
Choose BTnet for super reliable, lightning fast internet connectivity in your school or college.
"Previously we had to fit our needs around the system, whereas now we can fit the system to our needs. We have a future-proof solution."
Lorraine Hill , Finance Director at Treviglas Community College. BTnet customer.
Read case study
BTnet benefits for schools and colleges
Learn more
Tailor your BTnet solution to best meet your needs and power your digital transformation
Learn more
UK's Number 1 leased line service: as ranked by Netcraft since December 2009. Minimum period of service applies. All connections are subject to survey. Full terms and conditions and Service Level Agreements (SLAs) can be found under the BTnet Leased Line heading at business.bt.com/terms, under the Broadband and Internet dropdown.
Free phone or video consultation is available to UK schools and colleges and is offered subject to availability.
Offices Worldwide
The services described in this publication are subject to availability and may be modified from time to time. Services and equipment are provided subject to British Telecommunications plc's respective standard conditions of contract. Nothing in this publication forms any part of any contract.
Book your free consultation2 to assess if your current internet is ready to support your digital transformation.
Our friendly education connectivity experts are here to support you. Via a phone or video call, we'll help you assess whether your current internet provision is right-sized to meet the technology needs of your school or college. Both now, and for your future digital transformation plans. Our advice is completely free and without obligation, of course.
Book now
---