Transform your virtual meetings with Jabra PanaCast
Jabra PanaCast is a plug-and-play video solution designed to improve virtual meetings. It gives a full 180° view of the room and automatically includes everyone in the conversation.
Use Jabra PanaCast in your meeting rooms for better virtual meetings
Jabra PanaCast can transform virtual and online meetings. It does this by using three cameras and real-time image stitching to give a full 180° view of the room.  This technology creates a more natural, human perspective for your video calls.
There aren't any blind spots, and Jabra PanaCast has been designed to work with Jabra Speak. You'll be able to see and hear everything with perfect clarity, so you won't miss a thing. Meetings take all shapes and sizes, from board meetings to webinars. Huddle rooms are being used more often. They're great for collaboration and the shared space helps businesses to keep their costs down. Jabra PanaCast can turn any huddle space into a video conferencing suite. A recent study found that: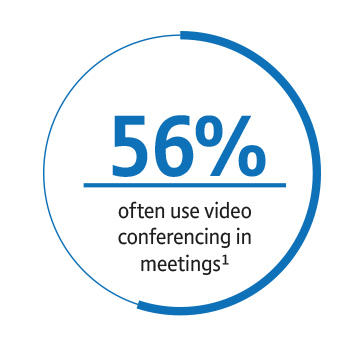 Highlights of Jabra PanaCast
The perfect partner for Jabra Speak. Bringing your huddle room to life
Jabra PanaCast is the world's first intelligent 180° Panoramic-4K video solution².
It works straight out of the box and lets you collaborate with others instantly.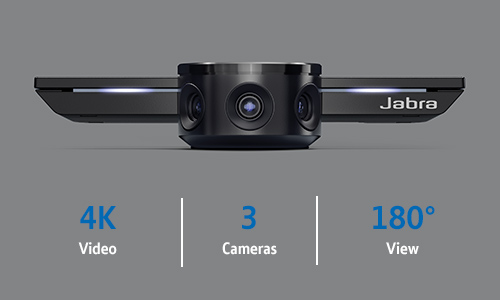 Inclusive meetings
Panoramic-4K video uses three 13-megapixel cameras and patented real-time video stitching to give 180° coverage. This creates a more natural, inclusive view of the room. Pair with Jabra Speak for rich audio too.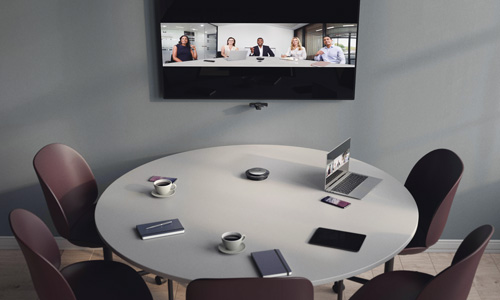 Intelligent video technology
Intuitive camera technology adjusts the view to include everyone in the conversation as they join and start speaking. The video quality also adjusts automatically, even under varying lighting conditions.
Instant collaboration
Plug-and-play technology lets you collaborate with others quickly and easily. Jabra PanaCast is a great way to bring hassle-free video and audio to your meeting rooms and optimise how they're used.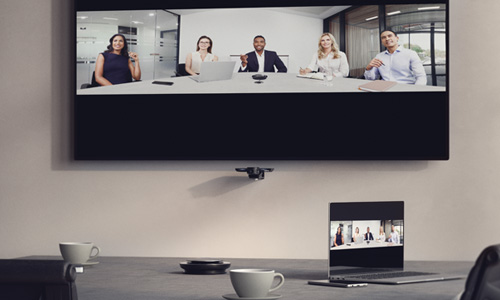 Versatile compatibility
Jabra PanaCast is compatible with all leading video and audio conferencing solutions. It's certified for use with Microsoft Teams and works with Zoom, Cisco Webex and many more communication platforms.
Jabra PanaCast - A naturally immersive experience
Jabra PanaCast for the legal sector
The legal landscape is changing, and law firms face many different challenges. Operational, financial and strategic decisions all need to be considered when choosing the right technology to support the business.
Continuous communication is a necessity for legal firms, whether it's by phone or email. Solicitors need to communicate with their clients and experts quickly and effectively. And more people travel for work and take devices that contain sensitive material out of the office. Being able to communicate in a way that's both effective and secure is essential. Legal firms must also comply with SRA regulations.
How can video calling help in the legal sector?
Video calling can have a huge positive impact on a legal firm. Especially when you've got the technology to make it easy and cost-effective.
1. Video calling solutions like Jabra PanaCast help legal firms to talk to their clients, wherever they are. Legal staff can also speak to appropriate experts face-to-face. This ensures that clients receive the best advice, whilst firms can reduce travel expenses.
2. Clients can have regular communications with you via video using Jabra PanaCast. This gives them peace of mind and increases billable hours. Solicitors can have larger case-loads, seeing more clients per day through video calling.
3. Larger firms will often have offices across the country, or around the world. Using a video calling solution like Jabra PanaCast enables better collaboration and communication between offices or staff who work from home.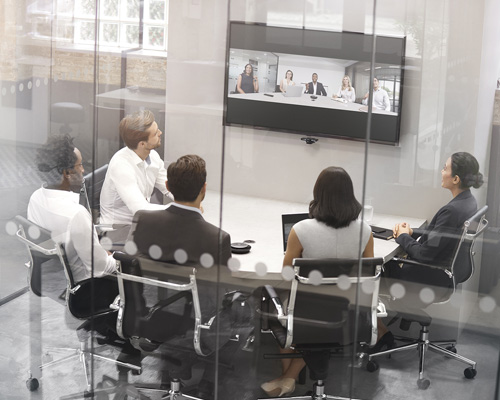 Jabra PanaCast for higher education
Transform the learning experience for your students and empower teaching staff with Jabra PanaCast. This smart video solution has been designed for creating a natural, inclusive video experience. It automatically adjusts to the number of people in the room. And it'll focus on a whiteboard, moving it to the best angle so that everybody can see it.
How can the Jabra PanaCast be used in colleges and universities?
1. Your teaching staff can use the Jabra PanaCast for their own meetings. This is great when your staff might be located in different buildings across the campus, or in a separate campus.
2. The Jabra PanaCast is ideal in a lecture hall environment. The 180 degree view means that the learning experience is great, whether you're sitting in the lecture hall or joining the lecture remotely. You won't miss anything that's being presented, or any questions from the audience.
3. Teaching staff in higher education can use the Jabra PanaCast to invite guest speakers to talk to their students. It's compatible with Teams and Skype. Skype in the Classroom has an educator community of speakers who can share their expertise on a huge range of subjects.
At a glance: Jabra PanaCast

Enhanced
Real-time image stitching for a unique 180° view
Smarter
Intelligent zoom and colour balance
Easy
Plug-and-play with no set-up required
Versatile
Works with everything, everywhere
Things you need to know
Source: Frost and Sullivan/Wainhouse Research
See facts on Jabra.com/commercial-claims
Available with future software update. Firmware upgrade required.
 Wall-mount is an optional accessory and is available to purchase separately.
Get in touch
0370 429 3010
Get in touch with one of our IT Specialists who'll help with your sales enquiry
Leave us your details and one of our IT Specialists will call you back
Handy phone and email contact details for key teams
---
---