Bespoke education services
Get services tailored to your learning environment's needs, we work with HP PC and Print Services to go beyond warranty and keep your school running smoothly. By working with BT and adopting HP Services, you'll receive HP's most comprehensive, end-to-end solutions tailored to your specific needs. All starting at the time of purchase.
Accidental Damage Protection
HP will provide repair or replacement when things go wrong.
PC Tracking and Recovery
If your computing device is lost or stolen—with all your confidential data—you'll have multi-layered security. HP's solution will help you protect your hardware, software, and data.
Onsite Service Repair
You'll get remote assistance or onsite support is available to improve your product uptime. Available with HP Hardware Next Business Day Onsite Service.
Defective Media Retention
Even the best storage media can fail. When it does, you don't want to send away your confidential data. Keep it where it is with HP Defective Media Retention you can.
HP Care Pack Services
HP will protect your devices, whatever happens, in and out of school. You'll get accidental damage protection, PC tracking, onsite repair and defective media retention all included in HP Care Packs.
Helpdesk services
Remove any worry with HP's helpdesk. They provide phone and online technical assistance. HP experts cover computer software, hardware, connectivity, and networking issues across a range of devices.
Pick up and return service
You can return your product to one of HP's repair centres for device repairs.
HP Configuration services
HP offers management methods governance and help so you can customise new PCs specific to your school's requirements. HP expertise can help you gain greater control and confidence with customisation.
HP Subscription Services
HP Subscription gives your school all the tech you'll need for one affordable monthly payment. The latest HP devices, workstations, and printers; the latest software; and top-class services and support.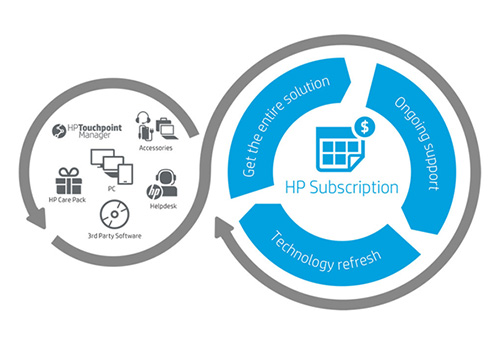 Experience fully-managed devices with HP Services
HP offer a better way to manage devices in your school through their HP Subscription solution. Without capital investment, you can get access to best-in-class hardware and services paying monthly. It even allows you to replace your PC with a brand new one, every three years. And also...
Protect your school's tech with HP Care Packs
Warranty upgrade
Faster response time
Enhanced protection
Value-added services
Use HP Managed Print Services to gain new learning possibilities
Assessment services
Financial and procurement services
Transition and implementation services
Management and support services
Document and workflow services
Learn more
Get the conversation started
BT has a dedicated team of education specialists. We're here to support you with all aspects of your school, college or university's technology strategy across network, devices and apps. Just tell us how we can help and we'll have one of our education specialists call you back with free, no obligation advice.
---