Description
Premium Phone with 100% Nuisance Call Blocking, Mobile sync and Answer Machine
Nuisance Call Blocking
Only talk to the people you want to. Block 100% of nuisance calls and stay in control with the trueCall virtual assistant which announces all unknown calls and lets you decide whether you want to accept or block the call*. Saved contacts get straight through.
Block common types of nuisance calls - e.g, international, withheld, unknown or payphone numbers.
For peace and quiet, switch on Do Not Disturb so that your phone won't ring or light up. Friends and family that are tagged as VIP's in your address book can still get through.
Sync with your mobile using blutooth
Sync your mobile to your Premium Phone to copy contacts across and even make and receive your mobile phone calls through your landline. Great if you have mobile deadspots, just put your mobile somewhere it has a signal and then use your landline to receive mobile calls in the next door room.

Freedom to move in your house
Save up to 200 contact. All these contacts are automatically copied to all of your handsets
Talk hands-free letting you get on with things while you chat.
Easy to Use
Our BT phones have excellent sound quality with volume adjustment to suit your needs.
Large 1.8" full graphic display. See instantly how many voice messages, missed calls or text messages you have.
Prevent surprises on your bill, using parental controls to stop calls to Mobile, International, Premium rate numbers, or even ALL outgoing calls without a PIN.
Extra answer machine features
Save up to 60 minutes of messages. Don't miss important messages when you are away from home with access your messages remotely.
Call Waiting shows you who's trying to get through and at the press of a button you can switch to the new call or reject it.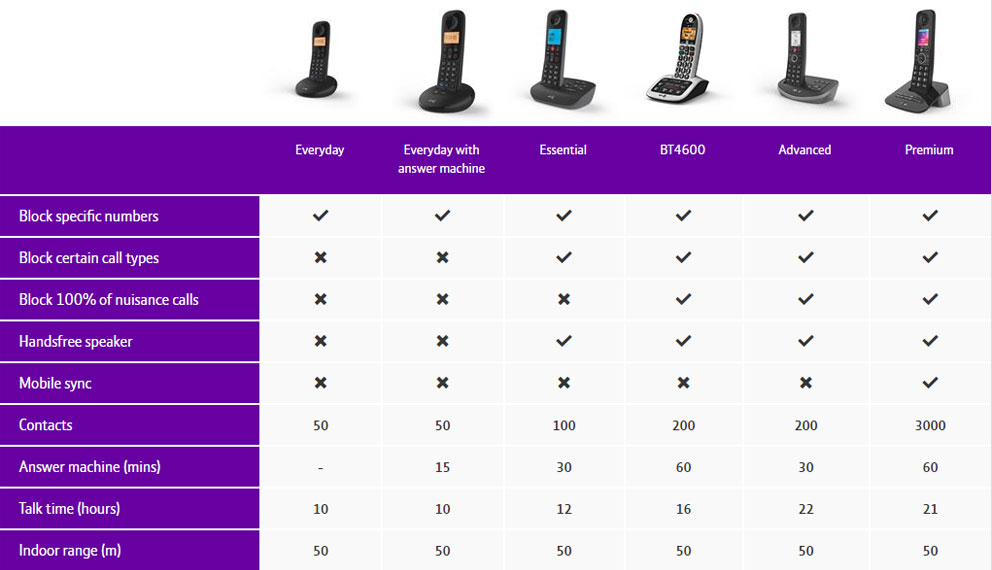 *You must subscribe to a Caller Display service from your network provider for the block nuisance calls feature to work. Charges may apply.
Resources
The following resources are available for the BT Premium Phone - Two Handsets