HP Print Solutions
Print solutions to suit every business and every budget, from HP.

Print more engaging material, save cash and go greener.
With fastest first-page-out times, duplex print speeds, lowest energy consumption and the smallest footprint around, HP are industry leaders.
Even better, you can introduce breakthrough technology to your business without breaking your budget. With market leading first-page-out time - no other printer in its class will start its print jobs as quick. Enable your people to print their documents from virtually anywhere, ready for their next meeting, with HP ePrint!

From creating vibrant marketing materials, providing supplemental meeting notes, or running off your financial report, HP provides the print solutions you need to keep your organisation on track. Ideal for any office, HP printers are fast-performing, unmatched in colour quality, secure, and more eco-friendly with innovations in Original HP toner. Also consider multi-function devices from HP, so your people can easily scan, print, fax, and copy all on one device.
Secure Print Service (MPS)
Optimise and secure your print fleet
Our Secure Print Services is a form of complete Managed Print (MPS). We'll start the process with a full assessment of your requirements. The next step usually involves a partial or complete replacement of existing hardware. This replacement process can include printers, faxes, scanners, photocopiers and multifunction (MFP) devices. Once you're all set up, together with HP we'll oversee and service your print and scan hardware as well as provide parts and supplies, including consumables.
Don't worry...
You can start Secure Print Services with just 1 printer
Your contract can be on your terms, anything from 12 months to 60 months
If you're looking for a new printer, you can even include your existing legacy HP fleet to your service and supplies contract1
Secure Print Services are a great option to manage costs, improve security and reduce waste for organisations who have a general office print need
If your currently pay for print per page, you could be overpaying for colour, talk to us about our solution and how we could help you save
Secure Print Services doesn't mean upfront costs, you can still get new printers with us through our flexible payment options2
Print from virtually anywhere3
Use your mobile devices to print directions, eTickets, coupons and more.
Print directly from your HP ePrint enabled printer.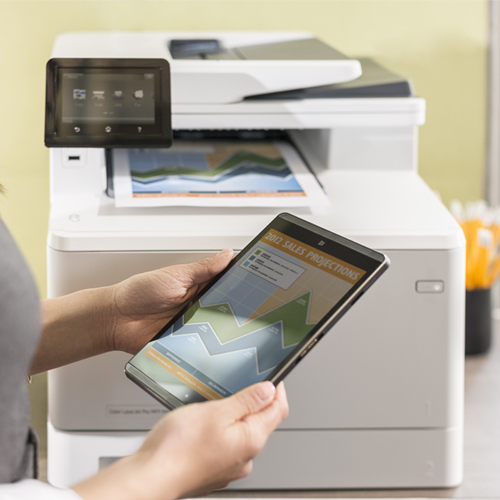 How do I ePrint?
Enable Web Services on your printer and link your printer to HP Connected to get your printer's unique email address. For easier access you can add your printer's email address as a contact to your address book.

Either
Create a new email message and then add any attachments that you would like to print (up to 10MB total size).
To print an email message that you received from someone else, open the message, and then enter your ePrint email address in the "To:" field, or select it from your address book. You can enter any additional email addresses in the "CC:" field if you need to.
Send the email. That's it! Your email will be printed at your chosen destination.
A new way to communicate
Be more productive and gain greater control with true mobile printing from HP Connected
Easy to use
Print any email or supported attachments4 sent to your web-enabled printer
A printer in your pocket
Your mobile devices let you bring your documents with you wherever you go. Why not carry the ablity to print too?
Print to share and keep
Print important documents like tickets and receipts
What is Private Print?
Protect document confidentiality in a shared printer environment
HP JetAdvantage On Demand provides you with a cloud-based private printing solution. You can safeguard your documents as you print to your cloud queue, then authenticate and print from your supported HP printer or MFP.5
Top features:
Each user is required to authenticate at the device before their print job is released
It'll keep costs in check by helping to reduce print waste
You could improve productivity with no more repeat prints and documents lost on the output tray – your people can retrieve and print where and when the business demands
It's easy to add users, you can just import them from the Active Directory.
Get started in just 4 simple steps:
1. Get started now by creating a free account.

2. Activate your account.

3. Setup HP Private Print and print to your secure cloud queue.

4. Authenticate at printer or MFP & release print job.
How it works

Get the conversation started
Call us for free, no obligation advice
Contact our IT Specialists:
0370 429 3010
View things you need to know
Your existing and legacy HP print fleet can be included on your supplies and services contract as long as the hardware is from the 400 series or above.
Flexible payment options available for Secure Print Services are only available through your IT Specialist.
Requires an Internet connection to HP web-enabled printer, and HP Connected account registration. (For a list of eligible printers, supported documents and image types, and other HP ePrint details go to www.hp.com/go/hpconnecteddevices). Mobile devices require Internet connection and email capability. May require wireless access point. Separately purchased data plans or usage fees may apply. Print times and connection speeds may vary. Some HP LaserJet printers may require firmware upgrades.
For a list of supported attachments, please click here.
Device must be connected to internet.
---