Tackling Change
Equip teachers with the tools they need to use technology in the classroom



Today's students are more tech-savvy than ever before. There's a bigger demand on educators to craft lessons that truly engage and inspire them.

Educators look to technology to help them achieve this, but it's important to be self-reliant with classroom devices. The limited IT resource available to schools must be used wisely, so out-of-the-box solutions are a great option for teachers who want to implement technology in their classrooms.

We want to empower teachers to be as comfortable using technology as their students are, and equip them with the knowledge, skills and tools they need to enhance learning.
What is Intune for Education?
Intune helps schools to set up and manage classroom devices easily. It's a new cloud-based app and device management service, ideal for use in shared learning environments.
90%
Over 90% of schools use shared devices
50%
50% of teachers serve as their own tech support in their classrooms
75%
75% of teachers feel that their students are more tech-savvy than they are
This means that educators face more demands than ever before, and teachers need to be confident when setting up and managing new devices. This reduces the need for IT support, which is often a limited and expensive resource for schools.

Intune is designed for schools who want to put devices in their classrooms without creating lots of admin work to properly set up and maintain them. Intune makes it easy for teachers to set up Windows devices in minutes and manage shared devices.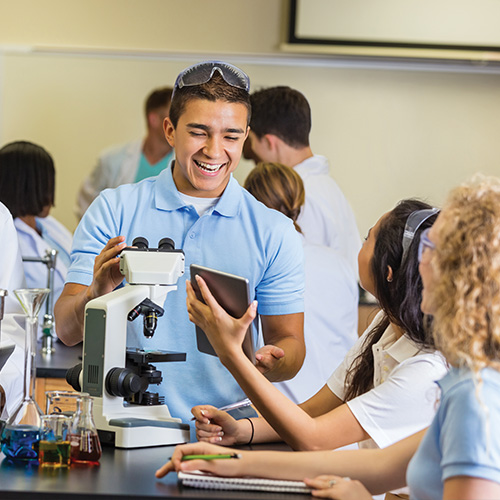 Simple Windows 10 management
You can set up default policies for all devices and users in a class or school. Teachers can do this in minutes with the express setup feature.
You'll be able to assign settings to students and apply them; to hardware, apps, browsers, the start menu and much more. Better yet, this personalised experience is tailored to the student so they'll have the same settings when they sign in on any Windows 10 device.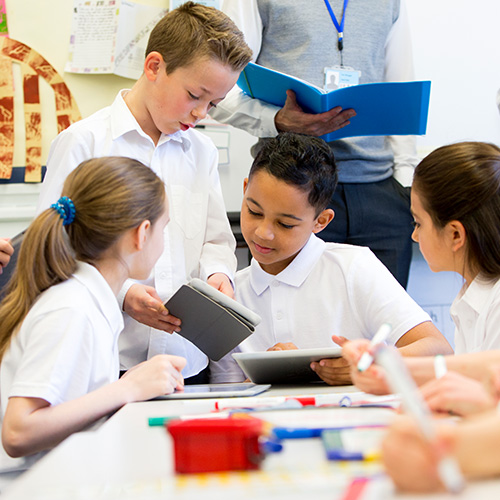 Easily deploy applications
Intune makes it easy to assign and deploy education apps from the Windows Store. Apps are then available to students after custom settings have been applied.
Intune is designed for easy integration with Microsoft education software and services, including other Microsoft Cloud services and Office 365 Education.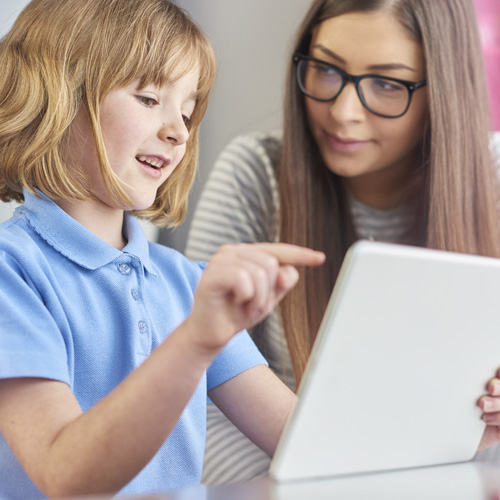 Integrate with School Data Sync
School Data Sync combined with Intune enables you to automatically create groups based on school register data. Teachers can apply settings and apps to individual students based on their progress. Or settings can be applied at a higher class or school level.

School Data Sync automatically reflects any changes to class lists in your group. For example, students who have registered for a new photography class will see apps relevant to that group on their devices.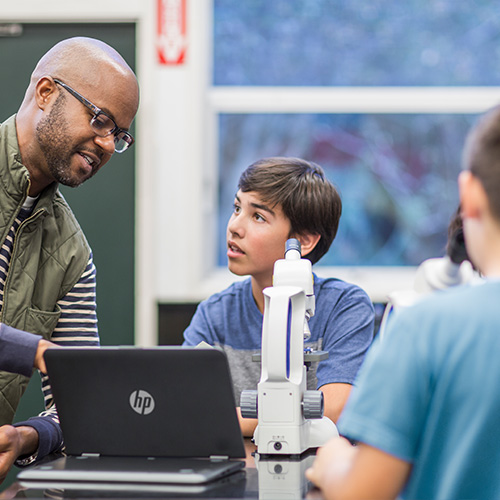 It's easy to be part of HP for Education:
Register your school
Purchase qualifying HP, HP Pro, HP Elite and HP Premium products
Participate in promotions
Start receiving rewards
What's on offer?
Trade-up
Cashback
Guaranteed future value
Free gift
Buy and try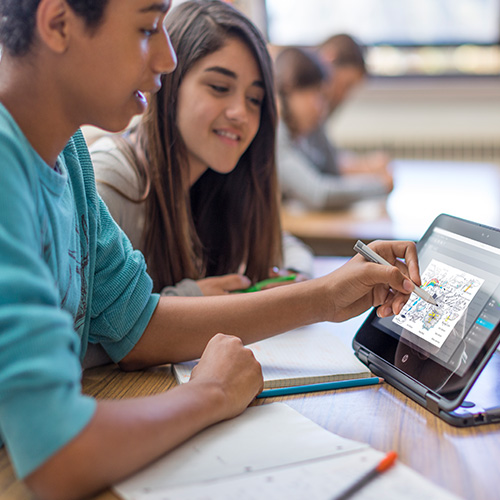 We've teamed up with HP to bring you great deals on new HP IT equipment, plus offers on training and all the advice you need.

If you want to spend your rewards on IT equipment for your school, we're a HP Preferred Parner. It's easy to allocate funds - just log in to your HP for Education account, choose us as the HP Preferred Partner you wish to spend your rewards with, and set the amount to spend.
Learn more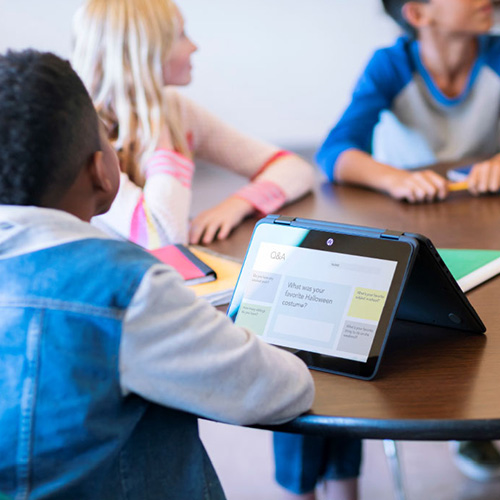 For students
Students will own a device designed to facilitate learning
Devices are portable yet rugged, ideal for use at school and at home
1:1 devices help prepare students for future careers in science, technology, engineering, arts, and maths (STEAM).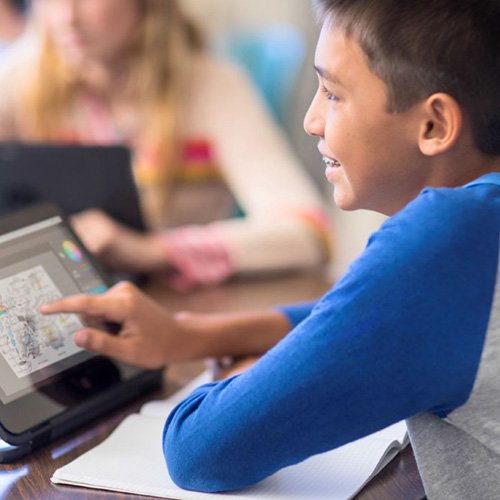 For parents
Get discounts on the latest devices for education
Affordable monthly payments, no credit checks, plus ownership of the device at the end of the payment term
Peace of mind with e-safety advice and extended warranties available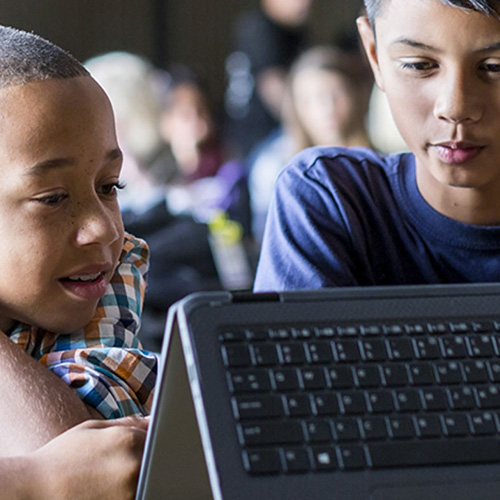 For schools
Standardised devices, making it easier for teachers to focus on teaching
No upfront costs and minimal admin makes stretched IT budgets go further
Mitigate risks with inclusive services and insurance options
Learn more
Lenovo understands the unique challenges that schools face in transforming education. There is greater demand to implement new models for teaching, learning and collaboration. However, you also have to be mindful of cost, security and efficiency.

Lenovo's classroom solutions are designed to empower educators by introducing devices that students and teachers will love using. In fact, Lenovo is the most sold PC brand for education worldwide.

Devices built for durability and reliability first

Devices that promote collaboration and interaction

Elevate learning experiences with
media-rich content

Integrated security and manageability
Superior durability for the classroom
Lenovo tests education devices to exceed military standards, so educators can invest in new technology with confidence.

When Lenovo test their education devices:
50%
more pressure is applied in 5x more places
2x
the regular test height is used, simulating a drop from a desk
20,000
more open and close cycles are included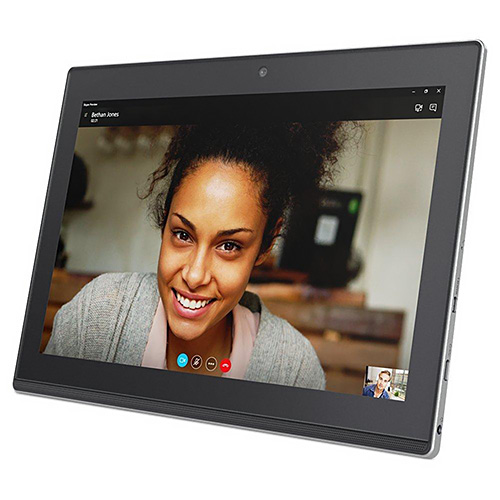 Recommended device
Lenovo Miix 320
Lenovo Miix 320 is a 2-in-1 to give you the best of both worlds. A fully functional laptop and a tablet in one streamlined, portable device. With a detachable keyboard, battery life to last the whole school day, smooth processing, and productivity-enhancing tools, the Miix empowers your students to get things done.
4GB memory and 64GB storage
Conveniently light and portable
10.1" display brings multimedia learning to life
Get the conversation started
Contact our Education IT Specialists for free, no obligation advice:

0370 429 3020
btbd.publicsector@bt.com

Or complete the form below and we'll call you back
Thank you, your form has been submitted successfully
Sorry, there is an issue with your form submission
Please see the below errors
Sorry, this form has failed to submit
---
View things you need to know
---
---