Office 365 on Windows 10

Microsoft in Education
Empowering every student to achieve more
When it comes to technology in education, your school, college or university needs more than just a device or service. You need a complete solution. With Windows, Microsoft can make learning experiences come to life and help you to create dynamic learning experiences.

Our Education IT Specialists here at BT Business Direct can offer free and impartial advice on the best solutions for your academic institution. By working with us to deploy a new Windows solution across your learning environment, you're choosing to work with a business that's trusted by over 14,000 academic institutions across the UK.
Office 365
Create a collaborative learning environment that's mobile and secure with Microsoft solutions
Microsoft can help you make lessons more dynamic. Your school needs more than just a device or a service; your students deserve a complete solution. Transform learning with a wide range of education specific applications to enhance the way your students learn. Use Office 365 and Windows 10 together to open up a whole new platform for learning.
Quick and easy deployment across campus with Windows 10
Deploy and manage your way with Windows 10. Whether it's for one classroom or a hundred, choose either a cloud or on-premises management solution.
Keep your students' data safe with Windows 10 and Office 365
Windows 10 has strong malware resistance and Device Guard to keep your resources, documents and data safe. Add a further layer of protection for data control with Office 365 and its comprehensive built-in security features.
What does a day in the life of an educator look like with Microsoft solutions?
Take a detailed look at this with Microsoft Teacher Ambassador Natalie Burgess who took people through her average day at BETT 2017
---
Discover what you can do with Microsoft
Use Office 365 features to improve student engagement
OneNote for Classroom
It's OneNote, but not as you know it. OneNote Class Notebooks is specifically designed by Microsoft, for Education.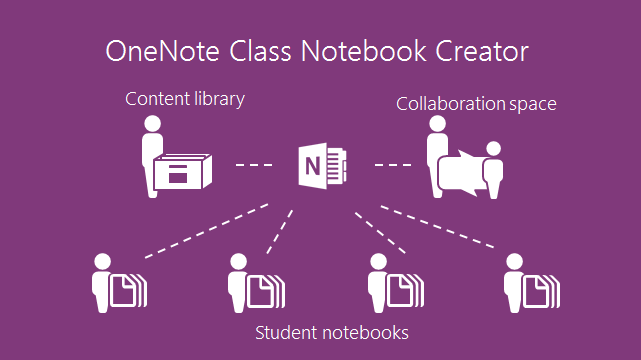 Class Notebook Add-in
This free add-in for OneNote desktop (2013 or 2016) was designed by Microsoft to help teachers save time and be more efficient. By adding it to your OneNote, you'll benefit from:
A personal workspace for every student,

A content library for hand-outs

A collaboration space for lessons and creative activities
So you and your students can be organised and learn more effectively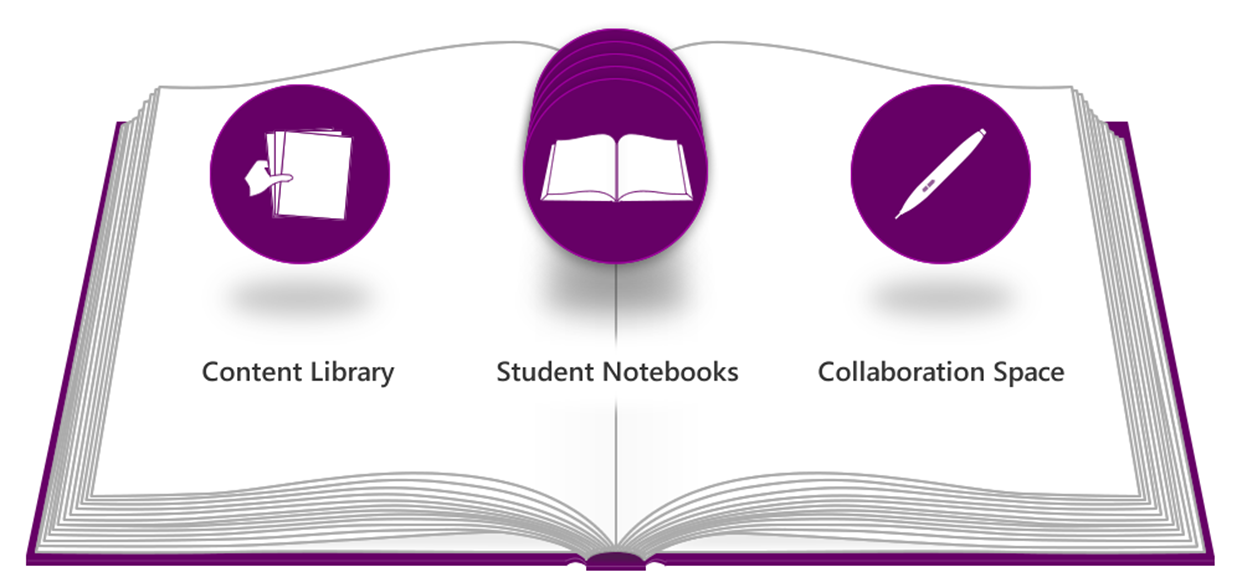 Connect in the classroom
Bring students together in a collaborative space or give individual support in private notebooks. You can be greener and reduce print and consumables costs with no more print handouts. You can organise lessons and distribute assignments from a central content library. No more problems with students losing handouts!
Organise your course content
Your lesson plans and course content can be organised in your own digital notebook. You can keep everything in a OneNote Class Notebook, use its powerful search to find what you're looking for – even text in pictures or handwriting. Your notebooks are saved automatically and can be viewed from any devices, online or offline with single sign-on.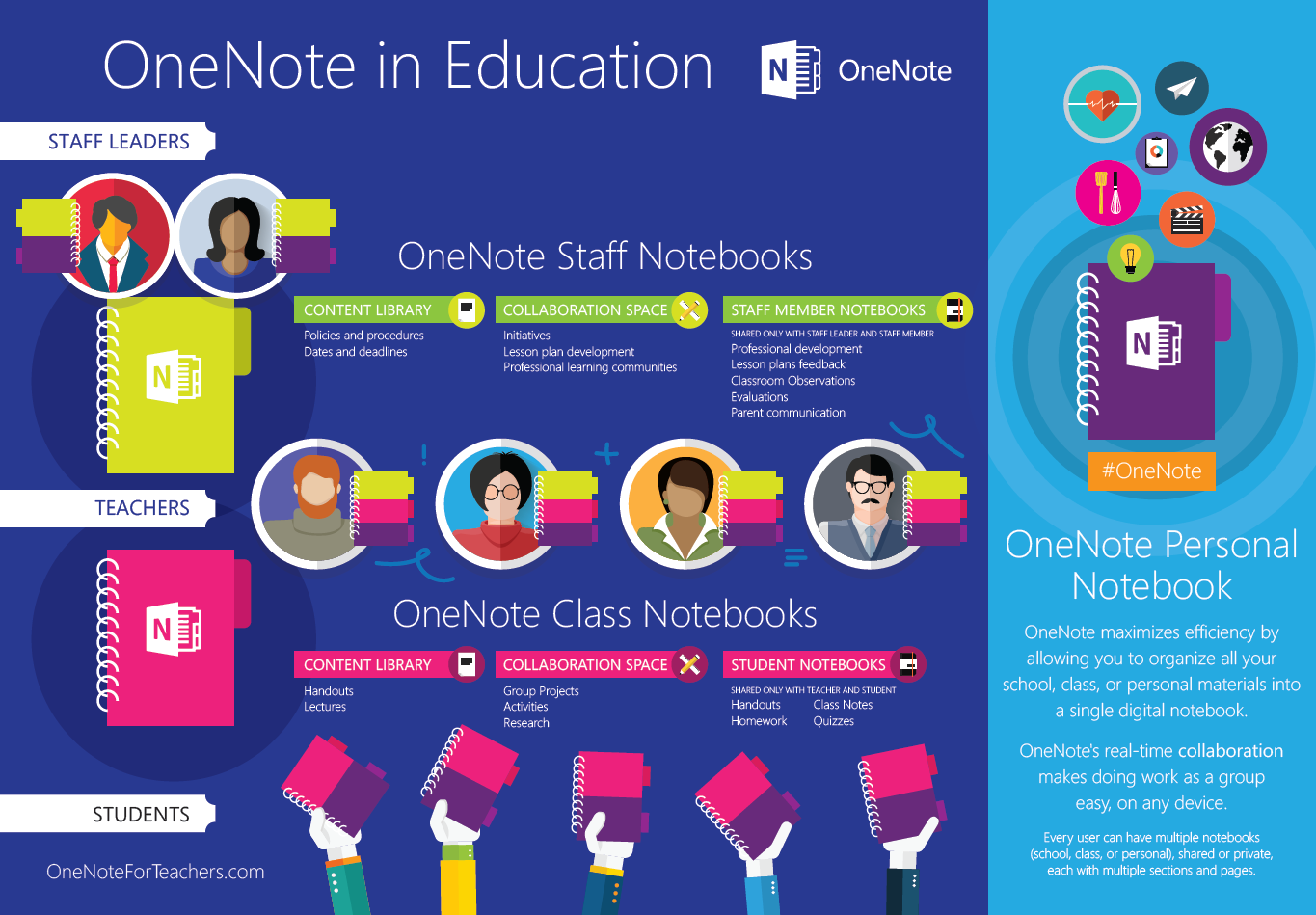 Create and deliver interactive lessons
With your Class Notebook, you'll be able to create custom lesson plans. Collect web content, embed existing lessons and include audio and video recordings. Not only can these options offer further customisation but they'll help to create interactive and engaging lessons for students. Students can use powerful drawing tools to highlight, annotate slides, sketch diagrams, and take handwritten notes. You'll find it's easier to collect homework, quizzes, exams and hand-outs too. Students go to the content library to get their assignments.!
Collaborate and provide feedback
You can give even more support one-on-one with the opportunity to type or write directly in each student's private notebook. You'll be able to provide real-time feedback and coaching by encouraging the use of the collaboration space and encouraging students to work together with you overseeing their interactions. By searching for tags asking for help, teachers can give instant feedback to students who are struggling.
OneNote Class Notebooks at Cary Academy – case study
Microsoft created this video to show how the teachers at Cary Academy in Cary, North Carolina, were able to integrate OneNote into their classrooms seamlessly. They've used Class Notebooks to improve student engagement and information retention through presentation and organisation. It's even helped them to increase teamwork with real-time collaboration both with other students and educators.
---
Office Mix
Create and share lessons that are interactive and engaging
Office Mix makes it easy to turn presentations into interactive online lessons and share them with your students and colleagues in OneNote, on the web, or in your learning management system. The Mixes you create will play like web videos, but they'll do more. With support for animations, live links, engagement and tracking options, Office Mix could become your favourite classroom tool.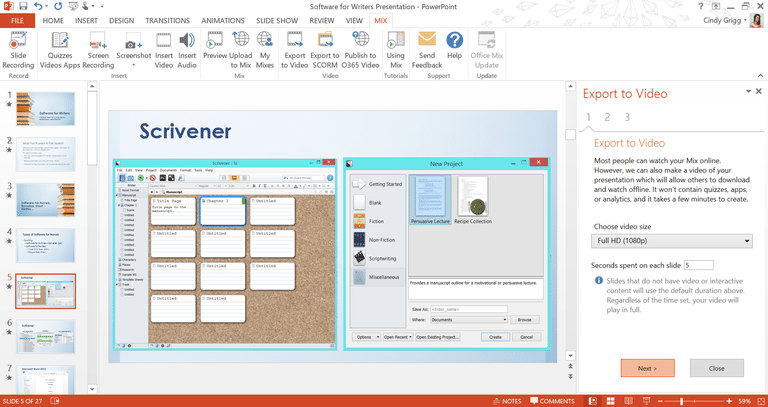 Worried about cost?
Stop! Office Mix is a free extension to PowerPoint from Microsoft. All you need to do is make sure you're running PowerPoint 2013 or above. For IT and Network managers already running Office 365 it's even easier. Just sign in with your organisation's account or your staff and students can sign in with their Google, Facebook, or Microsoft accounts.
Go to https://mix.office.com/. Once you've logged in, scroll to the bottom of the page and "Run OfficeMix.Setup.exe", agree to the license terms and conditions and click "Install" – then get Mix-ing.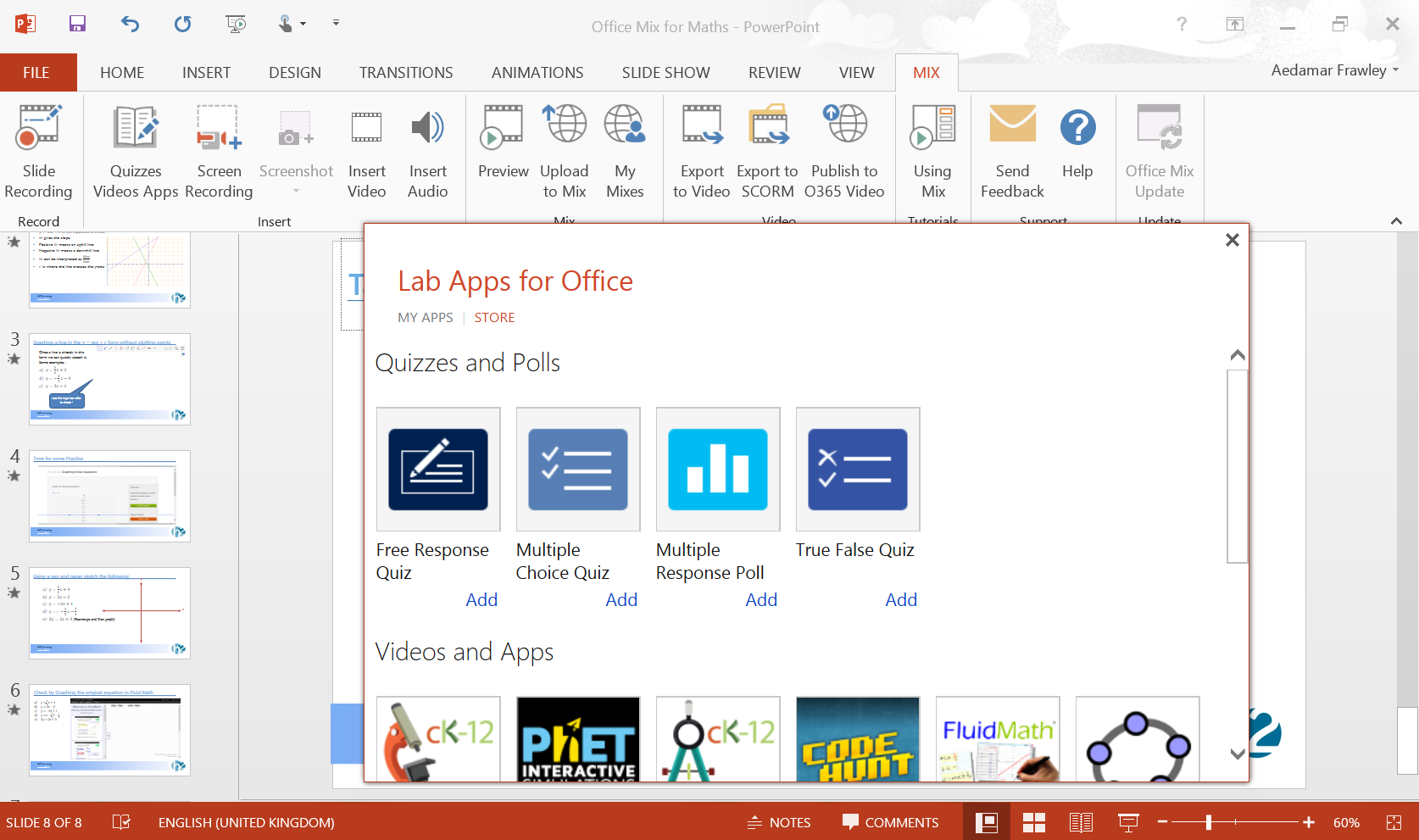 Office Mix is designed to a makes it easy for educators to create and share rich, interactive lessons
Annotate lectures and lessons; you can record, write and draw on slides

Add quizzes, labs and interactive content, your students will see their results instantly

Analytics for every slide and every student, see which students have engaged with your mix and how

Create your lecture once and let Mix do the rest, allowing your students to replay and access it anywhere

This Microsoft solution is available to share and play on any device, so you don't need to worry about your access if you or your students are on the move
Considering a Flipped learning model? See how easy it can be with Office Mix
Record your lecture while you write and draw on your slides and add audio, video, assessments or labs. You can easily share your lessons with students and colleagues. They can watch them online, on nearly any device. You'll also have access to reporting from your Mix, so you can review the analytics for every student, quiz and slide. This can help you understand knowledge gaps across the class as well as for individuals.
---
Sway
Use Sway to create and share content quickly and easily in a way that looks polished
What you can make in Sway? Here's just a few ideas:
Reports

Presentations

Newsletters

Personal Stories
Add your content, and let Sway do the rest
You can bring your Sway to life with interactive content that can help tell your story. Include a video to talk about your idea or add an interactive chart to let others dive into the details.
If you want to broaden your material with other content sources, like video, imagery that's free to share and social posts, Sway can help. You'll see suggested search results based on your content that'll help you find relevant images, videos, tweets and other content that you can drag and drop directly into your creation. So there's no need to juggle apps and web pages to find what you want.
You don't even need to worry about the design. You can instantly transform your Sway with great designs and formatting. Sway's built-in design engine takes care of it. If the first design isn't right for you, Remix! it to see others and from there you can customise each Remix! to make it your own.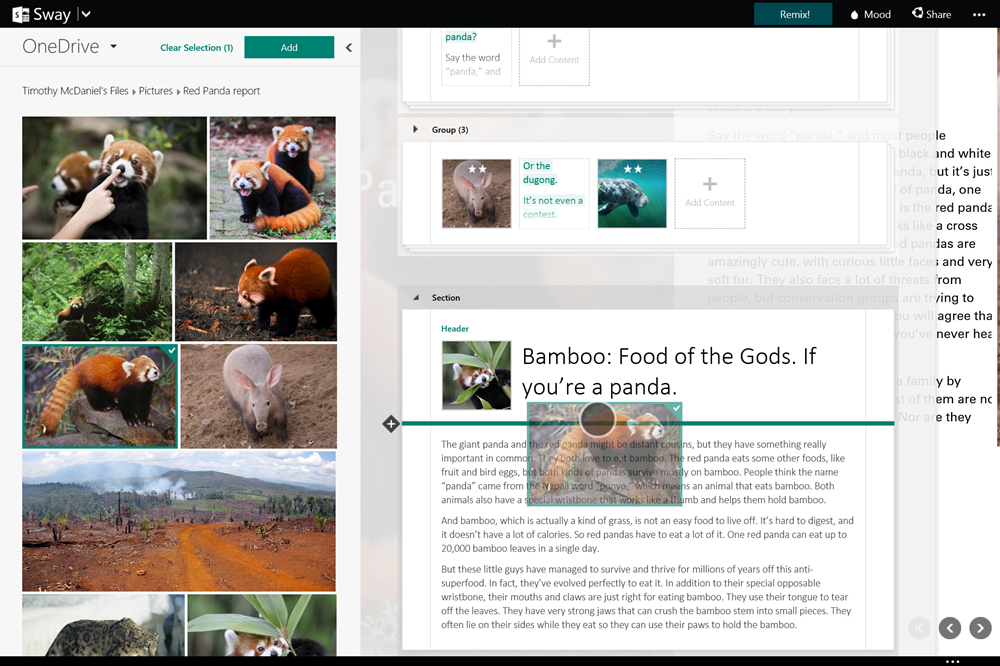 Once your Sway is done, you can even share it easily, just by sending a link. From students or classmates to educators or colleagues, they can see your creation on the web without signing up or downloading additional software. Don't worry though; you can change the Sway's privacy settings for more control.
Available on:
Web

Windows 10

iPhone

iPad
See how easy it is to start using Sway by watching this short video:
Module 1: Sway - Create and share interactive class materials, presentations, projects, and more.
---
Yammer
Microsoft Yammer is a private social network that enables effective collaboration and team work
Yammer enables:
Document collaboration
Discuss, edit, and co-author documents in Yammer using Office Online.

Intelligent insights
Get smart suggestions for people and groups based on your interactions across Office 365.

Connected experience
Share and discuss content in Yammer directly from SharePoint, Delve, Skype Meeting Broadcast, and more.
You'll be able to connect students, teachers and classes across your learning environment. This can enable your students to make better decisions, faster. While allowing you to monitor their activity and promote e-safety.

Empower your students and teachers to discuss ideas, share updates, and crowd-source answers from across your school. Yammer gives your people a faster, smarter way to connect and collaborate across your academic organisation.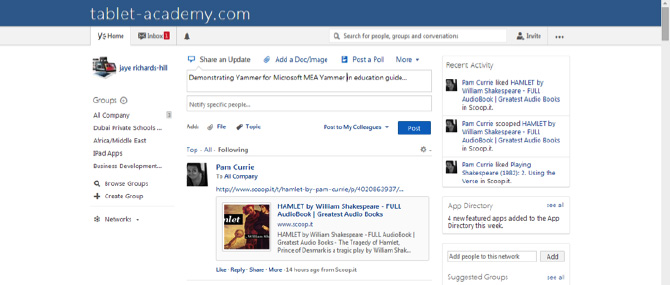 Discover the benefits of using Yammer!
Start a Group for your school, your teachers, your class, a project, your governors, or anything at all

Share ideas, questions, and updates with your peers

Public Groups for working in the open with governors and parents; Private Groups for students and more sensitive information

Safely collaborate with parents, governors and other key stakeholders with External Groups

Upload files, photos, and videos and have conversations around them

Stay connected with Yammer apps for iOS, Android, and Windows Phone
Staying connected is more important than ever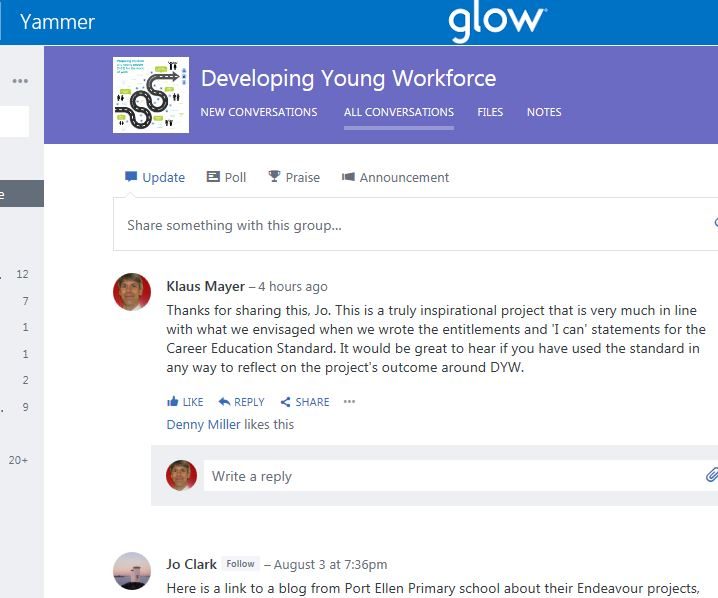 Share and collaborate with the right people
Communicate, share files, and work together in groups organised by class, project or subject. Extend the conversation by securely looping in external parties whenever needed.
Work together with anyone across your school on projects, initiatives and events. Groups provide open, flexible workspaces for staff, students and communities by offering a central place for conversations, files, updates, and more.
You can also add other stakeholders like parents, governors and community leaders to group conversations for specific input. For ongoing collaboration, you can create dedicated external groups or external networks to foster deeper relationships and instil a sense of community.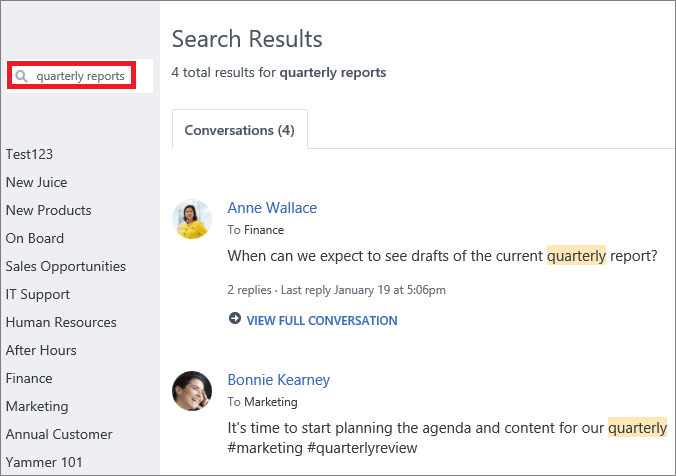 Tap into knowledge across your learning environment
Staff and students can use the Discovery feed to stay on top of what matters to them. They'll be able to find and build on the work of others with a smarter search that delivers personalised results. Find what you need, right when you need it. Yammer seamlessly enables connections to people and information from across your organisation that you never knew existed, making it easier to move your work forward. The Discovery feed keeps you up to date on what's happening across your academic organisation. Yammer delivers content about people, information, and groups that may be relevant to you.
You can search for experts, conversations, and files to cut down on duplicating work. Yammer uses Office Graph to deliver personalised search results based on your interests and interactions across your learning environment. Use your Inbox to view, prioritise, and manage what's most relevant to you in Yammer. Your notifications and priority settings allow you to tackle the most important messages and announcements across your groups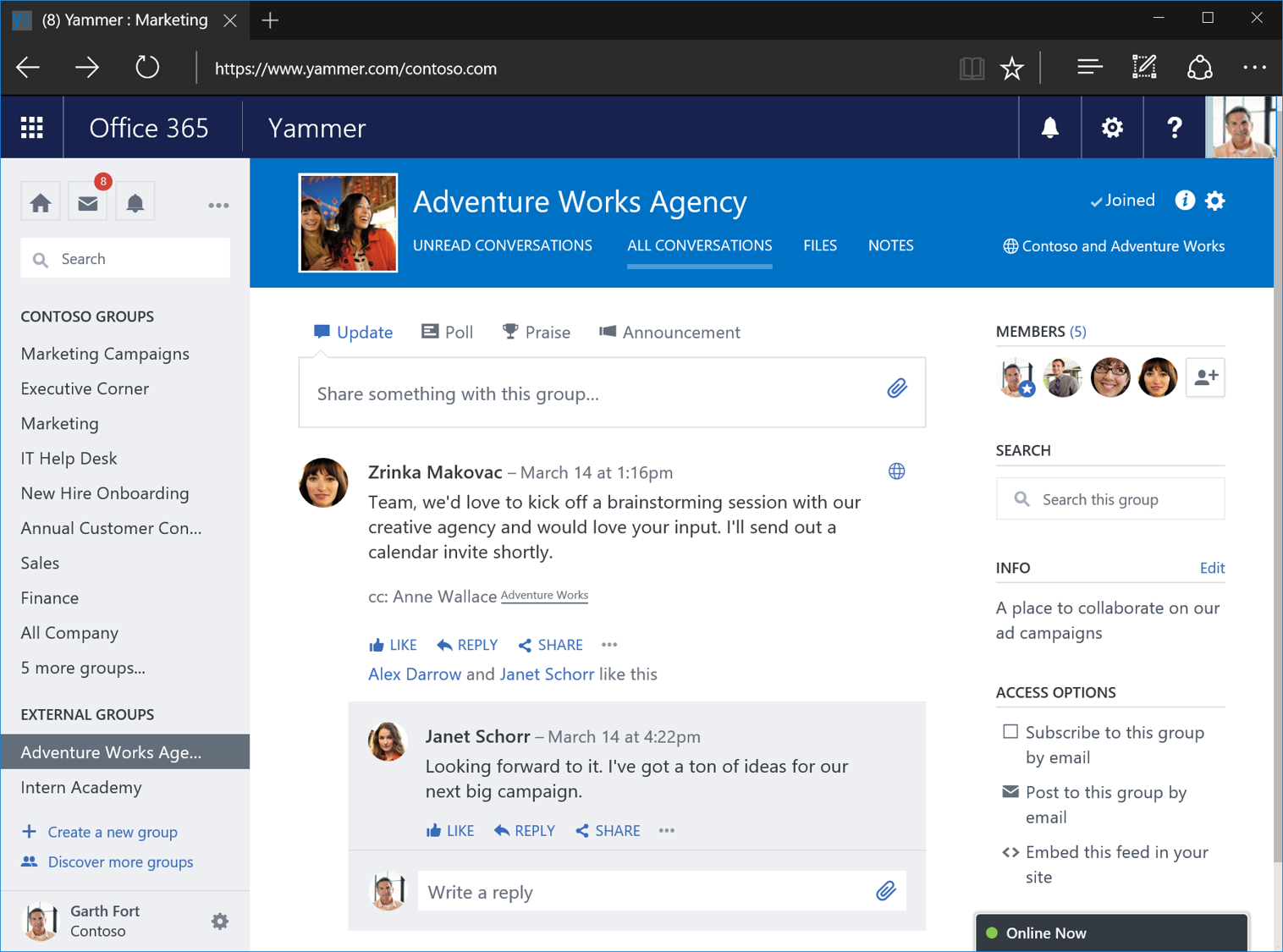 Connect and engage everyone
Enable your students to take collaboration to the next level with powerful, secure mobile apps that keep pupils connected and part of the community, wherever they are. Use Yammer Groups to stay in the loop with the work going on across your subject, class or project. Engage the whole class to solve problems and identify the best ideas, and enable them to work more collaboratively.
Your educators can spend less time crafting perfect emails, and more time doing. Conversations in Yammer make it easy to quickly share information on a topic, have active discussions around it, and agree on next steps.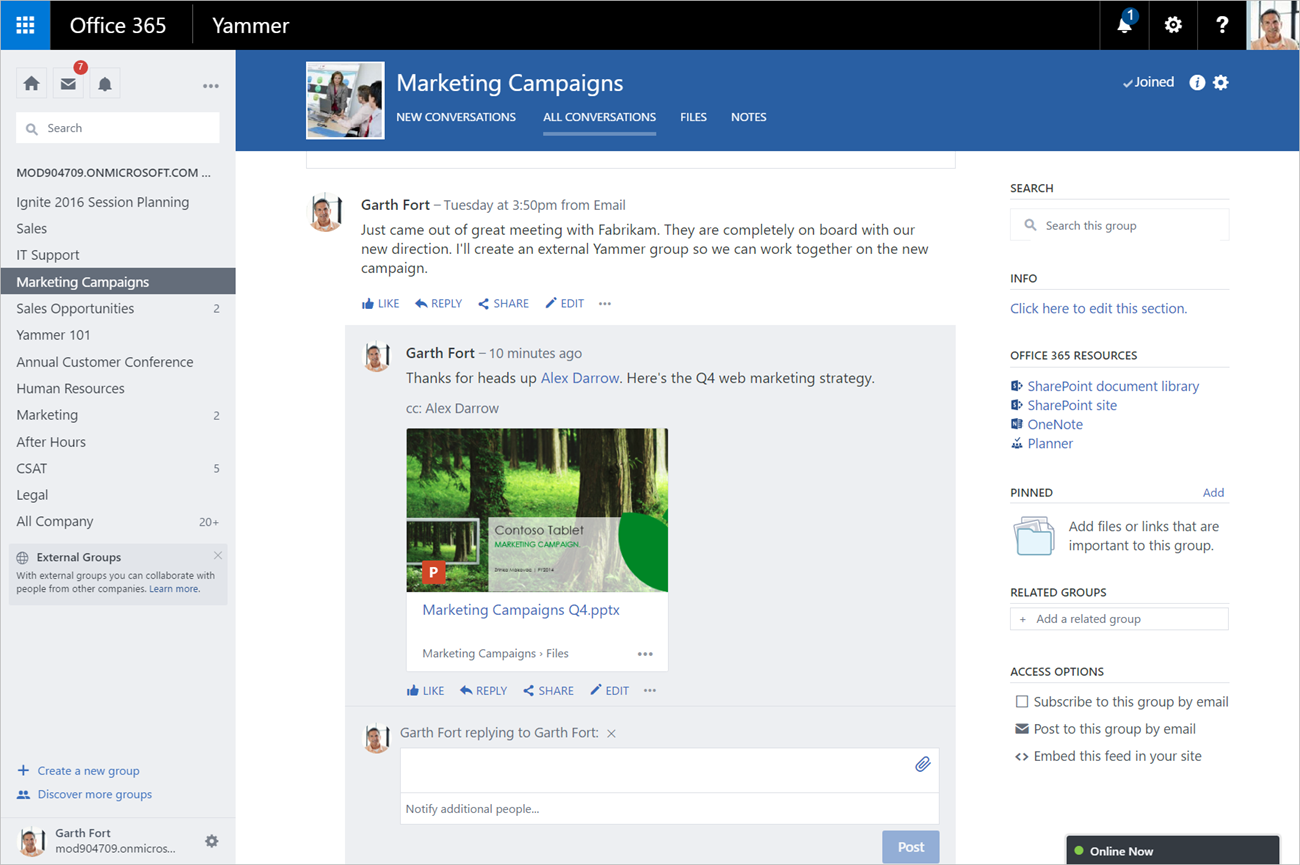 Works seamlessly with Office
Enjoy the familiar interface and file-sharing features you already use. Yammer is your social layer across Office, integrating with your favourite apps to help you and your students to stay productive and work more collaboratively.
You'll experience the familiar interface and rich capabilities of Office all inside Yammer. You can preview, edit, and co-author documents using Office Online. Your work is automatically saved, and you can easily compare versions and finalise changes.
Yammer in your Classroom?
See how Yammer can be used as your school social network or even as your full primary e-learning system
---
Skype in the Classroom
An online community that enables thousands of teachers to inspire the next generation through transformative learning over Skype
Create "global citizens" with the live learning that's on offer when you use Skype in the Classroom
You can bring the world into your classroom with Skype in five different and engaging:
Virtual Field Trips
Skype Lessons
Skype Collaborations
Mystery Skype
Guest Speakers
To start using Skype in the Classroom, you need to make sure your school has Skype for Business (it's free to download, but most people only have standard Skype so it's good to check).
You'll also need to be part of the Microsoft Educator Community (MEC). It's a great way to learn more about the great tools Microsoft have for education so even if you're not ready to use Skype in the Classroom, you should still sign-up!
Once you've got Skype for Business and you're in the MEC, you just need to link your Skype ID to your MEC profile by filling out the Skype in the Classroom details. Then you're ready to start bringing Skype to your lessons.
And you can open up a World of Possibilities with Skype Translator…
Virtual Field Trips
Visit Microsoft experts out in the field all around the world. You can take your students for an adventure without leaving the classroom.
Once you've registered, you can filter by age range, subject, country and the host availability, it's so easy! Bring a new perspective of the world to your class in just 3 easy steps:
Choose one of the Virtual Field Trips

Register for the trip you'd like

Your chosen host will normally respond within 3 working days
Skype Lessons
Your students can receive live learning activities given by experts around a specific topic or theme – all delivered via Skype.
Skype Lessons are an amazing opportunity for your students to get connected with hundreds of global professionals and experts, covering a variety of topics. Your students can also use Skype Lessons to collaborate in Skype projects with classrooms from around the globe.
It's easy to get your class ready for a Skype Lesson and a Skype Collaboration.
Go to the Skype Lessons Page and check all the lessons given by experts. They'll all be grouped around a specific topic or theme. (You can filter by age range, subject, country and the host availability)

Choose one of the Skype Lessons

Request a session
Skype Collaborations
Connect with other educators around the world and collaborate on a specific project. For example, if you're teaching biomes, why not Skype with another class who lives in a very different biome to you?
Get your class ready to participate in a Skype Collaboration:
Find a collaboration to join, just go to the Skype Collaborations Page

View all the available Teacher created projects for your classroom to participate and collaborate

Filter the options according to yours students' age, the subject you're teaching or focusing on and the language you'd like to learn in

Request to join, Microsoft Collaboration hosts usually respond within 3 working days
When you're choosing a Skype Collaboration, make sure you read the registration instructions carefully. Some host teachers might ask you to complete a form with your contact details in order to be registered.
Guest Speakers
Find hundreds of volunteer guest speakers from around the world on a wide variety of subjects.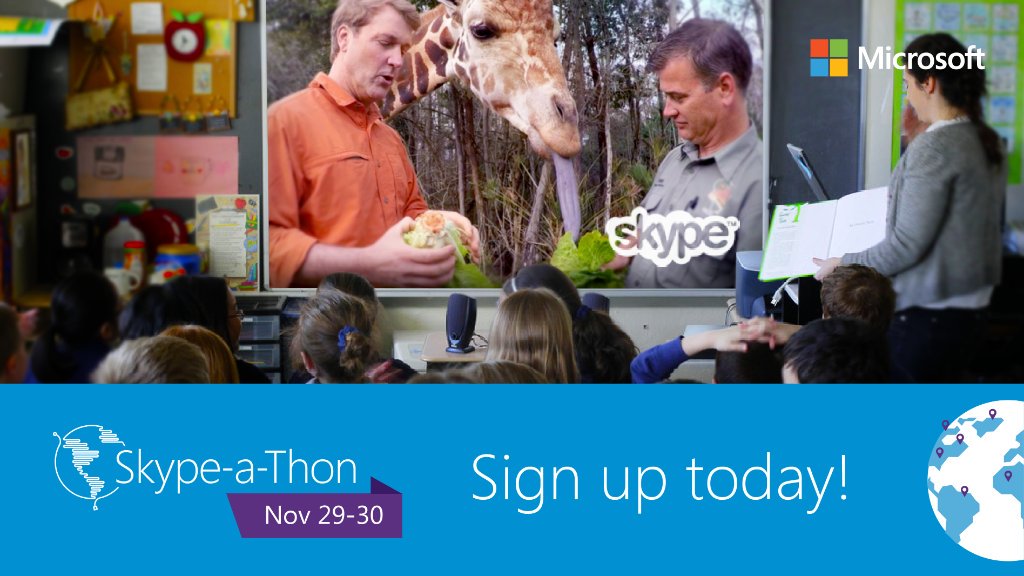 You can invite one of our Guest Speakers into your classroom to share their passion and bring learning to live for your students.
Go to Guest Speakers' Page on Microsoft Educator Community

You can filter by age range, subject, country and the host availability

Choose one of the Guest Speakers and request a session
When you're choosing a Skype Guest Speaker, always check their profile and their field of expertise.
Who can be a Guest Speaker?
Guest Speakers are experts in their field who are passionate about sharing their knowledge. They have something unique to share with students around the world. Guest Speakers can be teachers, although usually they're not- e.g. they might be an author who is sharing with students about how they wrote their book, or an engineer sharing how they built an app. As a teacher, if you're looking to connect with other teachers around the world, you can connect directly by playing Mystery Skype and by getting involved in Skype Collaborations.
If you'd like to learn more about Skype Guest Speakers, or if you'd like to apply to be one, please visit the Microsoft Educator Community to learn more.
Reasons Microsoft Office 365 is the smart choice for education
Office 365 will help every student to prepare for their future

1.2 billion people use Office every day.1 When schools, colleges and universities use Office, their students get a hands-on experience

Office 365 is an enterprise grade IT solution for education, and you can easily manage all Windows devices with Microsoft's Enterprise Mobility Suite

Subscription ensures your campus is always up to date without upfront costs

With Office 365 and Enterprise Mobility Suite compliance and privacy controls ensure your students' and teachers' important data is safe and secure, all year round

You get enterprise grade IT solutions for education, so you can easily manage all Windows devices
Become a member of the Microsoft Imagine Academy.
Learn more

❭
---