Recommended products
Our recommended products for Special Educational Needs or Disabilities (SEND)
Discover the best assistive technology to improve learning outcomes for students with SEND

Individual headsets that provide comfort and improve productivity
Plantronics have been providing innovative audio technology for over 50 years. This technology is being widely used in classrooms to help students with SEND find their lessons more enjoyable, manageable and productive. Plantronics headsets are made for comfort, with durable leatherette ear cushions and a lightweight design that can easily be worn for long periods of time. The sophisticated active noise cancellation technology helps students stay focused and at ease by blocking out the unwanted background noise of the classroom around them.
---
Help students with all types of learning needs
Students who are hard of hearing will benefit from being able to listen to an audio clip as loud as they need to, without disturbing the rest of their peers. By blocking out the background noise, their hearing will be fully dedicated to the audio which they want to hear. And the superb audio clarity makes it easier to understand what's being said.
Students with Attention Deficit Disorder can be highly distractible. Interference from sounds can easily disrupt them from learning. These students may benefit from more focused learning engagement through the use of audio materials. Plantronics headphones enable this type of learning and block out unwanted distractions.
Plantronics headsets can enable students who have difficulty with reading and comprehension to use text to speech software, without distracting the rest of the class. They can read a passage of text along with the rest of their peers, and improve their comprehension as a result.
Students with social, emotional or behavioural problems can find being surrounded by people all day overwhelming. Plantronics headsets enable them to shield themselves from the situation, without having to physically remove themselves. Blocking out the noise of their peers can reduce their anxiety and help them remain calm.
---
Enable students to filter sound - improving their focus and reducing anxiety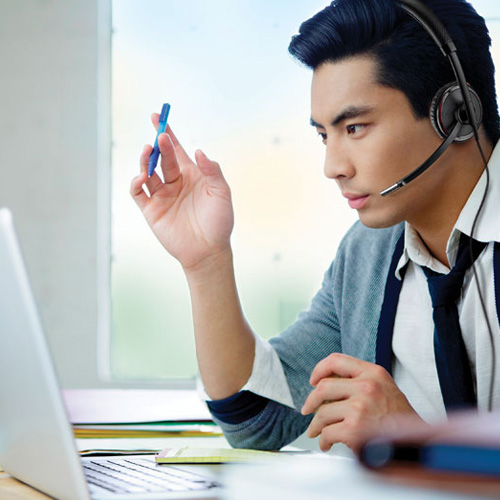 Some students find it difficult to process and act upon information received through their senses. This can affect their ability to perform everyday tasks. Students with Autism can be very sensitive to sound and have difficulty filtering it, leading to them becoming upset and anxious. They may find it challenging to ignore background noise in order to focus on a conversation or task. Plantronics noise cancelling headsets enable these students to filter sound. They're designed to cancel out low frequency sounds, so they'll cut out the background noise in the class, but they'll still be able to hear if someone close talks to them. This means that they can still be a part of the lesson and can be encouraged to interact and communicate whilst wearing them. Plus, reducing the amount of overwhelming noise should instantly help them to feel calmer and less anxious.
Improve speech and learning outcomes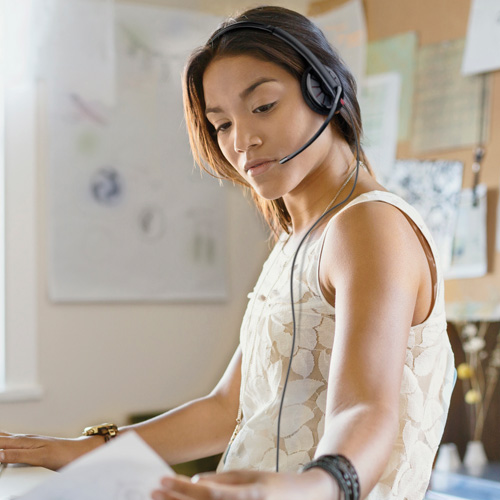 Individual student headsets are a critical component of a differentiated classroom. For students with learning difficulties or for whom English is a second language, e-learning allows them to study content specific to their abilities, at their own pace. Reducing the risk of them becoming bored or causing distractions in class because they're finding it difficult to keep up with the lesson. Plantronics headsets enable individual e-learning, allowing for a more focused and immersive learning experience. And the crystal clear audio quality makes it easier for English language learners to pick up and understand what's being said.
---

The perfect fit for any student
Ensure your tech is prepared for any possibility with the Lenovo N23 Windows 10 Yoga
Noteworthy features
The 360° degree hinge and built-in multi-touch display allows your students to work in the way that best suits them and their learning style, or that's most comfortable and accessible to their particular needs. It even gives them the freedom to bend, flip, or turn their device while they learn, so they can easily switch between modes whenever they need to. Plus, the display is also anti-glare, which means you can ensure comfortable viewing and minimal eyestrain for students who have difficulty looking at a screen.
Portable power
At just 1.4kg, the N23 is light enough for any student to carry round with them, and designed to keep up with the demands of a hectic classroom. But don't be fooled, this device might be compact but it certainly doesn't sacrifice on power. The Intel processor, 4GB of memory, and 128GB of storage, will seamlessly power through your students requirements; including demanding learning tools, e-learning courses, and apps designed for special education. And with up to 8 hours of battery life, you can rest assured that it will keep up all through the school day and beyond.
Smart and strong
Students with sensory or physical disabilities may have some trouble with holding their device, which could lead to drops, bumps, or spills. The N23 is built to withstand a fall from up to 75cm, its durable, drop-resistant design is a match for any students' slippery grip, and thanks to a non-slip texture, scratches and wear are easily hidden. Plus, its water-resistant keyboard and mechanically anchored keys will withstand accidental spillages, and ensure easily distracted students can't pick off the keys!
Vibrant 11.6" HD IPS Touchscreen
Incredible sharpness meets the versatility of a touchscreen in the Lenovo™ N23. The 11.6" screen hits the sweet spot between comfortable viewing and portability.
Rugged IPS52- Certified Design
Dust-proof and spill-proof, the precision-crafted design allows the N23 to withstand everything from classrooms to the great outdoors.
Versatile Yoga Design
The flexible hinge allows you to use the N23 in 4 modes: laptop, tablet, tent, and stand. This versatile form factor makes it a joy to work, watch videos, or use it as a tablet.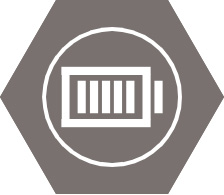 Long battery life
From classroom, to study group, to homework, the N23 offers enough juice for all-day productivity.
---
Encourage hand-eye co-ordination and tactile interaction with these immersive products
HP Sprout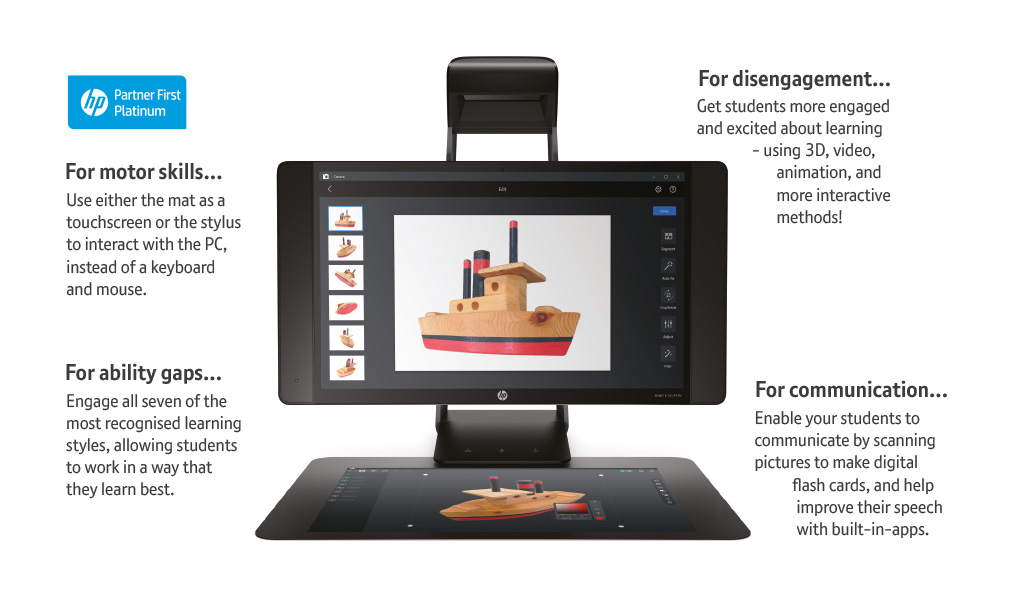 Reimagine learning with HP Sprout
For many students with learning difficulties, the more of the brain they engage whilst learning, the more they remember of what they've learnt. The HP Sprout has the amazing ability to engage all seven of the most recognised learning styles in one all-in-one immersive computer; from visual to physical learning and individual to collaborative styles. Your students are able to navigate the desktop using just the Touch Mat, giving them an alternative if they have difficulty using a mouse and keyboard, as well as providing them with the opportunity to exercise their motor skills. If you have students on the Autism spectrum, the Sprout will assist them in developing their hand-eye coordination skills, and the built-in apps help them explore new ways to communicate.
"It's less intimidating to them than a keyboard and mouse. It actually draws them in. It provides confidence."


Jackie Wells | President and Chief Executive Officer
Discover how by utilising the Sprout, Pioneer Center opened up new possibilities for young adults with intellectual and development disabilities:
Download the HP case study
Shop now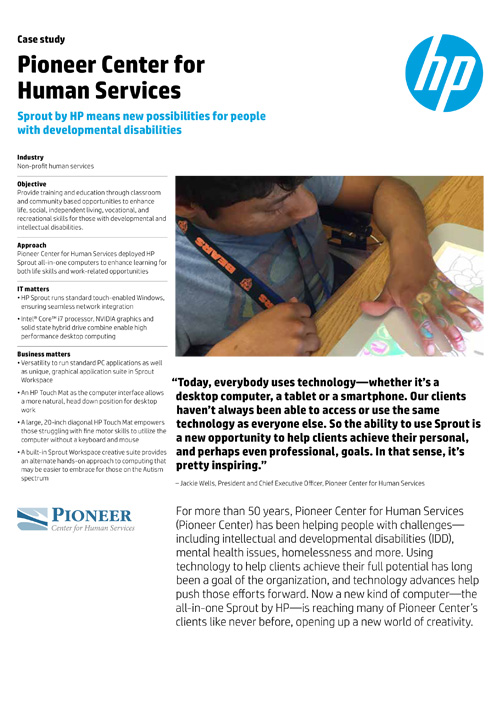 ---

Improve learning outcomes with an Aruba mobile-first learning environment
Digital learning is crucial to creating an inclusive learning environment and ensuring that all your students have the same learning opportunities. However, in order to create this type of environment, you'll need optimise your digital classroom and have a reliable infrastructure to connect to. You might think that you've already created a really effective inclusive learning environment with 1:1 devices, learning apps, and other assistive technology. But all this technology is only as fast and reliable as the infrastructure they're connected to.
Aruba provides reliable classroom Wi-Fi that lets everyone thrive and won't interrupt learning:
Support for multiple mobile devices per student, teacher devices, wireless printers, and other wireless equipment in the classroom
Fast and easy access to digital learning tools
Anytime/anywhere access to Cloud-based apps like Google Apps for Education and Office 365
Prioritisation of critical learning apps which support special learning needs or provide accessibility features
Blocks inappropriate content, while supporting high bandwidth applications such as HD video streaming and interactive learning games
Read how one school district implemented Aruba solutions to provide a 1:1 device culture that supported personalised, digital learning, with a reliable and secure network
Read now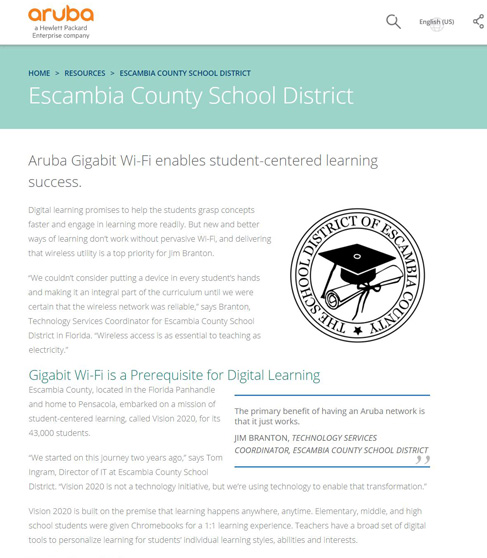 With the right network infrastructure planning, you can empower teachers to deliver a richer learning experience that's accessible to all your students, while streamlining IT operations across campus. We can help you to build a robust and reliable Wi-Fi infrastructure that fits your specific needs. To learn more about Aruba, talk to us today: 0870 429 3020
---
Keep your SEND records up-to-date and secure
You need to ensure that all SEND pupils' records are completely accurate and readily available to be reviewed when needed. You're required to keep SEND records for a longer period of time than other student records, and may have to keep them for up to 50 years. These records should include any files; reviews; education, health and care plans; and full details on their SEN support. Your records of any additional or different provision made under SEN support are particularly important as they should form part of regular discussions with parents about the child's progress, expected outcomes from the support, and planned next steps. You should also ensure that you can evidence the SEN support that has been provided over the pupil's time in the school, as well as its impact. As part of any Ofsted inspection, you'll be expected to provide clear evidence of your monitoring and evaluation of any SEND support provided. A local authority who's carrying out an assessment of the pupil's needs may also request to review this information.
All in all, that's a lot of sensitive data which you need to not only store, but ensure the safety of in order to comply with child protection and keep your students safe.
Get the conversation started
Call us for free, no obligation advice
Contact our Education IT Specialists:
0870 429 3020
btbd.publicsector@bt.com
---