Networking management
Network Management
Manage your network effectively
If you're looking to future-proof your network, predict issues before they happen, and secure your network with policy management, then we've got a solution for you. Our Enterprise Business Team provides independent advice that can help you optimise your organisation; they're here to guide you through the latest approaches to creating and managing your networked environment.

Get detailed visibility into wired and wireless networks
Easy-to-use network management system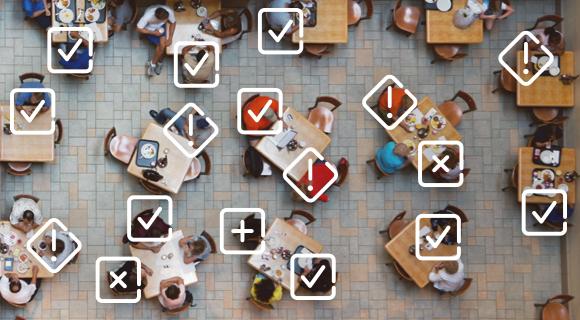 As well as provide detailed visibility into devices, users and applications on the network, Aruba AirWave manages wired and wireless infrastructure from Aruba and a wide range of other manufacturers. With outstanding insight and centralised control needed to manage global enterprise infrastructures effectively, AirWave lets IT organisations proactively optimise network performance, strengthen wireless security and improve the end-user experience. Through a centralised and intuitive user interface, AirWave proactively monitors the health and performance of all things connected, giving IT departments the insight necessary to support today's digital workplace.
With Aruba, one purchase lasts a life-time
With Aruba AirWave, one single purchase lasts a life-time. The only costs you'll incur are for subscription updates. No matter the size of your organisation, Aruba covers market-leading wired/wireless networks, network access control, management, and customer engagement solutions.
See what's inside all those mobile apps.
With Aruba AppRF (application visibility and control feature), AirWave provides deep visibility into performance and usage of mobile and web apps. Reputation reports allow you to quickly take action against high risk sites and control Wi-Fi usage by app category. User role, device type and location specific insights let you make quick decisions to protect business critical apps.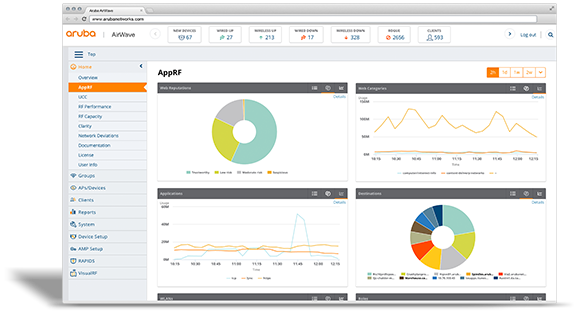 Watch Wi-Fi coverage on-demand.
AirWave uses VisualRF (visibility and context needed to manage the network) to allow for time-lapse mining of Wi-Fi coverage – enabling wireless network engineers to record and replay 24 hours of radio frequency (RF) heat mapping. VisualRF also powers location specific, visual analytics on mobile and web app usage, mobile device performance, mobile UC voice and video quality, and more.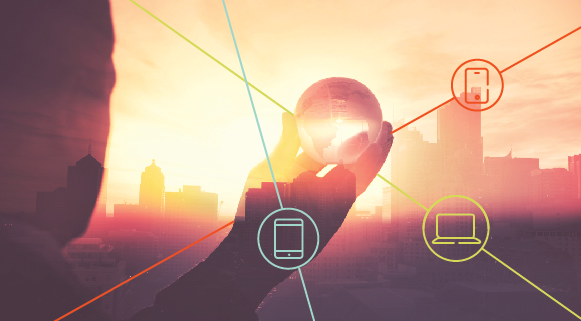 Simplify management of multivendor networks.
Get granular visibility across your entire access infrastructure and manage multiple generations of wired and wireless networks from just about any vendor – from controllerless to controller-managed, and from legacy Wi-Fi to the latest 802.11ac WLANs.
Solve connectivity issues before they happen.
With the new Aruba Clarity module, AirWave proactively monitors critical non-RF metrics — the time it takes for a mobile device to associate with a Wi-Fi radio, authenticate to a RADIUS server, gather an IP address through DHCP, or resolve names for DNS services. With custom alerts and simulated client testing, Clarity lets IT take proactive action against future performance problems.
Get the conversation started
Speak to one of our IT Specialists today
0370 429 3010

---