We speak to hundreds of schools and colleges every day and understand the vital role that technology plays in the education environment. We've seen some fantastic examples of how schools are preparing students for the future by making them more tech savvy. Show us how you'd like to use technology to make your pupils future-fit and transform them from tech consumers to tech literate. 

This year we're giving away £20,000 to help revolutionise the classroom environment and we want to hear how you would spend the money if your school won. The schools with the most innovative ideas will become our 2017 Tech Factor winners.
3 monetary prizes to be won
Plus... brand sponsored prizes

This year, we also have sponsored prizes some of our partners have kindly donated to this great competition. With more partners and full prize details to be revealed

How to enter
We're not looking for the next Steven Spielberg, so don't worry about the quality of the video – it's the idea that counts!

We'd also love you to get your pupils involved.
Why not get their ideas about how you could use tech in school to improve their understanding of it? You can even get them to help produce and star in your video. Last year's most successful videos were engaging because it's the students who featured in the videos.
Have the idea – what would your school spend £10,000 on to improve student's understanding of technology?


(This doesn't need to be about coding or robotics, you could simply be trying to add more technology to your school so that your students gain more experience with it – as long as you tell us why you want the tech you do)

Create a 3 minute video to bring your idea to life
Fill out and submit this entry form
Use your favourite file sharing site – DropBox, OneDrive, Google Drive, WeTransfer or even YouTube (you can upload on a private link) and send us the video url by emailing btbd.b2bmarketing@bt.com
Download a leaflet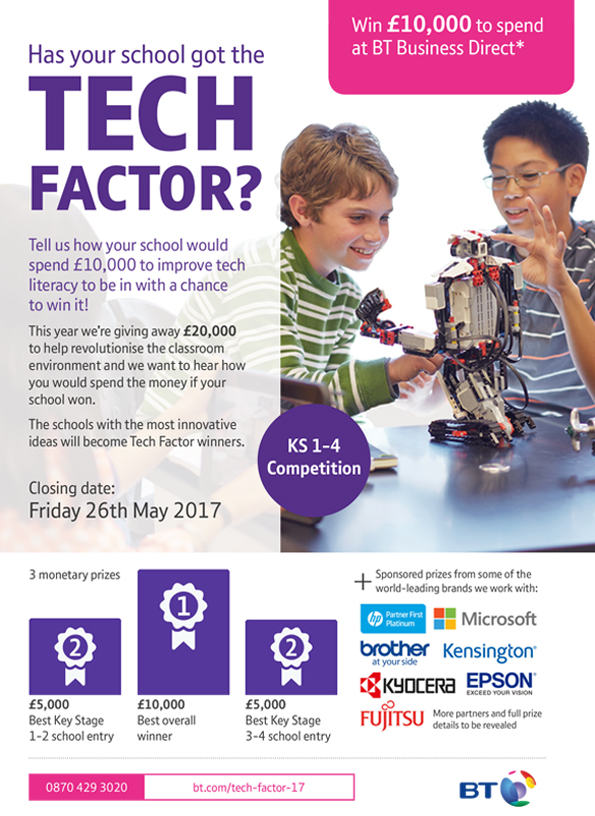 Want to share what you've seen?

If you can't send the url to someone and it's a bit too long to copy, download our leaflet. You can print the Tech Factor leaflet out and hand it to an educator you know, a governor or even your head teacher.

Help us spread the word about this great opportunity and help a school to get the technology they need.
Download here

❭
What does it take to win?
2016

Our 2016 1st place winners produced this fantastic video about using technology to enhance learning and preparing them for the future.

You can find further inspiration for your entry from our previous Tech Factor Winners And Runners-Up, click here. We've also got last year's first round judges together to ask them what it takes to make the shortlist. If you want some handy hints, tips and tricks about what stood out for them, take a look at our education blog.
2015

We went to see 2015's winners to see how £10,000 helped them to enhance their learning outcomes.

Our CEO, Education IT Specialist and Education Channel Marketing Manager were delighted to visit St Michael's C of E to see how their Tech Factor idea came to life. It was fantastic for us get the chance to see how their new tech was being used to improve learning and increase engagement.
Call your Education IT Specialist for more details
Please call your IT Specialist or Account Manager. Don't have one?
1. This competition is open to schools and academies in the KS 1-4 sector or their equivalent (i.e. teaching 5-16 year olds) only.
2. The closing date for entries is Friday 26th May 2017. Our shortlist will be announced and published by Friday 16th June. Winners will be announced by Friday 30th June 2017.
3. A valid entry consists of submitting (a) a Tech Factor 2017 entry form and (b) a Tech Factor 2017 video for your school. Entries that do not have both parts (a) and (b) will not be judged.
4. Only one entry per school. Additional entries from the same school may not be judged, in these instances the first fully delivered entry is the one that will be entered into judging.
5. There are three main prizes to be won, all of which are to be spent at BT Business Direct. We also have additional prizes from our partners to give away to some of our shortlisted schools. A credit will be applied to the accounts of the three schools who win a main monetary prize. First prize is £10,000 to spend at BT Business Direct and there are two runner-up prizes of £5000, one for Key Stage 1-2 schools and one for Key Stage 3-4 schools. The additional prizes are provided by brands that we partner with and can be opted in to during form submission. Prizes are not transferrable.
6. Opting in to a partner prize does not affect your school's potential to win one of the top three cash prizes.
7. Opting in to partner prizes does not mean we'll share your school's details with that partner for third party marketing. However, if you opt in to our (BT Business Direct) marketing it may mean we'll contact you about that partner brand's products and solutions from time to time.
8. When you submit the form part of your entry, you'll be asked if you'd like to receive marketing from us via email, print and/ or phone. As an education customer, you'll only receive marketing from us that's education specific. Our marketing includes, but is not limited; offers for products, solutions, free events, competitions and news. We respect your privacy and these options will be used in future when determining whether to contact you.
9. By entering this competition, schools accept that BT Business Direct has the right to publish the names of the shortlisted schools and the ideas and videos that are submitted by them.
10. By entering this competition, schools accept that BT Business Direct has the right to use the competition, associated entries and ideas in on and offline marketing for future competitions or product promotion.
11. It is the responsibility of the school to get the necessary consents/permissions from the parents or guardians of any pupils taking part in the video.
12. By entering the competition the schools grant BT Business Direct/third parties working on its behalf permission to use the video entries for the purpose of judging the competition.
13. The winners' names and a summary of their idea will be published online. Shortlisted schools may also be summarised and their ideas published online.
14. BT Business Direct reserves the right to amend or withdraw the competition at any time prior to the closing date.