Ensuring the safety and continuity
of today's connected classrooms

With the increasing popularity of 1:1 device programmes, such as BT's ComputAbility, there's been a significant rise in the amount of PC devices in schools. But keeping the digital classroom protected, connected and productive can be a challenge.
Many schools fall into the trap of using their budget to purchase devices, or implementing a 1:1 device scheme, without thinking about the upkeep and practicalities in the long-term. This can result in them being out of pocket further down the line, or devices sitting in a cupboard, broken and unusable because there's no budget left to fix them.
You need to ensure this doesn't happen to you.
Technology really can transform teaching and learning, but planning is key so that resources can be allocated effectively. Want to implement 1:1 devices, but don't have the budget? Our ComputAbility programme could be just what you're looking for.

In the hands of students, devices can be subjected to drops, spills, bumps and just general wear and tear. Not to mention there's the charging of devices, and the risk that they may get lost or stolen to think about.
How can Griffin help?
Griffin's chargers, cases and accessories are designed, tested and proven to be durable. From flexible, secure charging and storage, to sturdy,
spill-resistant cases; Griffin products are designed for the demands of the classroom environment. By choosing Griffin to protect your devices from the off you could save money, and lots of headaches in the future.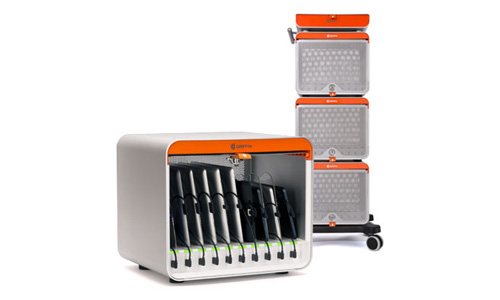 MultiDock ™ & MultiDock Cart ™
Secure and mobile storage, charging, and syncing for the whole class
MultiDock is a single, space-efficient charging station. Store, charge, and sync up to 10 iOS, Android tablets or other devices. With a small footprint - only slightly larger than a laptop computer, it'll easily fit in your classroom. And fits up to 10 tablets. Stack 3 MultiDocks together to sync 30 tablets in the same amount of space, from a single host computer.
MultiDock ™ features
Link 3 MultiDocks together to charge and sync 30 units simultaneously - keep the whole class up and running
Space-efficient, securable charging and storage for iOS, Windows and Android tablets, and more devices
ChargeSensor technology detects the power profile of each device and delivers fastest charging for each device, up to 10 watts per device (5 volts @ 2.1 amps)
Quick Charge Mode allows devices with Lightning connectors to charge while syncing, at the optimum rate
Locking front panels secure all devices while charging - so no need to worry about security
Individual colour-changing LEDs indicate charging and syncing status for each bay
There's even space to charge tablets in bulky cases
Survivor range
Military grade cases with stands

Griffin have designed and rigorously tested the Survivor range to be the most protective cases possible for whatever your school day has in store. The rigid internal frame and integral display protects your device from the wear and tear of daily use. Accidents happen so Griffin protects your devices from drops, impact, vibration, dust, sand, rain, and a host of other environmental factors; for your students. Plus, the multi-position work stand enables easier viewing and typing.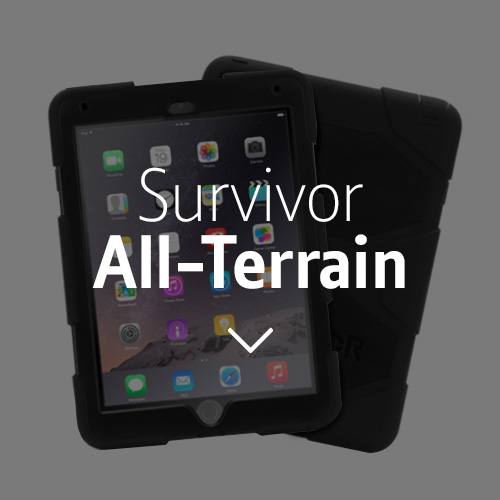 2m drop protection
Easy, wipe clean design
Inner crash shell with foam panels to deflect impacts
Anti-scratch screen shield protects touchscreen
Imprintable area for logo or branding
Slim 10ft drop protected case for tablets
Silicone inner frame and co-moulded outer shell
Scratch resistant screen protector
Slide-on back cover increases touch sensitivity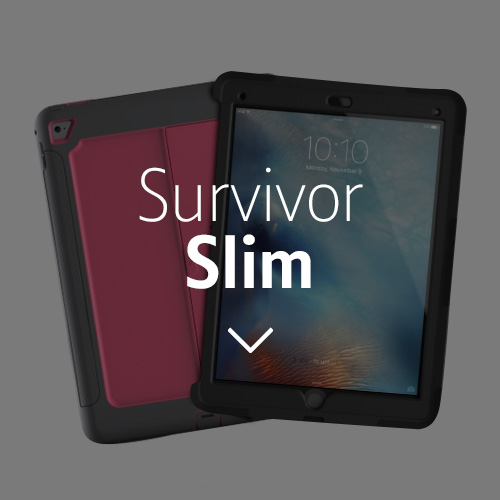 Protects against 2m drops
Tough silicone jacket absorbs impacts
Rigid polycarbonate shell protects against damage
Slim profile fits easily in bookbags or backpacks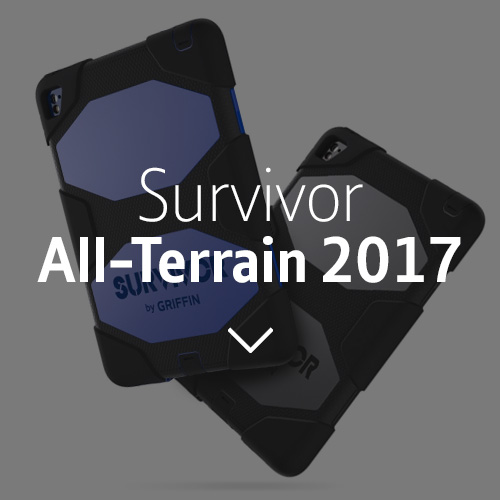 New design, easier to hold without compromising on protection
Designed to meet or exceed standards set by the US Dept. of Defence against 6.6ft drop, rain, sand, dust and vibration
Redesigned, more robust stand securely holds and stabilizes larger devices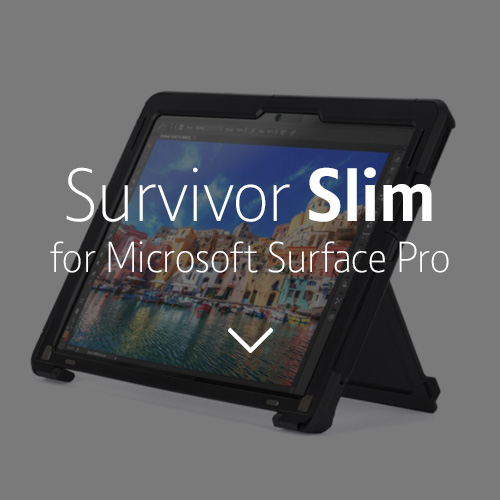 Designed and tested to exceed military standards for drop protection from 1m drops
Fully compatible with your Surface Pro's type cover and multi-position kickstand
Touch-through snap-on screen shield protects your touchscreen from scratches and smudges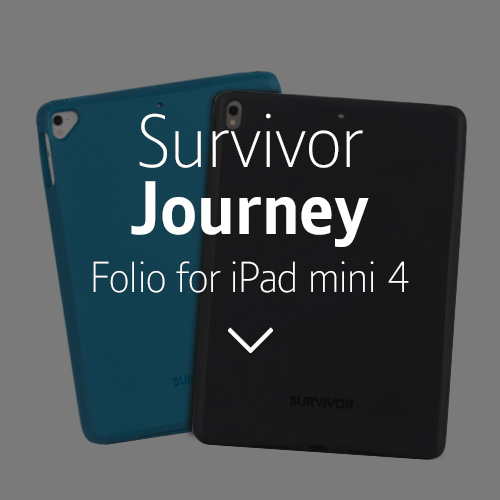 Slim tablet protection, designed to exceed military standard 810-G for protection from drops and impacts
Protects from 1.8m drops onto concrete
Premium moulded shell provides extra protection from impacts to the sides and back of your iPad
Magnetic folio cover attaches with hidden magnets
---
AirStrap™ 360°
A case that makes the iPad easier for students to use, even one-handed.
Drop protected on concrete from up to 8m
Hand strap hugs your hand so students can hold their iPad with one hand whilst they use it
Rotates and locks at in 30° intervals for the most comfortable viewing angle
Protects the edges, controls and connectors of your iPad
Contoured edges are easy to grip, so there's less chance of drops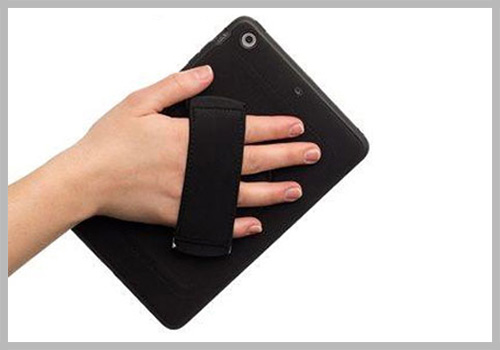 "The case is lightweight, provides outstanding grip and protection to the iPad back and screen. The slim case is ideal for practical use for both indoor and outdoor "


Paul Aldred | Physical Education Teacher | The Elton High School, Bury
---
Elevator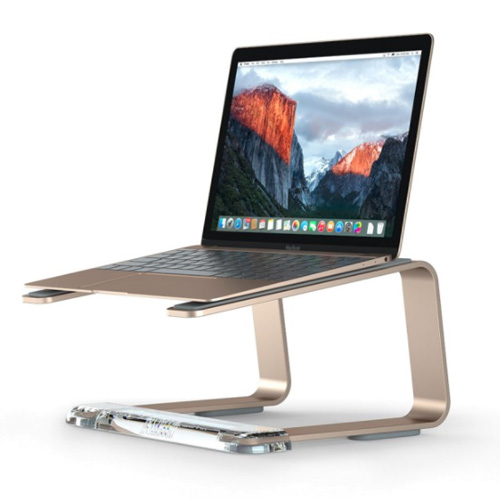 Aluminium laptop stand for notebooks and laptop computers
Raise laptops 5.5" off students' desks
Minimal and elegant design
Keeps laptops cool throughout the school day
Durable, heavy-duty aluminium frame ideal for use in busy classrooms
Shop now
PowerDock 5
Compact countertop charging for up to 5 tablets
Charge Apple or Android tablets
Self-contained mains power adapter
Accommodates iPad tablets in their cases
Designed for convenience and efficiency
Shop now
Education specific pricing available
Don't forget to call your Education IT Specialist or our dedicated team to discuss the education specific pricing available to you. Ask us about Griffin's education offering today.

Contact our IT Specialists:
0870 429 3020
btbd.publicsector@bt.com