BT Local Business

Why are they different?
Each BT Local Business has an education specialist who can provide face-to-face meetings to get to know your school and your needs. Because these businesses are local franchises, it means they can give you an unbeatable combination of local knowledge and national resources.
BTnet
Get the ultimate internet performance for your school
Teachers and pupils need to use the internet to share resources, stream videos and download information from the web. Waiting for information to upload and download wastes important learning time and may lose students' attention. With BTnet, you're never competing for bandwidth. That's the advantage of our leased line service; BTnet is perfect for every institution because the school's internet speed won't slow down, even when several classes are online.
Features at a glance
Low cost – free connection available
Reliable – dedicated bandwidth, ensuring all your applications can run smoothly
High-speed – 2MB to 10GB available
Unlimited data use – no caps or restrictions
24/7 Total Care support with a five hour target fix time
---
BT One Phone Professional
BT One Phone Professional is an advanced, standalone mobility solution that can make life easier for on the move teachers and IT staff. It allows you to make, receive, and manage all your calls from your mobile phone. One Phone Professional allows you and your workforce to be more responsive and productive, giving you the same experience whether you're in an office, classroom or walking around campus. With One Phone you can set spending caps, alerts and data, and text and voice thresholds, so you never receive a scary bill that exceeds your budget.
Built for education
BT One Phone is tailored to your needs and designed to be simple to setup, use and manage. It's easy to add extras like data and texts, roaming and extra hunt groups when you need them.
Easier to manage
You can create one network across your phone system. With one bill to pay, you won't have to deal with multiple suppliers and invoices.
Flexible ways to pay
You can choose whether to pay up-front or spread the cost over time – whichever suits your budget best.
Have total peace of mind
Expert support is available whenever you need it thanks to the dedicated, UK-based, BT One Phone helpdesk.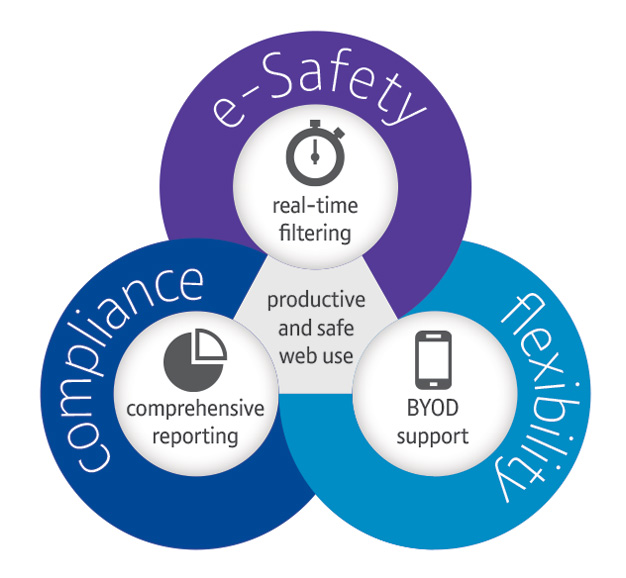 Effectively safeguard with Smoothwall
Smoothwall is the UK's #1 web filtering provider to education, protecting over 7000 schools across the UK. BT Smoothwall is an internet security and content filtering solutions provider. Every day BT Smoothwall helps to protect the networks used by millions of pupils in thousands of schools.
Reporting on high risk categories such as radicalisation, suicide and abuse
Creating alerts for individuals marked as high risk
Protects your network from web-borne malware attacks
Limit bandwidth use by user, content type, time or location
Filter guest mobile devices on your Wi-Fi network
Get the conversation started
Call us for free, no obligation advice
Contact our Education IT Specialists:
0370 429 3020
btbd.publicsector@bt.com