Make sure you get the most out of upgrades to your internet connection...
With the price, reliability and sheer speed of the latest VSDL internet services, many SOHO and SMB clients are switching to the latest Fibre to the Cabinet services like BT Infinity™.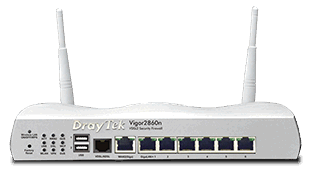 With speed up to 300Mbps, this has transformed the way users and business make use of the internet. Bandwidth heavy tasks such as cloud storage and remote working are now possible which were previously unheard of.
DrayTek's latest Vigor 2860 Series supports both ADSL/ADSL2+, VDSL and CABLE. This means that you can upgrade your existing router whilst ensuring your business has the technology to take advantage of faster internet speeds when available in your area.
Bandwidth heavy applications such as cloud storage and remote working are now easy to implement and you can be protected from broadband failover using the Vigor 2860 series 3G /4G failover capability.
Award Winning Solution
DrayTek products receive continuous praise and good reviews in the media, including printed magazines, national newspapers and online sources.
DrayTek Vigor 2860n "Business Best" in Computer Shopper Magazine
"The Vigor2860n is among the most versatile business routers we've ever reviewed. Its web interface is packed with options. DrayTek's online [firewall] documentation is thorough and there are helpful examples within the web interface.

The Vigor2860n is an excellent business router [and] ideal if your business depends on WiFi Access. This router brings versatility to your business."