Toughen up your tech
Take a look at our rugged IT range, specially designed to withstand extreme conditions and environments

Whether you need a laptop, headset, tablet, mobile, or hard drive; we offer a wide range of rugged IT equipment. They can increase the longevity of your devices and also increase productivity and efficiency when it comes to your work.
In specific industries, including military, mining, and construction, only rugged IT will do. You have no choice but to use equipment that can last. Often, people worry that their device isn't built to sustain drops, drips, rigors and kicks, but in tough industries it goes without saying that technology needs to be durable. In order to stay productive in your work; whether in a field, on a construction site, or in a mine; you shouldn't have to worry about your device failing you.
What is 'rugged' computing?
In computing, the term 'rugged' is given to a device specifically designed to operate reliably in harsh usage environments and conditions, such as strong vibrations, extreme temperatures, and wet or dusty conditions.1

When you work in extreme conditions, it's often difficult to find a device that can survive with you. Rugged IT is designed with specialised technology that can protect your piece of tech, inside and out.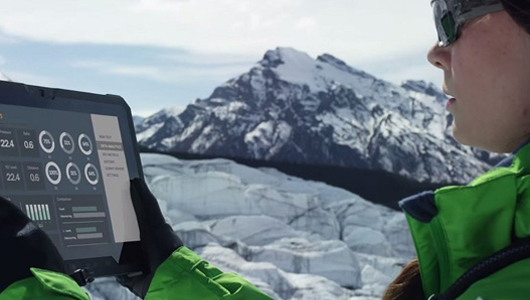 We can offer a full rugged solution…
Our rugged range spans across various key categories:
Laptops
Tablets
Headsets
Cases
Printers
Hard Drives
USB sticks
…and more!
What can make a device rugged?
Any one of these attributes can make a device rugged...
Shock-resistant
Drop-resistant
Dust-resistant
Hot/cold-resistant
Water-resistant
Hazard-resistant
Altitude/pressure-resistant
Operates in demanding/ unpredictable environments
Has endured extensive testing
Benefits of using rugged technology:
Return on Investment (ROI) – rugged technology should last longer than standard technology, especially in harsh environments; you shouldn't have to keep spending money on new devices
Data protection – a device that is less likely to fail on you means your sensitive data is more likely to be secure
Increased productivity – your device should work with you, not against you; rugged technology gets the job done
Less downtime, more uptime - time isn't wasted waiting for someone to come and fix your device, as it should already operate in your specific working environment
Reliable & durable – we hope you're left with an operational device & service you can trust
Is your device tough enough?
When a device is rugged, it means it's endured hours of rigorous testing to ensure it's durable enough to survive in harsh working environments. Tests can include drop testing, waterproofing, and military grade testing (MIL-STD). Military grade testing can include 24 laboratory tests in a variety of environments, from high-altitude performance, to surviving ballistic shock.

If you feel you're wasting time worrying whether your device can survive in your specific working conditions, now may be the time to invest in durable, rugged IT. Rugged devices can come with a longer warranty than standard tech, and some are rugged devices are custom-built.

What are some of the different types of rugged testing?
Military Standard 810G is a U.S. Military Standard that tests a device's environmental design and limits to the conditions it may operate in throughout its service life. For this Standard, devices are tested to withstand the below tests, and more!
Low Pressure (Altitude)
High Temperature & Low Temperature
Temperature Shock
Contamination by Fluids
Solar Radiation (Sunshine)
Rain
Humidity
Fungus
Salt Fog
Explosive Atmosphere
Vibration
Acoustic Noise
Shock
Pyro-shock
Acidic Atmosphere
Gunfire Vibration
Temperature, Humidity, Vibration, and Altitude
Icing/Freezing Rain
Ballistic Shock
IP (Ingress Protection) means the device has been tested and certified by an independent test lab facility located in the US to withstand certain tests. IP testing measures devices for protection against dust and liquids. The ratings are displayed as a two-digit number: the higher the value of each digit, the stronger the protection.

IP65 = First Digit - Solids
IP65 = Second Digit - Liquids
Examples of IP Ratings:
IP68
Protected from total dust ingress - Protected from long term immersion up to a specified pressure, limited ingress protection
IP66
Protected from total dust ingress - Protected from high pressure water jets from any direction, limited ingress protection
IP64
Protected from total dust ingress - Protected from water spray from any direction, limited ingress protection
IP60
Protected from total dust ingress - Not protected from liquids, limited ingress protection
IP57
Protected from limited dust ingress - Protected from immersion between 15 centimetres and 1 metre in depth, limited ingress protection
Take a tour of Dell's Rugged testing lab & see an example of how some manufacturers test their rugged devices:
---
Get the conversation started
Call us for free, no obligation advice
Contact our IT Specialists:
0370 429 3010
View things you need to know
---
---