learning-studios
Reach new heights with STEAM, create a learning studio

Learning studios are designed to help students develop their skills and competencies in: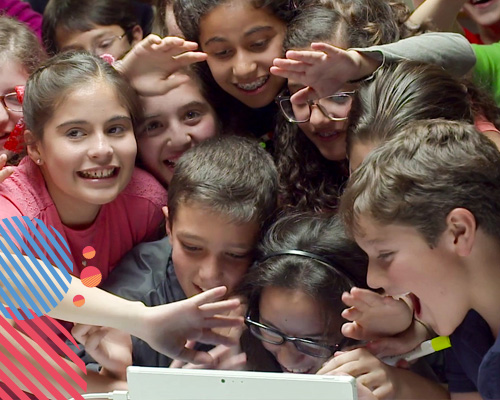 Empathy and design thinking
As our world becomes more connected, understanding different perspectives is an essential skill.

Using tools like Skype enables students and teachers to reach beyond classroom walls and create solutions to open-ended challenges. At the heart of this process, which is based around human centred design, are ideas like researching an audience through interviews and experiential investigations.
Visual communication and design
Communicating with both words and images makes what we're saying even clearer, and more memorable! This becomes especially important when communicating where there's a language barrier.

Interactive whiteboards and eBoards from Smart and iiyama are a great way to collaborate naturally in your classroom. Graphic design is also key to delivering powerful messages, whether describing an initial idea or promoting a finished product. Using the HP Sprout computer, students can practice developing compelling communications materials.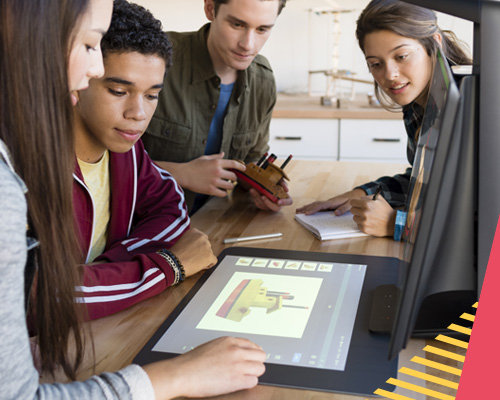 Invention literacy and maker mindset
Whether they're made from wood, brick or metal, contain electronics, or run on computer code; the objects we interact with on a daily basis are designed and made by people. The next generation of leaders, thinkers, designers, and builders need to understand the way objects are constructed and feel confident in their ability to create their own. By taking apart and building objects, in both reality and doing so virtually, students can understand how things made as well as understanding how we can make them better.
"Humans do two things that make us unique from all other animals: we use tools and we tell stories. When you make something, you do both at once."


Adam Savage | Maker Guru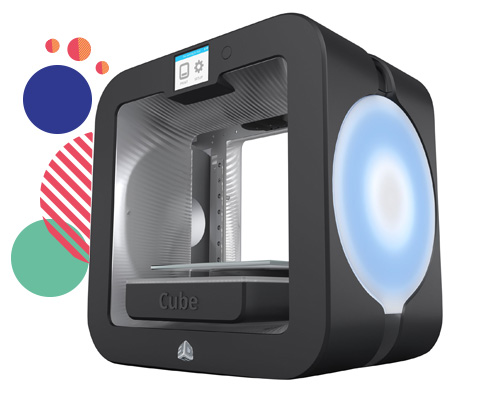 3D design and modelling
Over the last few years, digital fabrication tools have become more affordable and easily available. These tools make it a lot easier for an individual to create and duplicate objects. It's an increasingly important skill for students to possess the ability to use these tools as part of an interactive design process.

The first step to create models using these tools would be something like Crayola Model Magic, or computer assisted design. But as students' progress, they can use software like TinkerCAD and Meshmixer in conjunction with the 3D scanning and printing capabilities of the HP Sprout and 3D printers. This is how your Learning Studio really can enable students to think and build in 3D.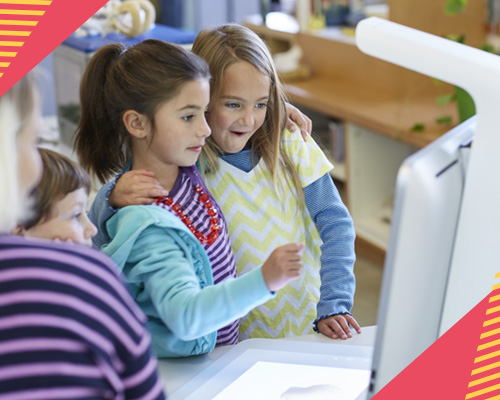 Digital storytelling
Maker guru Adam Savage has said that "Humans do two things that make us unique from all other animals: we use tools and we tell stories. When you make something, you do both at once." When we create videos and other multimedia stories, we do both. Even if a product is useful and important, it will never be fully adopted if its inventor cannot tell a compelling story.

Using the cameras and editing software on the Sprout computer and Windows devices, students in a Learning Studio can create videos and animations to tell their stories.
Social entrepreneurship
The next generation should be equipped with skills that not only make them work ready, but also help them do good for their communities and encourage them to improve the world we live in. The activities you can set in a Learning Studio will cultivate entrepreneurship skills in students. They'll also hopefully be motivated to use these abilities to help society. Students can then use all of the aforementioned skills, tools, and competencies they've gained to create innovative products and systems to serve their local and global communities.
When visiting a learning studio, you'll see students who:
Are deeply engaged in learning
Take ownership of their learning
Understand the value of other perspectives in the design process
Appreciate design and understand that the material world could be designed differently
Let's start talking about your wider
IT strategy
For more ideas about incorporating STEAM into your learning environment, visit our blog, or pick up the phone.
Contact our Education IT Specialists:
0370 429 3020
btbd.publicsector@bt.com
---
View things you need to know
Source: HESA 2011-12, Published May 2014
Source: Chartered Business Institute (CBI), 2014
Source: STEM Careers
Free one-year free subscription when you purchase a new Windows 10 Pro or Windows 10 S device for your school. Offer is valid from July 1st 2017 until January 31st 2018. Office 365 Education account and internet access required. To redeem your subscription go to https://info.microsoft.com/Minecraft-Education-Edition-Signup.html
Source: https://education.smarttech.com/
Full operating system/software - pi-topOS, has been endorsed by OCR
With over 100 million copies sold across PC, mobile and console, Minecraft is now officially second only to Tetris. Source: http://time.com/4354135/minecraft-bestelling/ </>
Source: Cisco Meraki Whitepaper, The Internet of Things - How the Next Evolution of the Internet Is Changing Everything 2014 - https://www.cisco.com/c/dam/en_us/about/ac79/docs/innov/IoT_IBSG_0411FINAL.pdf
To run VR on a desktop PC the required system specs includes a recent Intel Core i5 or Core i7 CPU, at least an Nvidia GeForce GTX 970 (preferably a 1060 or above) or AMD R9 290 graphics card and at least 3 USB 3.0 ports.
Source - Computer interfaces and their impact on learning by Sharon Oviatt
Source: Xerox, 20 Ways to Share Color Knowledge report, http://www.office.xerox.com/latest/COLFS-02UA.PDF
Source: Cone of Learning created by Edgar Dale (1969)
Cortana needs to have access to your Sticky Notes before it can scan them. You can allow Cortana access by amending your settings.
---