gamification
Get great results with gamification
Many of the STEAM skills that educators strive to develop in their students can be explored using gamification platforms like Minecraft: Education Edition, SMART software, classroom software that's compatible with iiyama interactive displays and games created for pi-top.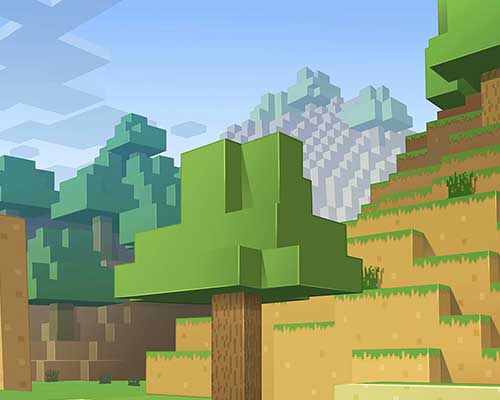 Start your journey with STEAM
Minecraft can be used in a range of disciplines to help students reach beyond classroom walls and create solutions to open-ended challenges. This cultivates their empathy and design thinking. The creation of new Minecraft worlds, and explaining that world to others, enables students to demonstrate their visual communication skills and digital storytelling ability. Students are able to engage in an interactive design process with 3D modelling and the maker mindset is developed.

Minecraft: Education Edition engages students in experiential learning.
This helps them learn to persist with problem-solving and work through the creative process and embrace collaboration. Your students will learn to collaborate, create, and develop their problem solving skills.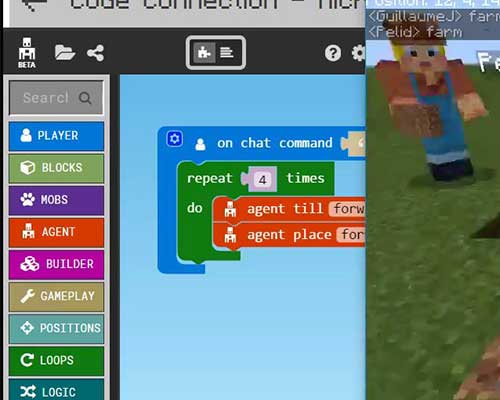 This fantastic gamification platform gives you the opportunity to inspire your students with cross-curriculur STEAM learning. The latest update, Code Builder also connects students to popular platforms like ScratchX, Tynker, and the new open source platform Microsoft MakeCode. They can find tools, templates and tutorials to help them learn to code. In the game, they'll have an Agent character that acts as their sidekick and will carry out the commands given to them in programming language. Through Code Builder, your students can engage with computer science concepts as they design and create in 3D. They can then use these new skills to help develop their digital storytelling abilities. Enable your students to do something that's fun and engaging, whilst teaching them the fundamentals of coding.
Find out how to integrate Minecraft into your students' learning.

Minecraft: Education Edition is available to purchase now. To get up and running, you need to have a Windows 10 device and an Office 365 Education licence. Talk to your Education IT Specialist and one of our licensing specialists about bringing Minecraft: Education Edition to your classroom today.
Make SMART decisions when creating classroom solutions for STEAM
Engage your students in learning and inspire them to explore the world around them
346,000 classroom activities and resources & 1 million games (and more played every day)6
Lesson plan from anywhere
Send your Notebook® lesson directly to your classroom's SMART Board, even if you create it at home. Once you share your lesson, it automatically appears on any SMART Board that has the iQ feature
Speedy assessments
SMART response® 2 is a quick and easy way to assess your class' progress. Access it from Notebook® with just one click
Create lessons in minutes
SMART lab™ has an array of activities and themes you can customise. It's a fun, and engaging way to make your lessons more personal. And again, you can access it from Notebook® with just one click
---
SMART Notebook Maths Tools
Did you know that SMART have a series of tools specific to teach mathematics on their interactive boards? Well they do! Take a tour of our favourite maths specific add-ons from SMART:
GeoGebra
GeoGebra provides powerful tools for all Key Stages. From easy equation editing to 55,000+ maths objects. There's activities for geometry, algebra, statistics and much more.
Equation Editor
Create and customise your math equations and notations with the equation editor. It integrates with the GeoGebra add-on, to give your teachers an easy way to demonstrate math concepts visually. Providing feature parity with SMART Notebook Math Tools. It's designed to makes lessons more visual, easier to comprehend and more interactive.
SMART blocks
Make maths more interactive and collaborative by bringing SMART blocks into the lesson. You can drag blocks onto the board, choose from: addition, subtraction, multiplication, division, exponents, square roots and the 'unknown' box. Students can come up to the display, write down numbers, and draw lines into the block to have it perform the calculation. For example, if they write 2 and 3 and draw lines into the addition box, a 5 will appear. With the unknown box, students can begin to explore problem solving as they have to figure out what calculation was made. For example, if they drew a 14 and a 7, and 2 came up, they'd know it was a division box.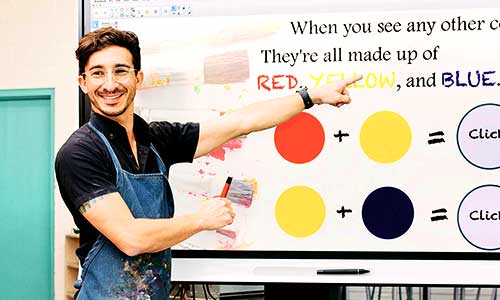 Get peer-to-peer inspiration with SMART Notebook lessons
The SMART Exchange website hosts a growing database of SMART Notebook lessons. They're created by classroom teachers or by SMART's team of curriculum resource developers. Get access to lessons for all grades and subjects, including over 6,500 maths and science options on SMART Exchange. You can also find lessons for maths and English language arts by clicking the Standards-Correlated Lessons button in the top navigation bar on the home page of SMART Exchange to begin your search (please remember these are mapped to the US curriculum but are easy to adapt for your UK classroom).
A new technology, exclusive to SMART Boards
The built-in iQ technology is what makes the SMART Board the essential hub of the classroom. It connects your interactive display, devices, lesson content and software; to create one seamless experience. Everything you need is in one place, with no need for wires, cables or manual software. You can instantly access SMART Learning Suite's interactive lessons, game-based activities, and online co-creation. As well as collaboration tools like the built-in web browser, wireless screen sharing and a digital whiteboard.
Learn more
Open your learning environment up to additional STEAM software options
iiyama displays are a great choice for education, they're widely used in Key Stage 1-4, HE and FE organisations across the UK. They offer quality at an affordable cost, with proven reliability and performance. People choose iiyama because they have peace of mind that their investment will stand the test of time, even in demanding educational environments. More importantly, students can easily understand and interact intuitively with iiyama interactive large format displays.

iiyama LFD touchscreens (42" - 86") are great for STEAM because they work perfectly with commonly used classroom software like Smart, Promethean, Oktopus, Easiteach, Omnitapps, Open-Sankore and more.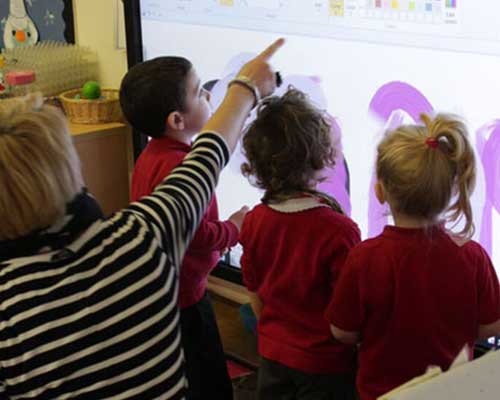 iiyama offer a 5 year warranty, exclusive to education environments for their high quality IPS (in-plane switching) and VA (vertical alignment) panels.

These professional high-end panels deliver supreme, rich colour clarity and they're made for long term use. iiyama touchscreens provide fast and accurate drawing speeds so you and your students won't be left waiting for technology to catch up. The integrated speakers are also loud enough to fill a large classroom, something that's often forgotten about in the planning stage but really important when you're teaching using multimedia resources like video and audio clips.
Learn more
Let's start talking about your wider
IT strategy
For more ideas about incorporating STEAM into your learning environment, visit our blog, or pick up the phone.
Contact our Education IT Specialists:
0370 429 3020
btbd.publicsector@bt.com
---
View things you need to know
Source: HESA 2011-12, Published May 2014
Source: Chartered Business Institute (CBI), 2014
Source: STEM Careers
Free one-year free subscription when you purchase a new Windows 10 Pro or Windows 10 S device for your school. Offer is valid from July 1st 2017 until January 31st 2018. Office 365 Education account and internet access required. To redeem your subscription go to https://info.microsoft.com/Minecraft-Education-Edition-Signup.html
Source: https://education.smarttech.com/
Full operating system/software - pi-topOS, has been endorsed by OCR
With over 100 million copies sold across PC, mobile and console, Minecraft is now officially second only to Tetris. Source: http://time.com/4354135/minecraft-bestelling/ </>
Source: Cisco Meraki Whitepaper, The Internet of Things - How the Next Evolution of the Internet Is Changing Everything 2014 - https://www.cisco.com/c/dam/en_us/about/ac79/docs/innov/IoT_IBSG_0411FINAL.pdf
To run VR on a desktop PC the required system specs includes a recent Intel Core i5 or Core i7 CPU, at least an Nvidia GeForce GTX 970 (preferably a 1060 or above) or AMD R9 290 graphics card and at least 3 USB 3.0 ports.
Source - Computer interfaces and their impact on learning by Sharon Oviatt
Source: Xerox, 20 Ways to Share Color Knowledge report, http://www.office.xerox.com/latest/COLFS-02UA.PDF
Source: Cone of Learning created by Edgar Dale (1969)
Cortana needs to have access to your Sticky Notes before it can scan them. You can allow Cortana access by amending your settings.
---