future-tech
Leading with Technology in STEAM
BT promote the use of technology in schools

From our Tech Literacy programmes to our focus on the right technology options outlined in our education hub, we're committed to helping schools to use tech to enhance student outcomes.
The change in the curriculum in 2014 led to a focus on computational thinking. This in turn led many schools to focus on coding and robotics programmes, whilst others adopted 1:1 devices programmes to enable anytime, anywhere student learning. However, learning environments that haven't had the resources or skills to embed either such approach can still use technology to enhance their lessons and student engagement and understanding. The use of new technology in your classroom could be the perfect way to capture your students' imagination and help propel them from mere tech consumers to becoming truly tech literate. This in turn will enable them to develop the skills they need to be work ready.

Find out more about future-proofing your pupils by visiting our future_proof hub.
Learn more
Encourage coding through the Internet of Things (IoT)
The Internet of Things, a term coined by Kevin Ashton in 1999, is a network of physical objects that are connected to the internet. These objects; like sensors, smartphones, watches and electronics; transmit data through the Internet to the cloud. This provides a smarter experience for the user, hence the term smart technology.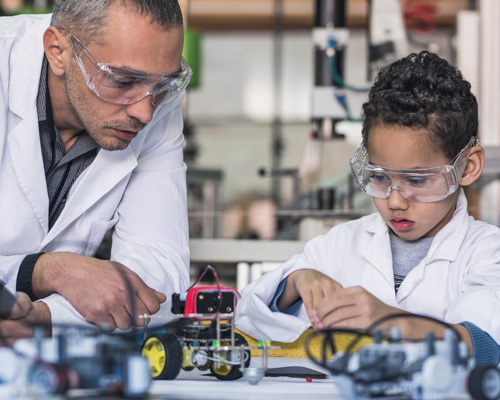 By the year 2020, it is predicted that more than 50 billion connected devices will be on the Internet9
Smart technology, when used to transform learning can help:
Pupils learn faster and help them develop multiple disciplines at the same time.
Teachers be more efficient.
Digital content means easier sharing and more collaboration amongst students and teachers. Not only can educators build on each other's knowledge, but they can also provide materials to students more quickly which provides more personalised learning and can support them better.
Acer CloudProfessor is the world's first IoT starter kit; combining hardware, software, and the Cloud. It's the easiest way to introduce your students to the Cloud and enable them to bring what they create to the world.

CloudProfessor provides you with plug-and-play hardware and software out of the box, as well as tutorials and starter modules to learn about IoT development. Students can start to learning to code in JavaScript or LiveCode directly on their smartphone or tablet. Challenge your students to embrace their creativity and explore the Cloud.
Compatible with over 60 sensors
Shop now
Adopt mixed realities to teaching humanities
Active Worksheets empowers you to include curriculum-mapped history resources into your lessons. These amazing augmented and virtual reality resources enable you to seamlessly integrate technology into your classroom and encourage collaborative, cross-curricular learning.
Enhance digital storytelling and teach design thinking
Using cutting-edge mixed-reality technologies, these BETT Award Winning online worksheets are a fantastic immersive learning tool. They provide affordable and engaging lesson activities which even incorporate 3D modelling. Help to develop a maker mindset in students by showcasing creators from the past like with topics like Maya and Egypt.
Learn more
Upgrade to new SSDs to give your machines a new lease of life
Stock manufacturer components can age quicker than the shell. When this happens, the performance of your applications can also deteriorate. By upgrading your components, you can keep your applications running smoothly. Some small and simple upgrades, can massively boost system performance. Something as simple as replacing your traditional HDDs for an SSD could provide an instant boost.

While VR requires a very specific set of PC components to run, STEAM applications can be power-hungry. We offer a wide choice of SSDs that can transform your existing computer so even demanding applications; like design tools, graphics-intensive 3D games and 4K UHD video editing and rendering programs; run smoother by using solid state drives (SSDs).
SSDs are significantly faster at reading and writing data than hard disk drives (HDDs). They offer reliability benefits too. With no moving parts, SSDs are significantly more reliable. If you drop a hard drive, the spindles inside can scrape against the side of the disk, permanently damaging any data in that sector. HDDs tend to get hotter which can lead to damage, and if you rub a magnet against a HDD it can wipe the data, this isn't the case with SSDs. 

SSDs use significantly less power than HDDs. This makes them particularly well suited to portable devices where any drop in power can lead to better mileage out of the battery.
Learn more
Encourage students to focus more with headphones in STEAM learning
Whether you teach young pupils using workstations, or high school students using tablets, headphones can play a pivotal role in your lessons.

Classrooms can be noisy, with the exchange of ideas, questions being asked and problem solving; whether between teacher and student, or peer-to-peer. Headphones can help you keep the noise level at a minimum while keeping learning at a maximum. Having headphones in the classroom provides enormous possibilities to enhance learning and focus.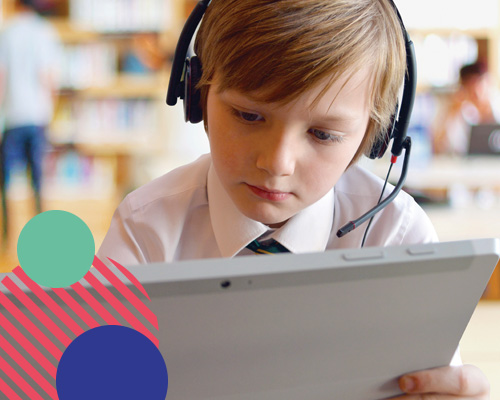 There is no better way to accommodate use from modern day technology than a wide range of appropriate headphones
For younger students, headphones at story time could allow you to tell multiple stories at once, enabling you to support and challenge the full range of reading comprehension across your classroom.

Programs like Office Mix and OneNote encourage teachers to use multimedia presentations in their classes to help their students learn and retain information. Not every student learns at the same pace, or in the same way. Pupils who are used to using computers and watching television, often learn better when using presentations in class or working individually with computer lessons. Headphones are the perfect solution to help them concentrate and hear audio when they're working on a lesson.
Headphones are the perfect accessories to your lesson plans
They make lesson plans more easily heard, create quieter classrooms for better learning, and help students focus. As we encourage the use of more technology in the classroom, you need to also consider that it can be noisy and distracting for students to listen to audio speakers when there's multiple devices playing multimedia in the classroom. Headphones can help students focus on their own assignments, and not another student's work.

Whether one student or an entire classroom is listening to a multimedia presentation, providing headphones will help keep students from being distracted. If those around them are talking or if there are noises coming from outside the classroom. Using multimedia presentations and language learning applications are important learning resources. Using headsets for your audio solutions can benefit students of all ages and learning environments.

When deploying headphones in your learning environment, consider your specific needs and choose the Plantronics headset that meets them.
Shop now
Let's start talking about your wider
IT strategy
For more ideas about incorporating STEAM into your learning environment, visit our blog, or pick up the phone.
Contact our Education IT Specialists:
0370 429 3020
btbd.publicsector@bt.com
---
View things you need to know
Source: HESA 2011-12, Published May 2014
Source: Chartered Business Institute (CBI), 2014
Source: STEM Careers
Free one-year free subscription when you purchase a new Windows 10 Pro or Windows 10 S device for your school. Offer is valid from July 1st 2017 until January 31st 2018. Office 365 Education account and internet access required. To redeem your subscription go to https://info.microsoft.com/Minecraft-Education-Edition-Signup.html
Source: https://education.smarttech.com/
Full operating system/software - pi-topOS, has been endorsed by OCR
With over 100 million copies sold across PC, mobile and console, Minecraft is now officially second only to Tetris. Source: http://time.com/4354135/minecraft-bestelling/ </>
Source: Cisco Meraki Whitepaper, The Internet of Things - How the Next Evolution of the Internet Is Changing Everything 2014 - https://www.cisco.com/c/dam/en_us/about/ac79/docs/innov/IoT_IBSG_0411FINAL.pdf
To run VR on a desktop PC the required system specs includes a recent Intel Core i5 or Core i7 CPU, at least an Nvidia GeForce GTX 970 (preferably a 1060 or above) or AMD R9 290 graphics card and at least 3 USB 3.0 ports.
Source - Computer interfaces and their impact on learning by Sharon Oviatt
Source: Xerox, 20 Ways to Share Color Knowledge report, http://www.office.xerox.com/latest/COLFS-02UA.PDF
Source: Cone of Learning created by Edgar Dale (1969)
Cortana needs to have access to your Sticky Notes before it can scan them. You can allow Cortana access by amending your settings.
---