adding-art
Accentuate the arts when introducing STEAM into your school
From early and foundation years right through to higher education, educators are incorporating different teaching styles and environments to enhance learning outcomes for their students. An important part of this focus is greater student engagement and participation. Wacom products support active, experiential learning, empowering teachers and students to embrace visual communication, share and create new ideas and concepts in real-time, helping them collaborate more effectively. Incorporating Wacom's pen and display technology into learning allows students the opportunity to master the same tools that creative professionals use, and enables teachers to offer a richer classroom experience.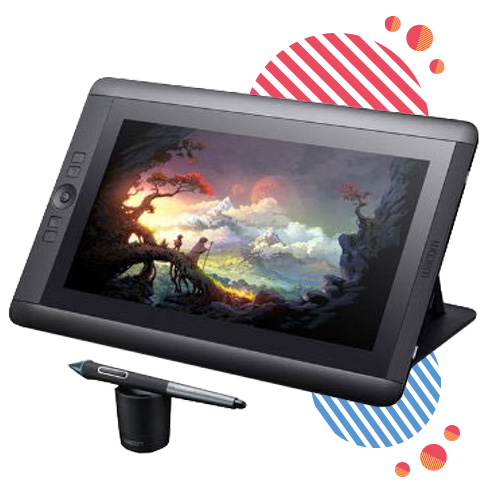 Inspire creativity and enable advanced art and design instruction
STEM has evolved into STEAM because educators recognise that art can play a key role in developing and nurturing creativity and imagination; for students of all ages and skill levels. Wacom offers solutions that support different methods of teaching and styles of learning. Their Cintiq and Intuos Pro products are perfect for preparing students who are interested in pursuing art or design careers.

Wacom offers solutions that support and encourage digital painting and drawing. By offering a variety of pen products that work with the technology schools have already invested in, they've made digital art more accessible. Teachers and students can find their inspiration and explore their imagination using the interactive pen display product that best suits them.
Guide students to find their creative voice
Wacom's superior digital pen-input products help teachers and students develop their visual communication skills and share ideas more effectively. Through handwritten drawings, diagrams, annotations and notes students can explore digital storytelling and design thinking – even while using computers and mobile devices.

Wacom products can be used in a variety of educational settings. From presenting in a traditional classroom, to using a flipped learning model, remote learning or tutoring session, to collaborative group projects, Wacom's interactive pen displays could be the perfect solution. Use the Intuos tablets and Bamboo stylus to help transform and maximise your digital learning environment.
Inspire aspiring art and design students
Your art department has designed the courses to help students build their skills, reach their potential and prepare them for successful careers. However, it's hard to prepare them for all eventualities. Whether they plan to pursue animation, game development, fashion design, product design, film, photography or graphic design; students need to be grounded in time-tested curriculum and fundamentals. Invest in technology that can support your teaching, especially as it now plays an increasingly important role in making students work ready. Wacom's Cintiq Companion tablets, Cintiq creative pen displays and Intuos Pro tablets are a key element to giving students the training and experience they need to prepare them for their future creative design career.
Enhance your pupils' freedom of expression and accelerate their creative development by introducing them to the same graphics tablets and pen displays used professionally by industry leading studios and agencies. Wacom's pen input allows students to work fluidly, whether they're drawing, creating new designs, building 3D models or editing photos. Implementing these creative products in the classroom can provide critical benefits:
Prepare your students for their future by teaching them with products they'll use in their professional career
Ensure your pupils have the tools they need to create job-winning portfolios
Attract the best. With state-of-the-art equipment, your course will appeal to highly motivated and qualified students
Successful art and design students develop through their skilled instructor's guidance, ability to connect with their students and the encouragement they provide. Use Wacom products to help your art and design teachers and students be as successful as possible.
Wacom products aren't just for art and design!
Writing by hand eases and enhances the learning process, especially in subjects like mathematics, science and foreign language studies. Wacom interactive pen displays, Intuos tablets and Bamboo stylus products make it easier to write naturally using technology. Maths and science are expressed through equations, formulas and diagrams, all of these elements are hard to capture and communicate using of a keyboard. Similarly, foreign language teachers who want to include digital writing exercises in their lesson plan have a similar challenge. This is even more apparent when the letters or characters of the language being learned aren't similar to the native language of the student.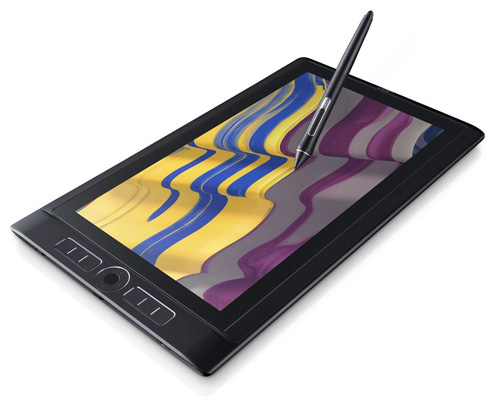 Wacom pen tablets and stylus products can incorporate more handwriting back into your classroom where PCs, Macs or tablets are predominantly being used. Wacom's interactive pen displays let you write directly on your screen, on top of any digital content you have, just like pen on paper. It doesn't get any easier or more intuitive. Intuos tablets provide immediate handwritten input to any PC or Mac and Wacom's family of Bamboo stylus products provides an authentic, comfortable and controlled pen-like experience when writing on iPads, Window or Android tablets.
Shop now
---
Handwrite, annotate and sketch with Windows Ink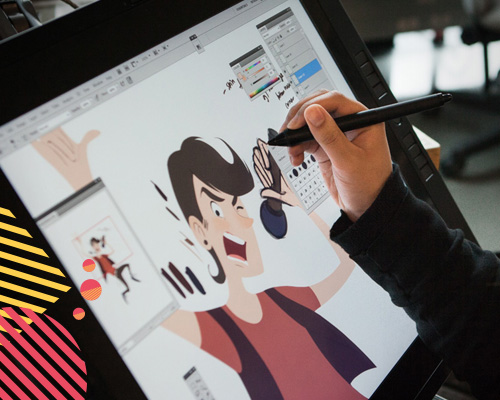 Why should schools consider digital inking?
25%-36% higher scores were obtained by students who diagrammed their thinking with a pen versus those who only used a keyboard when solving science problems.11
When people hear information, they're likely to remember only 10% of that information 3 days later. However, if a relevant image is paired with that same information, people retain 65% of the information 3 days later.12
After two weeks, the human brain tends to remember 70% of what we receive and participate in - this can include speaking, drawing and writing.13
Windows Ink is the pen and stylus support that enables digital inking on the Windows 10 operating system. It comes with new features that should make it easier for developers to include pen support in their apps, which could have exciting implications for your students' computational thinking and coding opportunities too.
Windows Ink Workspace
The Windows Ink Workspace, serves as your central hub to access the three biggest Windows Ink features: Sticky Notes, Sketchpad and Screen Sketch
Then there's your list of recently accessed apps that include pen support, which is followed by a suggested list. This is an easy way for Windows 10 team to key you up-to-date with apps from the Windows Store that provide pen support. Windows 10 makes it easier for developers to provide pen support and continues to promote the use of digital inking for productivity and to enhance learning. This is why we suggest you keep the list of suggested apps on Windows Ink Workspace enabled, so you can see what new opportunities you have to use apps in your classroom.

The fourth part is the button that lets you customise your pen experience settings. This settings button is only available for touch-enabled devices. It enables you and your students to personalise the digital inking experience, from configuring it to your dominant hand, to deciding how you'd like to control different effects, and aspects of the active pen.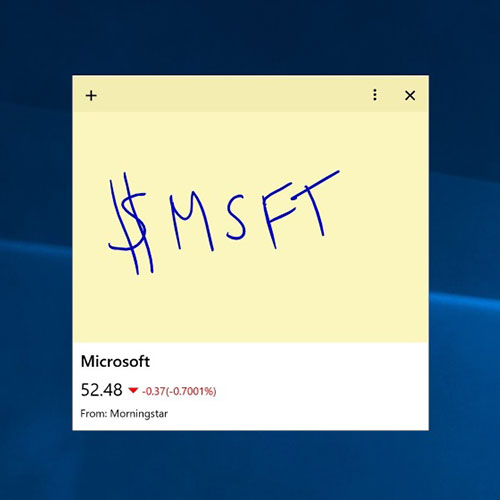 Sticky Notes
Similar to the Sticky Notes that you've had access to since Windows Vista, on Windows 10 you can enjoy a much richer Sticky Note experience. This brand new version offers more features, improvements, and even integration with Cortana. With the Windows Ink update, you can now use your pen to write your notes as well as typing a note on your keyboard.

When you open Sticky Notes, you'll get a transparent canvas with a new Sticky Note. When you stop writing, you'll notice that information like times, dates and phone numbers, will turn blue. This is Cortana making sense of what you've written. You can click any blue text to create an action. For example, clicking the time or date will let you quickly create a new reminder using Cortana.14

When you close the app, your Sticky Notes will remain on the desktop. You can minimize them by clicking the app icon on the taskbar though.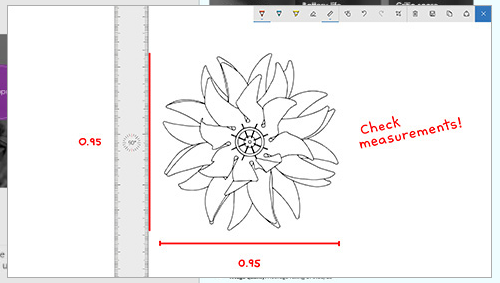 Sketchpad
It's a new app that you can use with your active pen (or fingers) to draw and create anything you want. Simply doodle, or use it to annotate and draw diagrams for problem solving.

The idea behind Sketchpad is to enable your students to sketch out their ideas as quickly as if they were using a blank piece of paper. Similar to other applications with Windows Ink support, Sketchpad includes palm rejection; this makes it a lot easier for you to use your hands more naturally and again, makes it feel more like using pen and paper.
Customise your pen experience with different colours and tip size – you can even use your pen as a highlighter. There's also an eraser tool, so you can easily select and erase part of the drawing, or you can click the eraser button twice and select "Erase All Ink" to start again from scratch. If you don't want to use a pen, you can draw freely just using your fingers by clicking the hand button.

Additional tools include standard options like undo, redo, crop and there's a copy button. When you copy, your image is added to clipboard and from there you can paste into any application – like Word, PowerPoint or OneNote. There's also a share button so you can send your creation to others via email, social media, or even share it with Cortana to create a reminder.

One of the most exciting new features on Sketchpad (and on Screen Sketch) is the digital ruler. This allows you to draw perfectly straight lines just like on a piece of paper. The ruler works really naturally. This means that you can move it up and down with one or multiple fingers, and you can rotate it so you get the angle you need easily.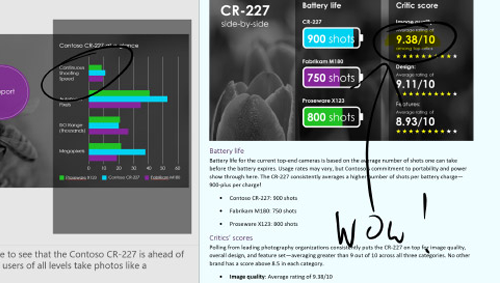 Screen Sketch
Finally, Windows Ink also includes Screen Sketch, an app that enables you to draw on top of a screenshot of your entire desktop. While it predominantly delivers the same functionality found on the Sketchpad, Screen Sketch does have a few differences.

Screen Sketch works by taking a screenshot of anything on the desktop when you open the app from the Windows Ink Workspace. From there, you can then draw or annotate anything you want. Save it and share with anyone, however, bear in mind that your sketch won't save if you click out of the app.
Why should schools consider digital inking?
When Microsoft revealed their Windows 10 Creators Update, it was unveiled as the next wave of innovation for businesses and consumers. However, for education, the Creators Update takes STEAM to new heights. You and your students can do amazing things in 3D, increase connectivity and collaboration and improve productivity.
3D for everyone
Enhance your students' maker mindset by encouraging their 3D design and modelling skills. Their designs have the opportunity to be even more creative because anyone can create 3D projects with ease.

Using Paint 3D, with just one click, ordinary 2D objects are transformed. Bring your pupils' projects to life by scanning an object with your phone and transferring it to your PC. Creating 3D projects has never been quicker or easier.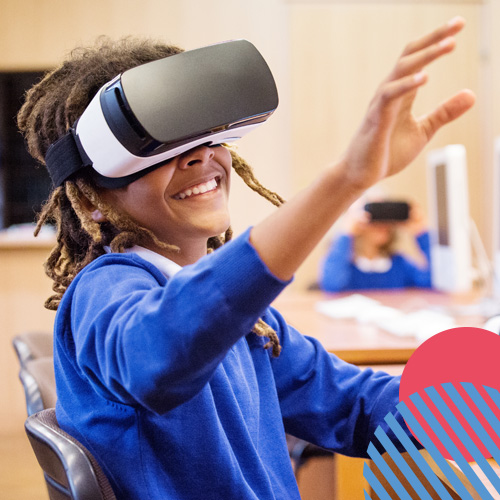 Virtual Reality on Windows 10
Use your VR ready Windows 10 PC and a compatible headset to help your students dive into a new realm. From experiencing familiar Windows apps, to discovering new media designed around VR and creating an unforgettable experience for you and your students.

The innovative built-in sensor technology enables inside-out, six degrees of freedom. Easily move around your classroom or school without requiring markers. Compatible headsets have been designed to be capable of delivering the best experience of virtual reality through Windows 10.

Windows 10 is perfect for academic organisations who want to include VR, AR, or MR in their STEAM learning, at an affordable cost.
Learn more
Let's start talking about your wider
IT strategy
For more ideas about incorporating STEAM into your learning environment, visit our blog, or pick up the phone.
Contact our Education IT Specialists:
0370 429 3020
btbd.publicsector@bt.com
---
View things you need to know
Source: HESA 2011-12, Published May 2014
Source: Chartered Business Institute (CBI), 2014
Source: STEM Careers
Free one-year free subscription when you purchase a new Windows 10 Pro or Windows 10 S device for your school. Offer is valid from July 1st 2017 until January 31st 2018. Office 365 Education account and internet access required. To redeem your subscription go to https://info.microsoft.com/Minecraft-Education-Edition-Signup.html
Source: https://education.smarttech.com/
Full operating system/software - pi-topOS, has been endorsed by OCR
With over 100 million copies sold across PC, mobile and console, Minecraft is now officially second only to Tetris. Source: http://time.com/4354135/minecraft-bestelling/ </>
Source: Cisco Meraki Whitepaper, The Internet of Things - How the Next Evolution of the Internet Is Changing Everything 2014 - https://www.cisco.com/c/dam/en_us/about/ac79/docs/innov/IoT_IBSG_0411FINAL.pdf
To run VR on a desktop PC the required system specs includes a recent Intel Core i5 or Core i7 CPU, at least an Nvidia GeForce GTX 970 (preferably a 1060 or above) or AMD R9 290 graphics card and at least 3 USB 3.0 ports.
Source - Computer interfaces and their impact on learning by Sharon Oviatt
Source: Xerox, 20 Ways to Share Color Knowledge report, http://www.office.xerox.com/latest/COLFS-02UA.PDF
Source: Cone of Learning created by Edgar Dale (1969)
Cortana needs to have access to your Sticky Notes before it can scan them. You can allow Cortana access by amending your settings.
---