STEAM Ahead
Science, Technology, Engineering, Art, Maths.
Add the arts to STEM to boost learning outcomes

STEAM integrates the benefits of STEM with principles of creativity and innovation through the arts. It allows students to connect their STEM learning together with arts practices and design principles. This way students have even more skills at their disposal.
Is future economic growth really reliant on STEM?
1 in 5
5 new jobs in the UK by 2022, will be in STEM roles1
72%
of all UK businesses rely on people with STEM skills22
53%
of employers think they'll struggle to recruit STEM technicians and graduates in the next three years3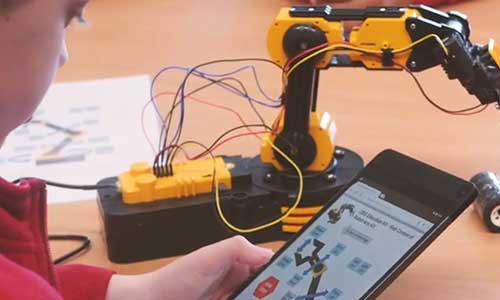 Statistics like these have led to increased investment in STEM initiatives in schools.

This includes things like:
1:1 mobile devices for students and BYOD
(bring your own device) initiatives
After-school STEM or coding clubs and robotics programmes
Schools creating a specific STEM curriculum
STEM interactive days - run by people like Tablet Academy
These projects are a great way to promote areas of study where there's a skills gap in the UK, however, STEM learning misses out the critical processes of creativity and innovation. Even with experiential learning opportunities, they're limited to only science, technology, engineering and maths.

To make students truly future-fit they need more than an understanding of these areas – they need to be able to apply their learnings, to create and demonstrate ingenuity.
"STEAM… [disciplines are] access points for guiding student inquiry, dialogue, and critical thinking."


Susan Riley | Arts Integration Specialist
This is why the STEM to STEAM movement has been on boarded in the past few years. Many employers, educators, and parents have voiced concerns that STEM alone misses several key components that are critical for students to prepare and thrive in the present, as well as their future.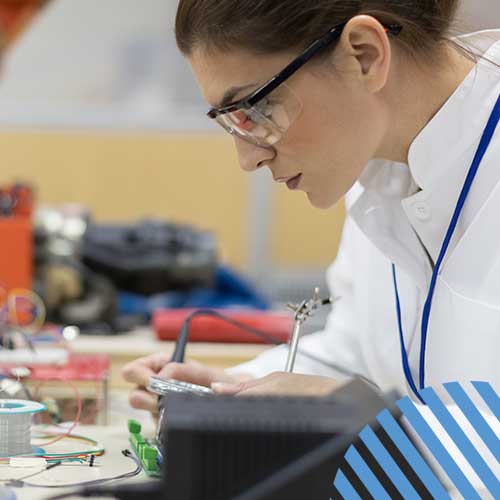 Why should your students consider a STEAM career?
STEM graduates earn £250,000 more in their lifetime than non-graduates3 47% of people with Bachelor's degrees in STEM occupations earn more than people with PhDs in non-STEM roles4 The average starting salary for STEM graduates is £21,7021

As an approach to learning, STEAM uses Science, Technology, Engineering, the Arts and Mathematics as starting points for guiding student inquiry, dialogue, and critical thinking.
Take thoughtful risks
Engage in experiential learning
Persist with problem-solving
Work through the creative process
STEAM students are the innovators, educators, leaders, and learners of the 21st century!
Get the conversation started
Contact our Education IT Specialists for free, no obligation advice:

0370 429 3020
btbd.publicsector@bt.com

Or complete the form below and we'll call you back
Thank you, your form has been submitted successfully
Sorry, there is an issue with your form submission
Please see the below errors
Sorry, this form has failed to submit
---
View things you need to know
Source: HESA 2011-12, Published May 2014
Source: Chartered Business Institute (CBI), 2014
Source: STEM Careers
Free one-year free subscription when you purchase a new Windows 10 Pro or Windows 10 S device for your school. Offer is valid from July 1st 2017 until January 31st 2018. Office 365 Education account and internet access required. To redeem your subscription go to https://info.microsoft.com/Minecraft-Education-Edition-Signup.html
Source: https://education.smarttech.com/
Full operating system/software - pi-topOS, has been endorsed by OCR
With over 100 million copies sold across PC, mobile and console, Minecraft is now officially second only to Tetris. Source: http://time.com/4354135/minecraft-bestelling/ </>
Source: Cisco Meraki Whitepaper, The Internet of Things - How the Next Evolution of the Internet Is Changing Everything 2014 - https://www.cisco.com/c/dam/en_us/about/ac79/docs/innov/IoT_IBSG_0411FINAL.pdf
To run VR on a desktop PC the required system specs includes a recent Intel Core i5 or Core i7 CPU, at least an Nvidia GeForce GTX 970 (preferably a 1060 or above) or AMD R9 290 graphics card and at least 3 USB 3.0 ports.
Source - Computer interfaces and their impact on learning by Sharon Oviatt
Source: Xerox, 20 Ways to Share Color Knowledge report, http://www.office.xerox.com/latest/COLFS-02UA.PDF
Source: Cone of Learning created by Edgar Dale (1969)
Cortana needs to have access to your Sticky Notes before it can scan them. You can allow Cortana access by amending your settings.
---
---