Flexible
Exploring the benefits of flexible working

Flexible working has many benefits for businesses and employees, but it's important that you choose the right IT equipment to support a flexible working policy.
Supporting flexible working
In recent years it's become clear that for businesses to attract and retain a happy, productive workforce, they need to think beyond the basic legal requirements around flexible working. And flexible working isn't only for parents anymore; today's new generation of workers want arrangements to suit their lifestyle.

Flexible working isn't just a perk for employees either. It can have a real impact on the bottom line of your business. If employees feel that their work-life balance is respected, they'll be more engaged and motivated at work. This in turn reduces absenteeism and boosts loyalty, productivity and performance, all of which can only have a positive impact on profits.3 Staff can often value flexibility even above more traditional benefits like a bonus, so there's another positive financial implication of flexible working for businesses to consider.

Companies who offer flexible working arrangements will also reap the benefits when it comes to recruitment. You will be able to choose from a bigger pool of applicants for vacant roles, as well as retaining the experienced staff you already have.
The role of small form factor IT in flexible working
Whether it's flexi-time hours or working from home, flexible working arrangements aren't feasible unless your employees have the right IT equipment.

There's a huge variety of small form factor laptops available to choose from and you'll need to consider which features are the most important to you. Make sure the ranges you're looking at match all the items on your wish list and ask for advice from our team. We have a Sales team who specialises in IT solutions for SMEs.

Things to think about:
Weight the last thing you want is to make carrying a laptop around a chore for your employees. Pick something that's light and easily packed away at a moment's notice.
Power small form factor laptops are a great bit of kit to have, but you need to be careful you're not sacrificing processing power just for a smaller product.
Size perhaps obvious, but make sure the laptops you're looking at are genuinely small form factor. Notebooks are a good option here, as are tablets which can be transformed into desktop PCs.
---
Key Features
Transforms from PC to tablet to Studio Mode
Powered by Intel Core processor to cope with even the most demanding business days
High resolution PixelSense Display touchscreen
Light, thin and portable so you can work anywhere
Up to 13.5 hours battery life to last the whole working day
Surface Pro Accessories
Microsoft Surface Pro is a powerful tool for productivity wherever you happen to be, whether it's at your desk or out and about seeing your customers. Add accessories like the Microsoft Surface Dock or the Surface Pro Signature Type Cover for enhanced comfort and more options to work the way you want.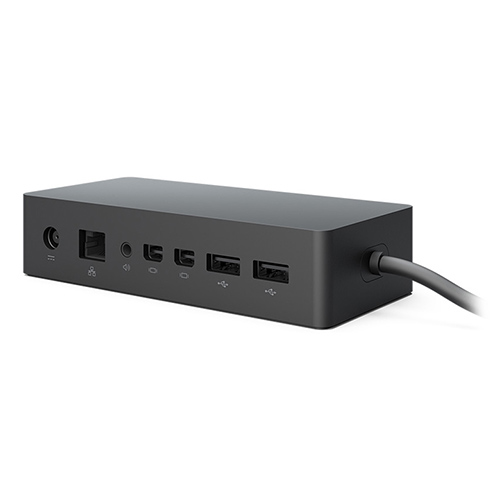 Microsoft Surface Dock – Turn your Surface Pro into a desktop PC
Instantly transform your Surface Pro into a desktop PC. Plug in the Surface Connect cable to external monitors, keyboard and mouse, and simultaneously charge your device.

Surface Dock has all the connections you need in a smooth, compact design, including two HD video ports, a Gigabit Ethernet port, audio output and four high speed USB 3.0 ports. All of this minimises desk clutter, with super-fast video, audio and data transfers over a single cable.

Busy people don't want to spend unnecessary time setting up, so the Surface Dock has been designed with that in mind. Just connect your peripherals to the dock and attach the magnetic Surface Connect cable to your device. Easy.
Surface Pro Signature Type Cover – Enjoy sophisticated style and comfort with every word
Add a touch of luxury and elegance to your working day with Surface Pro's redesigned Signature Type Cover. Next generation Alcantara fabric, a luxury material sourced from Italy, makes your keyboard feel soft and velvety. Alcantara is also stain-resistant and durable, ready for whatever your working day has in store.

The Surface Pro Signature Type Cover features soft LED backlighting and optimum key spacing for fast, fluid typing all day long. Control and navigation is precise and comfortable with a large glass trackpad.

Of course, your Surface Pro Signature Type Cover doesn't just have to be functional either. Express your personality by choosing from three colours – Platinum, Burgundy or Cobalt Blue.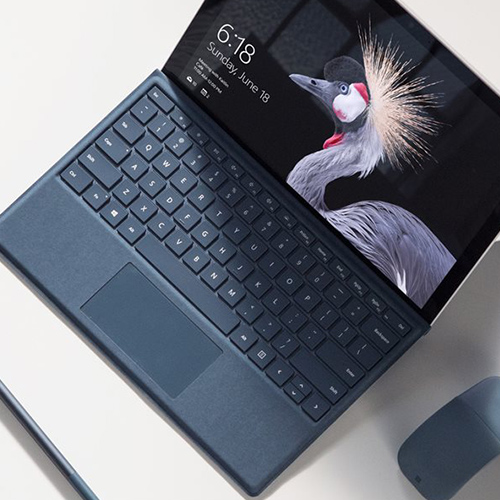 Three ways to buy Microsoft cloud storage
Digital transformation has meant that more and more businesses are relying on cloud storage solutions to keep day-to-day tasks running smoothly. Cloud storage is a secure and inexpensive way to store and organise your business documents.

You can buy cloud storage from Microsoft in lots of different ways - just choose what works best for your business.
OneDrive as part of Office 365
OneDrive lets you back up, store and share documents, videos, photos and more anywhere, from any device.
Chat whilst you collaborate in Office Online documents and see who's editing them
Share attachments on Outlook and save to OneDrive from Word, Excel and PowerPoint
OneDrive is pre-installed on any device running Windows 10. It works on PC, Mac, Android and iOS devices.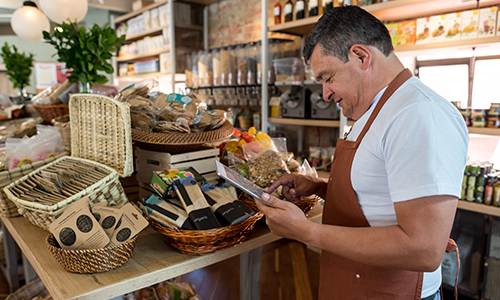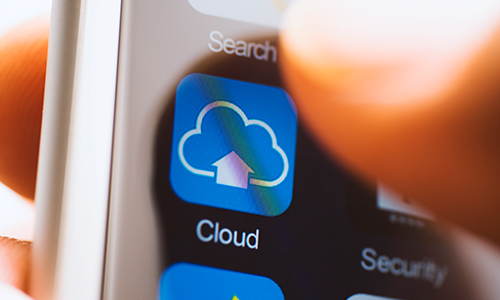 OneDrive for Business
Support flexible working policies with OneDrive for Business. You'll get secure access, seamless sharing and all the storage you need at the office, at home, or on the move.

OneDrive for Business gives you greater control and better security. You can view device reports, set access rules and remotely wipe lost or stolen devices all from the admin centre.

OneDrive for Business is available with an annual subscription on a per user basis, with a variety of plans to suit your requirements.
Azure
For businesses that are new to cloud storage and want a complete solution, Azure is a great option. Azure Storage means that you won't need to worry about the capital expense for new hardware - you can just pay for flexible cloud storage as you need it.

There are five types of storage available with Azure Storage. Your total cost depends on the type of data you store, plus how much you store.

Learn more about Microsoft cloud storage, or speak to our Licensing Specialists for free, impartial advice.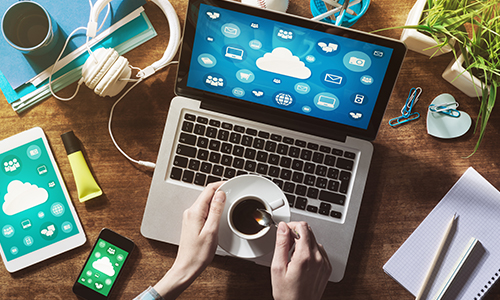 Fujitsu's ScanSnap iX100 is a battery powered document scanner with Wi-Fi connectivity. It's ultra-portable and compact without compromising on performance, ideal for flexible working.

Scan everyday documents quickly at just over 5 seconds per A4 page

Scan wirelessly to mobile and desktop devices, cloud services and office apps

Battery powered scanner can complete up to 260 scans per full charge

Choice of paper paths for when space is tight or document type dictates

Scan two small documents such as business cards or receipts simultaneously

Easily scans A3 documents by pairing A4 pages with overlapping content
The ScanSnap iX100 weighs only 400g, so it can easily be factored into a home office or brought along for an event. It's an essential bit of kit for mobile workers that supports all their scanning and document sharing requirements.

Shop now
The WD 10TB Red NAS Hard Drive is designed to boost productivity and efficiency for your business. Having an extra internal hard drive means you can store, share and back up important files effortlessly. And it won't take up extra space on your desk.

WD Red drives are purpose-built to balance performance with reliability. They keep cool and run quietly, making them ideal for intense use in demanding office environments.
10TB capacity ideal for storing large amounts of data
Error recovery control for complete peace of mind
NASware technology improves storage performance
Small form factor at 3.5"
3 years warranty

Let's start talking about your wider
IT strategy
For further information about space saving solutions, or if you need help envisioning how you can use technology to transform your business.
Contact our IT Specialists:
0870 429 3010
btbd.publicsector@bt.com
View things you need to know
HP's testing program consists of a minimum of 120,000 hours of rigorous multi-tiered testing and validation procedures per computing platform. The program includes 50,000 test steps, with 240 industry-standard hardware and software products tested for compatibility. Pre-launch HP Business PCs are exposed to rigorous conditions including harsh drops and vibration, high temperatures,and enduring mechanical and functional tests that simulate rough handling over the life of the product. Strong reliability can mean less downtime and a lower cost of ownership. More details about the HP Total Test Process can be found at:http://www8.hp.com/h20195/v2/GetPDF.aspx/4AA6-0823ENW.pdf
Savings compared to purchase of individual Original HP ink cartridges at MRSP. MRSP are non-binding recommended prices. Actual prices may vary.
Savings compared to purchase of individual Original HP LaserJet toner cartridges at MRSP. MRSP are non-binding recommended prices. Actual prices may vary. Dualpacks contain 2 black Original HP LaserJet toner. Multipacks contain 3 different colour Original HP LaserJet toner cartridges (cyan, magenta, yellow).
Compared to HP 920 Black Officejet Ink Cartridge.
---