Size matters
IT kit that won't take over

SMEs know that when space is at a premium, it's vital that your IT kit isn't taking over. Whether you're based in a small office, multiple offices, or if you want to facilitate home working as an option for employees, there's a huge range of products available to provide the functionality you need in a small form factor - without compromising on power or performance.
Benefits of small form factor IT
For businesses, there are many benefits of choosing small form factor IT solutions when compared with products like traditional desktops.

The first (and most obvious) reason for choosing SFF solutions is that they don't take up as much space. Take a desktop PC. Even if you aren't that strapped for space in offices where every square metre comes at a premium, a smaller computer can free up room on desks for things that your employees would benefit more from - like a larger monitor.

Secondly, because SFF products are small, they tend to be lighter as well. This makes them easy for everyone to manage, and could be a good option if your business is expanding and an office move is likely. Small form factor products are much more portable.

And lastly, because of their reduced size and components, SFF products tend use less power than a normal desktop.1 This is a big benefit for businesses that want to reduce their overheads and especially for start-ups where every saving on set up costs means better first year profits.
---
The ProDesk 400 is a desktop PC that's designed to fit the modern workplace and scale to match your changing business needs. ProDesk 400 provides power and performance to support your business, whilst its compact design saves valuable space on desks.
A connection hub for all your office devices with 8 USB ports and two video outputs
High performance Intel Core processors mean you can power through your day
Expansion options to extend the life of your PC - and your investment
Superior reliability, proven by the HP Total Test Process2
Powered by Windows 10 Pro
HP devices powered by Windows 10 Pro can enhance productivity. Comprehensive security and management tools mean that businesses stay in control of their IT resource.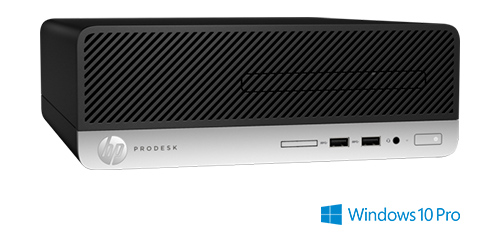 Reducing overheads with clever IT
Go Paper-less - Going paper-less makes good business sense, tackling clutter and reducing expenditure on paper and ink cartridges. You'll still need these things of course, but it's good practise to consider alternatives to printing where possible. You can store documents using cloud software like Google Drive or Dropbox and sign contracts electronically. And you'll be helping to reduce your business's impact on the environment.
Size matters - Choosing small form factor IT solutions like PCs, laptops and printers means that you can reduce the space you require for the day to day running of your business. This is particularly important for start-up businesses that are looking to reduce overheads for office rental, especially when space is at a premium.
Lower power consumption - One way to reduce overheads associated with energy use in the office is to choose small form factor solutions. SFF products like desktop PCs and laptops tend to use less power, making them a good option for use throughout the working week.
Elevator
Aluminium laptop stand for notebooks and laptop computers
Raise laptops 5.5" off desks for comfortable use throughout the working day
Minimal and elegant small form factor to help de-clutter desks
Keeps laptops cool, ideal for devices which are used every day
Durable, heavy-duty aluminium frame stands up to the rigors of a busy office environment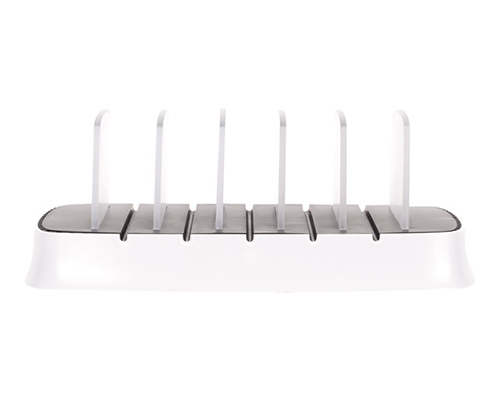 PowerDock 5
Compact desktop charging for a combination of up to 5 smartphones and tablets
Charge multiple Apple or Android smartphones and tablets
Self-contained mains power adapter
Accommodates tablets in their cases
Designed for convenience and efficiency
Let's start talking about your wider
IT strategy
For further information about space saving solutions, or if you need help envisioning how you can use technology to transform your business.
Contact our IT Specialists:
0870 429 3010
btbd.publicsector@bt.com
View things you need to know
HP's testing program consists of a minimum of 120,000 hours of rigorous multi-tiered testing and validation procedures per computing platform. The program includes 50,000 test steps, with 240 industry-standard hardware and software products tested for compatibility. Pre-launch HP Business PCs are exposed to rigorous conditions including harsh drops and vibration, high temperatures,and enduring mechanical and functional tests that simulate rough handling over the life of the product. Strong reliability can mean less downtime and a lower cost of ownership. More details about the HP Total Test Process can be found at:http://www8.hp.com/h20195/v2/GetPDF.aspx/4AA6-0823ENW.pdf
Savings compared to purchase of individual Original HP ink cartridges at MRSP. MRSP are non-binding recommended prices. Actual prices may vary.
Savings compared to purchase of individual Original HP LaserJet toner cartridges at MRSP. MRSP are non-binding recommended prices. Actual prices may vary. Dualpacks contain 2 black Original HP LaserJet toner. Multipacks contain 3 different colour Original HP LaserJet toner cartridges (cyan, magenta, yellow).
Compared to HP 920 Black Officejet Ink Cartridge.
---
---