Devices
Reasons to refresh your devices
Consider the cost of doing nothing
Every PC older than 4 years can cost you more than £1,300 a year in maintenance, repairs, and lost productivity compared to a new Windows device.1 It can also leave you open to cyberattacks and data breaches that affect almost 50% of UK businesses.2

New Windows 10 Pro devices with 7th and 8th generation Intel® vPro™ processors help you stay protected and productive on the go, with up to 25% more time efficiency,3 up to a 28% faster startup on average compared to Windows 7,4 and a battery that lasts up to 3x longer5 than an older Windows device.
Choose more secure and productive business PCs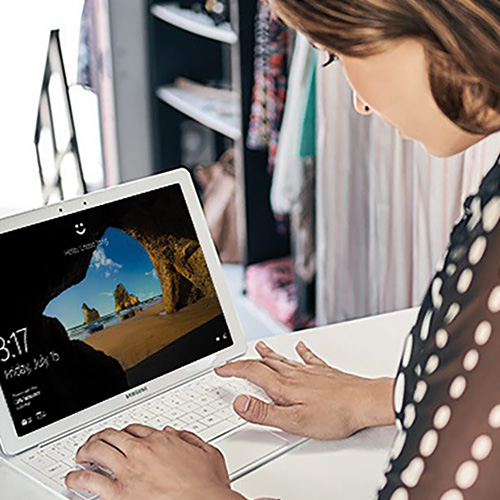 Get more done
Save time by working in any way that's most natural for you: from touch to pen to voice.6 Your older devices can't do that.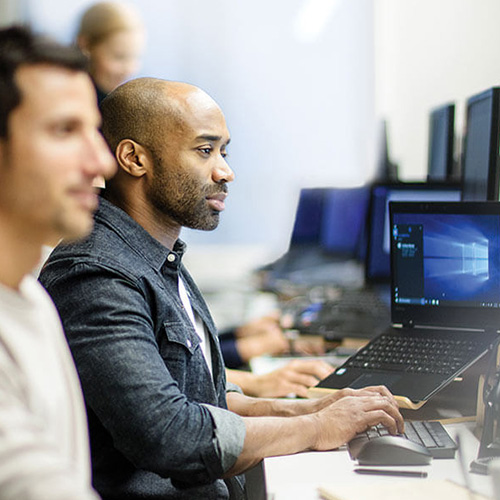 Enjoy simple and flexible management
IT administrators estimate a 20% reduction in IT management time with Windows 10 Pro.9 Your team can choose the device that fits them best, set it up on their own, and sign in once for Microsoft services and many apps. Plus, you can keep using many of your current apps and peripherals with Windows 10 Pro.
The power of Intel® Core™ vPro™ processors on Windows 10 Pro devices
Having a solid foundation for performance is essential. Intel's latest processors are engineered to help ensure compatibility with leading Windows 10 applications, including Microsoft Word, Excel, PowerPoint and Outlook, so you can modernise workflows efficiently.
Battery Life
With Windows 10, new 8th Gen Intel® Core™ vPro™ processor-based 2 in 1 devices provide up to 10 hours of battery life, so workers can get more done from anywhere.10,11
Multitasking
Up to 2.1 times faster multitasking for seamless performance when working with applications simultaneously11,12 For real mobility, the latest Intel® processors extend full desktop power, application functionality, and control to new 2-in-1 devices without compromise.
Powerful productivity
Compared to four-year-old devices, today's performance is already leaps and bounds ahead, providing up to 80% better productivity with 8th Gen Intel® Core™ vPro™ processors.11,13

With Windows 10 devices, not only will your data and your business be more secure, you can also get more done, faster. Add to this the superior portability of modern devices and your workforce can stay secure and productive and work from almost anywhere.
Whatever your people's needs there's a modern device to suit. Productivity and mobility are two of the most important factors employees consider when it comes to choosing a company or device so make sure your people have the best to get the job done.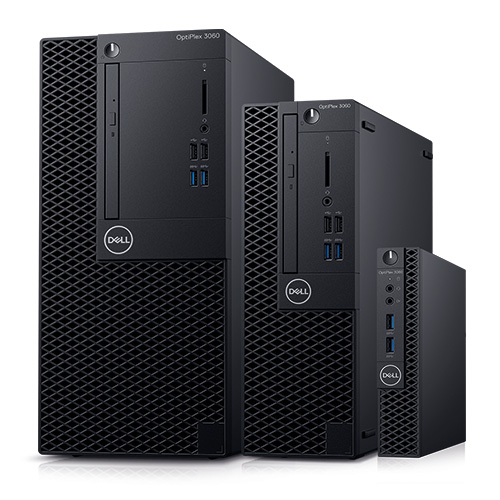 Optiplex desktop range
Tower, Small Form Factor and Micro desktops
Packed with 8th Gen Intel® Core™ processors
Up to 64GB of DDR4 memory for today's dynamic workforce
Optiplex all in one range
Consolidated, elegant design
Top performance with 8th Gen Intel® Core™ processors
32GB of DDR4 memory and optional Intel® Optane™ memory to quickly launch common applications and files for major productivity gains
All of our Dell Solutions are custom built. For further information about customisation and choosing the right Dell solution for you, speak to our team of IT Specialists.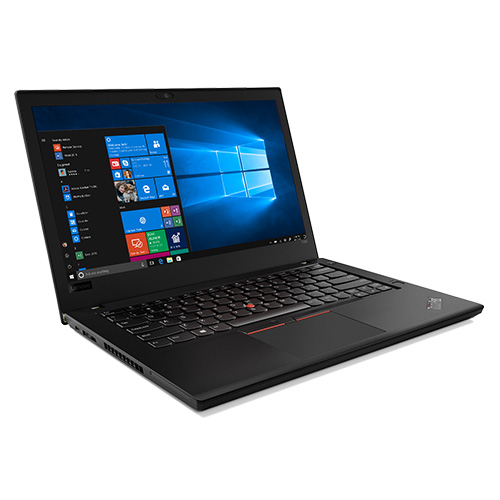 Lenovo Thinkpad T480
Packed with the latest 8th Gen Intel® Core i7 processors for superior efficiency.

Experience true agility with all day battery and built in power bridge technology, allowing you to swap out a battery and replace with a fully charged one, without having to turn the machine off, when you're on the go
Learn more
Despite being super light and thin, each ThinkPad laptop is subjected to rigorous testing for reliability and durability, including the ability to survive in hazardous physical and environmental conditions. Enhanced security features such as Windows Hello, match-on-chip fingerprint reader, anti-spoofing technology and ThinkShutter – the webcam you can open and close - help you to maintain maximum protection and peace of mind wherever you or your workforce roam.
Lenovo Services Warranty and Premier Support
Helping you get the most out of your technology investment.

Warranty Upgrades and Extensions enable you to vary response time and level of service to match critical support needs. These options can be selected at the time of purchase or within the term of initial base warranty coverage. Depending on the initial base warranty of the system, service plans are available with customer-centric service levels designed to help your business.

Premier Support - Lenovo connects your organisation directly with Lenovo's advanced technicians, who will provide hardware and software support with unscripted trouble-shooting, end-to-end case and relationship management, and prioritised parts and labour response when required.
Talk to our IT specialists to find out more about Lenovo Services Warranty 0800 429 3010
Samsung Galaxy Book
Combine the productivity of Windows 10 with the power of a laptop from a 2-in-1 with fast charge and long-life battery. Benefit from rapid download speeds, expandable memory, a powerful processor, superb web connectivity and USB Type-C connectors. Connect the Galaxy Book seamlessly with your Samsung smartphone when you use Samsung Flow so your devices all work together, allowing your workers to be even more productive.
Learn more
Smart, simplified computing solutions – HP Device as a Service (DaaS)
With HP DaaS, you get a complete hardware, support, analytics and unified endpoint management solution with more predictable IT spending. Focus on what drives your business rather than time-consuming tasks of supporting, securing and managing multi-OS devices. Purchasing is simple with flexible plans tailored to your specific business needs.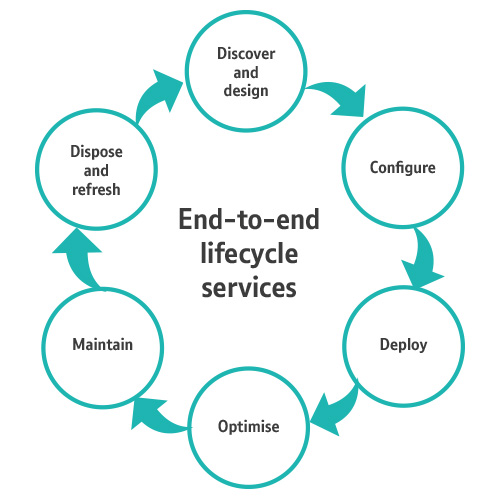 By delivering hardware and services with a one-price-per-device plan and payment, HP DaaS provides more flexibility to adjust plans to your workforce needs, and enables you to allocate capital to other investments.
Broad product portfolio
Extensive commercial experience
Global footprint
Expert support
Multi-layered, enterprise class HP security
Convenience of a single price per device14
Next business day repair services15
End-to-end lifecycle services
Our full range of service options covers every part of the end-user-device lifecycle – from start to finish, not just for HP devices but for other brands too. Our expert consultants will help you choose the right programme to optimise your tech investment
Speak to our team of IT specialists to determine your organisation's needs - whether it's executives and office workers or road warriors and sales teams - to ensure you have the right plan in place.

The new Surface Pro for business with LTE advanced16
If you're not already familiar with the Surface Pro, it's Microsoft's versatile and ultra-light device that transitions seamlessly between laptop and tablet.

The new version, with LTE advanced, is the successor to the Surface Pro 4 and has been built from scratch with 7 custom-built antennae to support 4G LTE bands globally and a best-in-class Cat 9 modem. It's packaged in the smallest LTE tablet bezel available on the market, so you don't have to compromise on size or quality.
Fully loaded with a state of the art Qualcomm® Snapdragon™ X16 LTE modem, with many features that have yet to be deployed on mobile networks, it's configured for today's world, but comes ready with the ability to expand for the future.
Learn more
Get the conversation started
Call us for free, no obligation advice
Contact our IT Specialists:
0370 429 3010
View things you need to know
Small Business PC Study, TechAisle, 2016
Cyber Security breaches survey 2017, Main Report, April 2017, Ipsos MORI Social Research Institute
Forrester, Total Economic Impact of Microsoft Windows 10
Testing conducted by Principled Technologies in July 2015 in a closed lab environment using OEM factory default images on a representative sample of Windows 7 devices. Each boot test was run 10 times and the averages compared. Average improvement in startup was 28%
Performance of 6th Gen Intel® Core™ processors in Windows 10 devices, estimated based on Windows 8.1 Local HD Video Playback Power, Comparisons based on Intel® Core™ i5-6200U vs. Intel® Core™ i5-520UM
Hardware dependent
Small Biz Daily: 10 Small Business Trends 2018
For the supported lifetime of the device
As compared to prior version of Windows. Forrester, Total Economic Impact of Windows 10
As measured by Windows 10* EEMBC Browsing Bench vs. a 4-year-old commercial PC
Software and workloads used in performance tests may have been optimised for performance only on Intel microprocessors. Performance tests, such as SYSmark and MobileMark, are measured using specific computer systems, components, software, operations and functions. Any change to any of those factors may cause the results to vary. You should consult other information and performance tests to assist you in fully evaluating your contemplated purchases, including the performance of that product when combined with other products. For more complete information visit www.intel.com/benchmarks. The benchmark results reported above may need to be revised as additional testing is conducted. The results depend on the specific platform configurations and workloads utilised in the testing, and may not be applicable to any particular user's components, computer system or workloads. The results are not necessarily representative of other benchmarks and other benchmark results may show greater or lesser impact from mitigations
As measured by SEG572 vs. a 4-year-old commercial PC
As measured by an overall score of SYSmark* 2014 vs. a 4-year-old commercial PC
Financing and service offerings available through Hewlett-Packard Financial Services Company and its subsidiaries and affiliates (collectively HPFSC) in certain countries and is subject to credit approval and execution of standard HPFSC documentation. Rates and terms are based on customer's credit rating, offering types, services and/or equipment type and options. Not all customers may qualify. Not all services or offers are available in all countries. Other restrictions may apply. HPFSC reserves the right to change or cancel this program at any time without notice
Device support may vary by country. Available on Enhanced or Premium HP DaaS plans only
Service availability and performance subject to service provider's network. Contact your service provider for details, compatibility, pricing, SIM card, and activation. See all specs and frequencies at surface.com
Comparison of Surface Pro with LTE Advanced modem capability of up to 450 Mbps download speed to 12" and 13" LTE-enabled laptops and 2-in-1 computers Cat 6 modem maximum download speed of up to 300 Mbps
---