Surface

Surface
Meet the Surface family
Surface devices bring your ideas to life with powerful tools that deliver the perfect balance of versatility, performance and design.
Surface Pro
The most versatile laptop Microsoft has ever built
A device with the versatility to let you work on your own terms. The new Surface Pro gives you everything you need in terms of performance, mobility, security and reliability. A best-in-class laptop with the creative freedom of a studio and the convenience of a tablet, all in one.
What it means for your business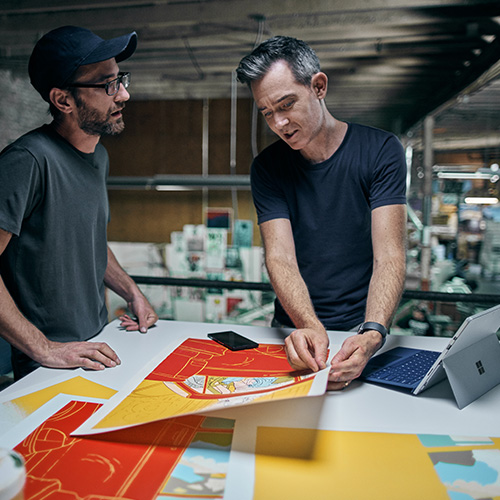 Modernise your business
With a core, connected device that will enable digital-first workflows, streamline tasks and help you project a modern face to your stakeholders. Surface is easy to deploy and manage and comes as standard with enterprise-grade security.
Empower your people
Seize the power of the group with superior collaboration tools and features. Exceptional power and performance lets your people capture great ideas on the go.
Attract and retain talent
With meticulously designed, premium devices that can be personalised in a range of rich colours1
Discover the new Surface Pro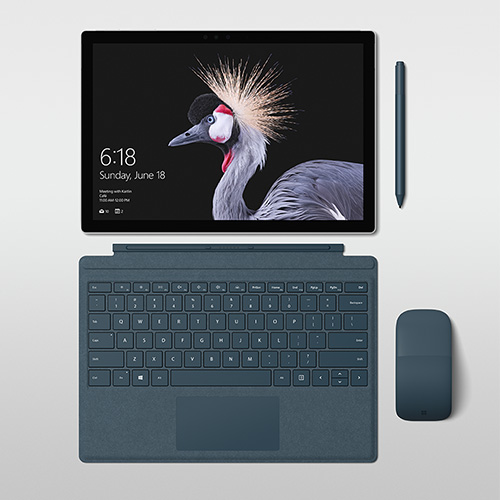 Uncompromising mobility
Now supported by LTE connectivity2, up to 50% more battery life3 than Surface Pro 4 and an ultra-light design, the new Surface Pro redefines mobile working. Work from virtually anywhere.
The best of Microsoft at your fingertips
Choose the laptop with all of your familiar Office 3654 applications and Windows 10 security you can depend on. Enjoy fast, secured, password-free sign-in with Windows Hello. Surface Pen4 and Surface Dial4 help you make the most of the full, interactive Windows experience.
Make it your own
Reflect a premium, professional image with the new Surface Type Cover4 featuring luxurious Alcantara® fabric in a choice of rich colours1. Complete the impression with new Surface Pen4 and Surface Arc Mouse4 in matching colours.
Shop now
---
Surface Book
The Ultimate Laptop
With an exceptionally versatile design, Microsoft Surface Book is a best-in-class Windows 10 laptop. The power of the Intel® Core™ processor and accelerated graphics, combined with Surface Pen, mean you can do amazing things.
Ultimate versatility
Surface book is a standout productivity device. The screen folds back so you can use it as a tablet, or detaches so you can use touch and Surface Pen in Clipboard mode. Then, clip it back in to use the best-in-class keyboard.
Meticulously crafted
Surface Book features the latest Intel Core processor, up to 16GB5 of memory and optional discrete graphics.
Surface empowers Marc Eaman of Adobe
From the boardroom to the plane to the stage, Marc Eaman, Director, Experience Cloud at Adobe uses Surface Book to empower his mission of Digital Transformation Evangelism.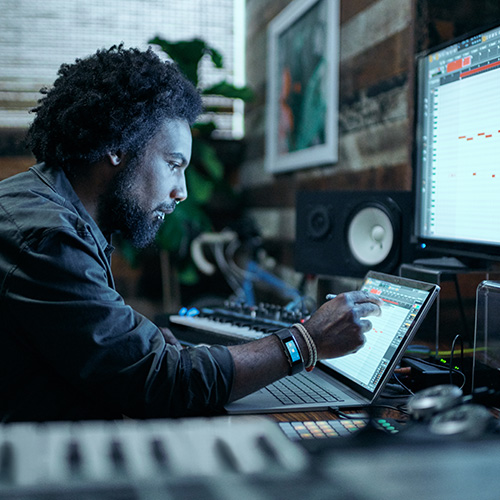 Windows 10 enables a powerful, personalised experience
Surface Book makes your work life easier in incredible new ways. It runs Windows 10 and the desktop software that you rely on. Advanced technology from Microsoft, such as Cortana.6

Surface Book folds smoothly into your existing infrastructure and Windows 10 helps protect you against modern security threats. Surface can be set up by IT like any other PC.
Shop now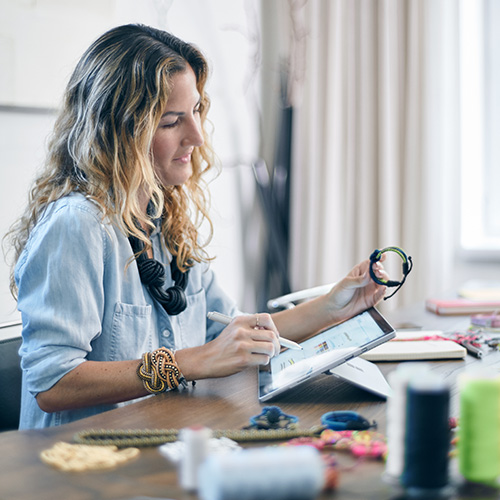 ---
Surface Studio
Effortlessly turn your desk into a Studio
Surface Studio is an entirely new device designed for the creative process. Its roomy and adjustable 28-inch PixelSense Display provides a huge canvas for all kinds of work. Position it upright to sketch, paint, and edit photos, or lay it flat to draw on it like a drafting table. With Surface Studio, the possibilities are limitless.
Whether upright in Desktop Mode or lying flat in Studio Mode, Surface Studio delivers amazing versatility to enhance the creative process. Touch, draw, visualize, and develop your ideas—just like you would on a sheet of paper. And when used with a unique set of tools like Surface Pen, Surface Dial7, and Windows Ink, you'll have even more control over the way you create.
Meticulously crafted
Built with striking lines and a small footprint, Surface Studio has a minimal and modern design that fits perfectly in any workspace. It features a counterbalanced hinge that effortlessly moves between Desktop Mode and Studio Mode, creating the perfect way to work.
Shop now
Get the conversation started
Call us for free, no obligation advice
Contact our IT Specialists:
0370 429 3010
View things you need to know
Available colours vary in some markets
LTE availability varies by market; check with service provider for details.
Up to 13.5 hours of video playback. Testing conducted by Microsoft in April 2017 using preproduction Intel® Core™ i5, 256 GB, 8 GB RAM device. Testing consisted of full battery discharge during video playback. All settings were default except: Wi-Fi was associated with a network and Auto-Brightness disabled. Battery life varies significantly with settings, usage, and other factors
Sold separately
System software uses significant storage space. Available storage is subject to change based on system software updates and apps usage. 1GB = 1 billion bytes. See surface.com/storage for more details
Cortana is available in select global markets at launch; experience may vary by region and device
Sold separately
---