Microsoft 365 for education
A complete solution with Windows 10, Office 365 and Intune
Engage students in the classroom
Microsoft can help you make lessons more dynamic. Your school needs more than just a device or a service; your students deserve a complete solution. Transform learning with a wide range of education specific applications to enhance the way your students learn. Use Office 365 Education or Microsoft 365 Education and Windows 10 together to open up a whole new platform for learning.
Microsoft 365 Education
If you're looking for a full solution, Microsoft's new 365 education offering not only gives you access to Office 365 but makes managing your devices easier with Microsoft Intune for Education and Windows 10 too.
Windows 10
With best-in-class digital inking and collaboration tools, Windows 10 is the platform students never outgrow.
Read
Office 365 and Teams
Create collaborative classrooms with Teams. Connect in learning communities and communicate with staff - all from a single Office 365 Education experience.
Read
Intune for Education
Manage policies, apps, and settings for all of your classroom devices - with set-up in just an hour.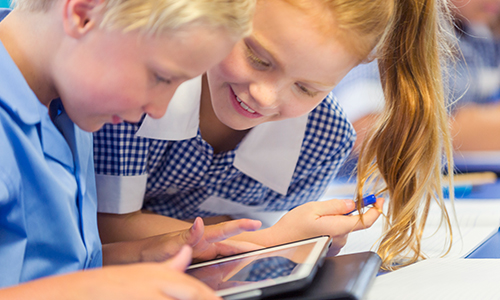 Unlock creativity in each student
Spark creativity, collaboration, and problem-solving with immersive and engaging apps. Enhance independence for students of all abilities with intelligent tools. Bring ideas to life in 3D and data visualisation tools.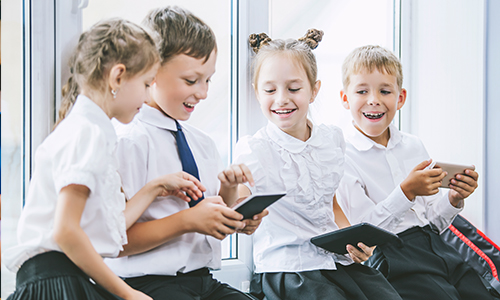 Promote teamwork
Collaborate and save teachers time with a single hub for classes and Teams. Easily connect with others and co-author in real time. Meet the needs of individual students with a universal toolkit to connect, share and communicate in class and out.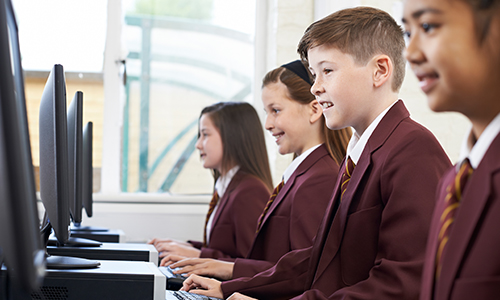 Provide a simple and safe experience
Manage users, data, and devices with a single dashboard. Protect identity, apps, data, and devices with intelligent security enhanced by machine learning. Manage data archiving, governance, and discovery.
Microsoft Teams in the Classroom
Teams is a digital hub that brings conversations, content, and apps together in one place. It allows students to work collaboratively, connecting easily with other pupils, teachers and schools staff. It opens limitless doors when working with children with special educational needs. Take a look at how you can use teams in your classroom below.
Take a look at Microsoft Teams
in the classroom
"Everyone has a voice, and I believe everyone deserves to be heard"
Esam Baboukhan
City of Westminster College in London
Microsoft Teams enhanced with Plantronics 

For the best learning experience make sure you have a headset specifically designed for Microsoft Teams

Learn more ❭
Microsoft Intune for Education
Get Microsoft Intune for Education as part of Microsoft 365 for the ultimate solution for education.
Intune for Education helps schools easily set-up and manage classroom devices. It's a new cloud-based application and device management service that is built on the proven Microsoft Intune service. It offers easy setup and management in shared learning environments.
Microsoft Intune for Education is specially designed to give schools the time to concentrate on teaching and learning without the worry of managing and maintaining devices. Intune for Education makes it easy for either IT admins, or teachers, to get up-and-running in minutes on Windows 10 devices and easily manage shared devices.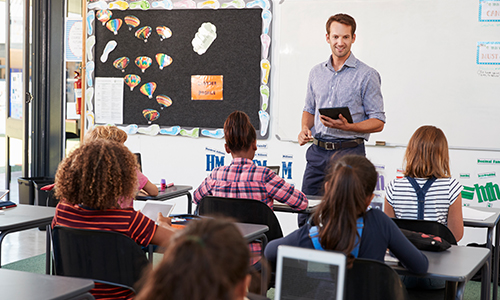 Enjoy easy management
You can easily set up default policies for all the devices and users in a class school or district in a matter of minutes with the express setup feature in Intune for Education. You'll be able to customise over 150 granular settings, assign them to a student and apply them to hardware, apps, browsers, the start menu, Windows Defender and more. Even better, any setting you assign to a user follows them to any Windows 10 device when they sign in.
See Microsoft solutions in action
Our BT and Microsoft SEND festivals are specifically tailored to help SEND pupils in education. They highlight all the key features and apps you get with Office 365 and how you can use them to aid SEND learning. Run with Tablet Academy facilitators and creators, take the opportunity to learn more about adopting technology in a way that drives your learning environment's IT strategy. Discover how with BT's help, you can use transformational tech to support your students and improve learning outcomes.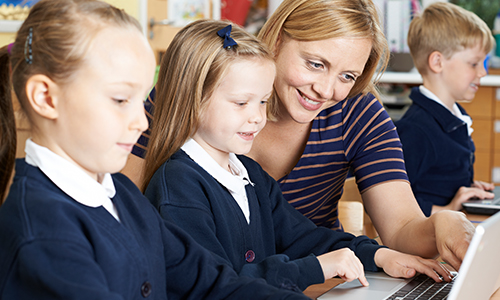 Register your interest

Register for a festival with a theme that supports your students.

Register interest ❭
Challenge our Edu Experts today
Are you planning a refresh? Need help with a 1:1 roll out? Or looking for some teacher training?
We can help.
Request call
Get in touch
0370 429 3020
Get in touch with one of our IT Specialists who'll help with your sales enquiry
Leave us your details and one of our IT Specialists will call you back
Handy phone and email contact details for key teams
---