Why choose Microsoft
for education?
Learn how we can help your school
Why Microsoft for Education?
When it comes to technology in education, your school, college or university needs more than just a device or service. You need a complete solution. With BT and Microsoft you can make learning experiences come to life and create dynamic learning environments and solutions for your classroom.
The leaders, creators and innovators of the future are sitting in today's classrooms, and technology is changing the way these students work, communicate, create and learn. More and more schools are choosing to use Microsoft devices and solutions in the classroom, and we can help you implement a plan tailored to your school.
Make the Switch to Windows 10
Help unlock limitless learning by moving to new Windows 10 devices. There's over 700 million devices actively run Windows 10 every month, and it's easy to switch. Prepare your students for the future with skills they need in work and life and let us help you make the switch today.
Support for Windows 7 ended January 2020
Windows 7 has been around for 10 years, but support for Windows 7 has now ended. This means that Windows 7 devices will no longer receive security updates, leaving them open to attacks and data breaches. By making the switch to a Windows 10 PC with Microsoft 365 today you'll ensure you're the most secure.
Windows 10 is the most secure, robust and flexible version of Windows ever for your students. You can choose from a selection of Windows 10 devices with features like being ruggedised, spill-proof and have all day battery life2. Windows 10 can offer features that help, not just students, but teachers and IT staff too. You can set-up a classroom of PCs along with deploying updates in an hour with the latest version of Windows.
Shape the Future

Get special discounts for education on Microsoft devices 
Empower teachers with Microsoft 365
Teachers know and love products like Word, OneNote, PowerPoint, and Excel. They use them to plan their curriculum and stay organised. Office 365 Education has many additional features, such as Learning Tools to help teachers reach students across a wide range of abilities. With Microsoft 365 for Education you'll get the benefits of Office 365 Education, Intune for Education plus added security features.
Read more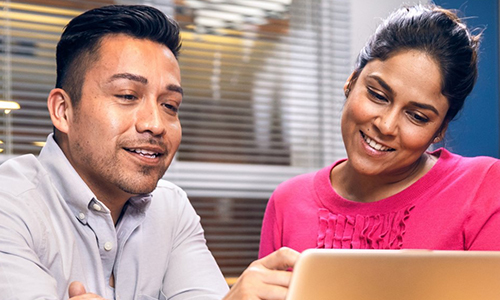 Take a look at a Showcase Classroom event
Learn more about Windows 10 and Office 365 in education. Discover how features like Learning Tools and Minecraft can support your students, enhance lessons and improve learning outcomes.
Read more
Challenge our Edu Experts today
Are you planning a refresh? Need help with a 1:1 roll out? Or looking for some teacher training?
We can help.
Request call
Get in touch
0370 429 3020
Get in touch with one of our IT Specialists who'll help with your sales enquiry
Leave us your details and one of our IT Specialists will call you back
Handy phone and email contact details for key teams
---
---