Help empower your employees to work from virtually anywhere
Empower your employees to work virtually anywhere with enhanced privacy and security features with new devices with Windows 10 Pro, Microsoft 365 and the Intel vPro® platform.1,2
Windows 7 support has ended—and Office 2010 support ends soon. Now is the time to shift to a new, modern devices with Windows 10 Pro, Microsoft 365 and the Intel vPro® platform.2,3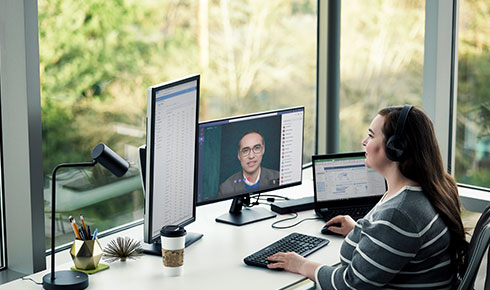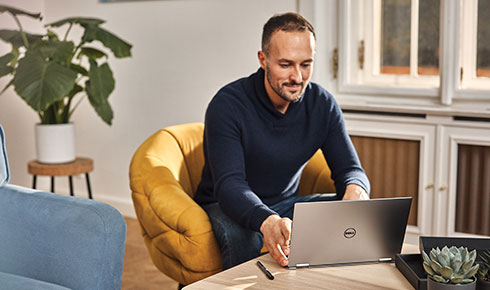 No modern PC is complete without productivity tools.
Support for Office 2010 is ending in October 2020. Now is the time to consider the Office solution that best fits your next PC upgrade, whether it's a one-time purchase (Office Home & Business 2019) or subscription-based Microsoft 365 for your business.
Work the way you want from virtually anywhere
Office Home and Business 2019
All the essentials to stay productive
Office Home and business 2019 helps you do your best work – giving you all the tools to get the job done. Includes updated versions of popular desktop applications.
Shop now

❭
Microsoft 365 Business Standard
The must-have tool for business today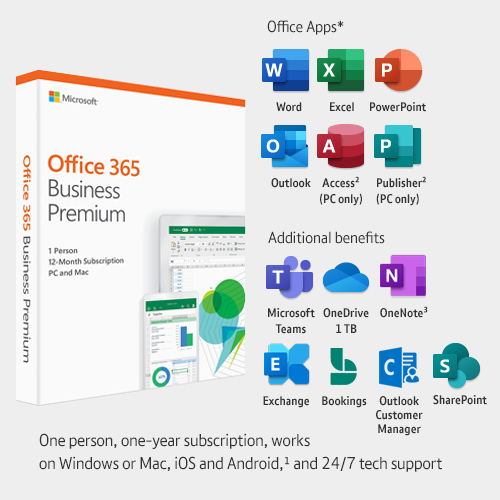 12 months of the best of Office, all in one box. Work the way you want, from virtually anywhere with Office in the cloud. Includes all the Office apps you know and love, plus all new simple and effective apps, designed for your business.
Shop now

❭
Want to make a start on your Windows 10 migration?
Refreshing your device estate to Windows 10 is the best way to prepare for Windows 7 end of support. But for larger and more complex businesses, there are often additional considerations that could make it a more challenging project. Like whether your critical bespoke apps will work in a Windows 10 environment; how you could look at managing business workloads in Azure and Microsoft 365; or how you'll fund a large device refresh programme. That's where BT and our team of accredited technical professionals in our Microsoft Technical Practice come in.
Migration readiness assessment
Firstly lets talk apps. We understand that applications are the lifeblood of your business and that for many organisations, bespoke apps have been developed to meet your specific needs. You need to be 100 percent sure they'll still work when you move away from Windows 7. Microsoft say that 99 percent of apps that worked on Windows 7 will be compatible with Windows 10. But in the unlikely event you experience issues, you can call on Microsoft's Desktop Assure service1 to resolve them. Simple.

To assess your readiness to migrate in all other areas, then consider BT's migration assessment service. Our Microsoft technical professionals will look at your current situation, assess your future needs, then make recommendations for the steps you'll need to take for a successful migration.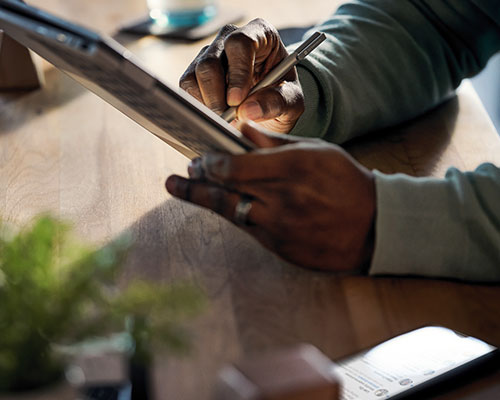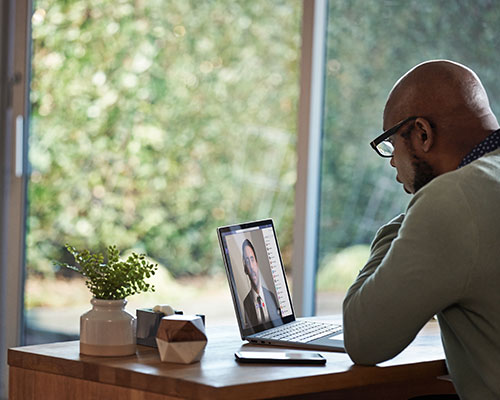 Migration planning & implementation services
BT's migration and implementation service is truly end-to-end, from understanding the outcomes you want to achieve, to ensuring user adoption. You can utilise our Microsoft technical professionals to help you on your entire migration journey, or just a part of it. Our typical approach looks like this:
Define business outcomes
Review business strategy and stakeholders
Review data/application compliancy and security regulations
Assess application hosting compatibilities, network readiness and license situation
Trial solution with business and assess performance and security
Adoption planning (tactical/strategic)
Our pick of Windows 10 devices for business
BT is one of the UK's biggest IT providers so as you'd expect, we offer a huge range of Windows 10 devices with a model and price point to suit every user's needs. Here's just a few examples.
We can also help you to prepare devices so they're ready to go for users, straight out of the box. This includes asset tagging and etching to make expensive kit far less desirable to potential thieves.

Every device decision is a security decision
Stay one step ahead of threats, attacks and hacks. Choose HP's devices with hardware-enforced security features and layers of protection built-in from the software up.
Learn more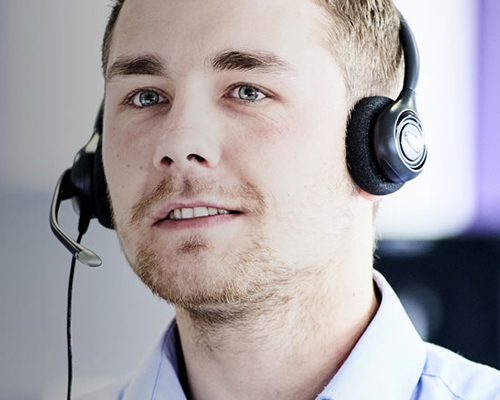 Leasing
Flexible financing for your IT from BT.  Leasing allows you to use the equipment you need right away, without paying for it all at once. You can spread the cost of your equipment over a term that suits you.
You can add to, upgrade and update your IT so that you always have the latest technology.
By leasing your new equipment rather than purchasing it outright, your business may be able to reduce its taxable profits. This means you keep hold of your cash for longer. You should discuss taxable benefits with your accountant for further details.
Licensing and apps
When it comes to choosing software, BT offers a complete range of options. Our fully qualified software licensing specialists are on hand to offer expert advice, free of charge.

Choose either a traditional volume license, or opt to procure and manage your software via the Cloud Services Portfolio. CSP is a new way to pay for software as you use it, and as your business needs dictate. With CSP you can easily scale up or down, and the consumption model means you pay per month, per head, per license.
FAQ - Devices
Why should I upgrade to a new device?
Intel vPro® platform powered modern devices save time and money with improved security,1 faster performance,7,9,15 speedier multitasking,7,8,9 and better battery life.10
Windows 10, Office, and the Intel vPro® platform combine the latest software and out-of-the-box hardware security features to help keep your PCs secure.1 Business essentials like firewall, secure boot, and file-level information-loss protection and Intel® Hardware Shield come standard on every device, helping guard you against today's cybersecurity threats.
Together, PCs with Windows 10, Microsoft 365, and the Intel vPro® platform works how you work. New modern devices provide 1.3x faster multitasking7,8,9 and work seamlessly with world class business software tools. With quick startup and battery life for a full workday,10 new devices help you stay productive anytime, anywhere.
New Windows 10 devices powered by the latest Intel vPro® platform simplifies management and updates to help you save time, reduce costs, and improve control.
On top of these great benefits, modern devices are a pleasure to use. They come pre-configured with advanced features like voice-controls, precision touchpads16, biometric security17, and Windows Ink18 for natural and precise inking.
If ESU is going to be available for all organization sizes, why should an organization consider making a shift to the new Windows 10 devices?
Microsoft understands that everyone is at a different point in the upgrade process. ESU is recommended as a last resort for the devices that cannot be migrated to Windows 10 in time. The Windows 7 ESU will be sold on a per-device basis with the price increasing each year through January 2023.
To enjoy the latest security, productivity and manageability features that Windows 10 offers with regular updates and supports, we recommend organizations shift to the modern devices with Microsoft 365 – which includes Windows 10, Microsoft 365 and the latest security features.
To learn more about the paid Extended Security Updates please visit our extended FAQ.
FAQ - Windows 7
Can I upgrade my existing PC to Windows 10?
Yes, you can upgrade compatible Windows 7 PCs based on these requirements with a full license. To take advantage of the latest hardware capabilities, we recommend upgrading to a new PC with Windows 10.
The latest modern devices with Intel® Hardware Shield, available exclusively on the Intel vPro® platform, provide protections against firmware attacks. The Intel® Hardware Shield helps minimize the risk of malicious code injection by locking down firmware when software is running to help prevent planted malware from compromising the OS. Hardware-to-OS security reporting enables your OS to enforce a more comprehensive security policy.
Can I continue to use Windows 7?
Yes, you can continue to use Windows 7. As the support ended in January 14, 2020, your PC is more vulnerable to security risks. Windows will operate but you will not receive security and feature updates anymore.
Can Windows 7 still be activated?
Windows 7 can still be installed and activated after support has ended. However, to avoid security risks and viruses, Microsoft recommends that you consider upgrading to Windows 10.
Is Internet Explore still supported on Windows 7?
Support for Internet Explorer on Windows 7 devices ended on January 14, 2020. As a component of Windows operating system, Internet Explorer followed the same support lifecycle.
If an organization will definitely miss the End of Support deadline for Windows 7, what are the options?
For organizations to whom a virtualization solution might be appropriate, Windows Virtual Desktop is the only cloud-based service that delivers a multi-user Windows 10 experience, optimized for Microsoft 365 ProPlus, and includes free Windows 7 Extended Security Updates. These Extended Security Updates can also be purchased separately, as a last resort option for Windows 7 (and Windows Server 2008/R2 and SQL Server 2008/R2) organizations who require more time to shift to Windows 10.
When will the Windows 7 Extended Security Updates (ESU) offer be available?
Extended Security Updates have been available for purchase in VLSC since April 1, 2019. Extended Security Updates will be available for purchase via the cloud solution provider (CSP) program starting December 1, 2019.
FAQ - Office 2010
What happens if I continue to use Office 2010
You can continue to use Office 2010, but once support ends in October 2020, your PC will become more vulnerable to security risks. Office will continue to operate but you will stop receiving security and feature updates.
How should I prepare for Office 2010 end of support?
This moment provides an excellent opportunity for customers to evaluate their technology strategy and how their business can benefit from the latest solutions in Office Home & Business 2019 or Microsoft 365.
Will Office 2010 continue to work with Microsoft 365?
Connections to Microsoft 365 services such as Exchange Online will not be supported after October 13, 2020. Customers should upgrade to the latest versions of Office Home & Business 2019 or Microsoft 365 to prevent any loss of productivity.
Why should I upgrade to Office Home & Business 2019 instead of Office 2013 or Office 2016?
Office Home & Business 2019 is the most current, up-to-date non-subscription version—it enables employees to do more by providing new intelligent tools and features, enabling best-in-class productivity while helping you stay protected and compliant with relevant regulations.
How does moving to Office Home & Business 2019 or Microsoft 365 make my business more secure?
Office Home & Business 2019 is our most secure perpetual version to date. Security features include Windows Information Protection (WIP), a Windows 10 Pro feature that integrates with Office Home & Business 2019 applications. On-premises versions of Office, including Office Home & Business 2019, do not include all of the intelligent security features Microsoft has to offer. Users looking for Microsoft's complete suite of intelligent security features should consider choosing Microsoft 365 Business Premium or Microsoft 365 subscriptions.
What's the difference between Office Home & Business 2019 and Microsoft 365?
With Microsoft 365 subscription plans you can create your best work with the premium versions of the Office applications across all your devices: Word, Excel, PowerPoint, Outlook, Publisher, Access (Publisher and Access are available on PC only) as well as access to additional OneNote features (features vary). You can install Microsoft 365 across multiple devices, including PCs, Macs, Android™ tablets, Android phones, iPad®, and iPhone®. In addition, with Microsoft 365 you get services like cloud storage with OneDrive, Skype minutes for home use, and advanced Outlook.com security. When you have an active Microsoft 365 subscription, you always have the most up-to-date version of the Office applications.
Office Home & Business 2019 is a one-time purchase with the classic versions of the Office applications such as Word, Excel, and PowerPoint for use on a single PC or Mac. The applications are not automatically updated; to get the latest version, you must purchase Office again when the new version becomes available. Current Office application versions available for one-time purchase are Office Home & Business 2019 for Windows and Office Home & Business 2019 for Mac. Previous versions include Office 2016, Office 2013, Office 2011 for Mac, Office 2010, Office 2007, Office 2008 for Mac, and Office 2004 for Mac. Office as a one-time purchase does not include any of the services included in Microsoft 365.
Do I need to be connected to the Internet to use Microsoft 365?
You don't need to be online to use Microsoft 365 after it is installed and activated on your devices. However, you will need internet access initially to install and activate Microsoft 365, to install any updates, and to manage your billing. Internet access is also required to access documents stored on OneDrive, unless you install the OneDrive desktop app. However, after your Office applications (like Word, PowerPoint, and Excel) are installed, you can use them offline.
You should connect to the Internet regularly to keep your version of Microsoft 365 up to date and benefit from automatic upgrades. If you don't connect to the Internet at least every 39 days, your applications will go into reduced functionality mode, and you might see an unlicensed product error. To reactivate your Office applications, simply reconnect to the Internet and sign in to Microsoft 365. Learn how to sign in.
Things you need to know
Security events requiring IT remediation are reduced or avoided by up to 33% with Windows 10. The Total Economic Impact™ of Microsoft Windows 10, Forrester, 2016. No product or component can be absolutely secure.
Sold separately.
The Total Economic Impact™ of the Intel vPro® Platform, Forrester, December 2018. A study commissioned by Intel and conducted by Forrester Consulting which surveyed 256 IT managers at mid-sized organizations (100-1,000 employees) using Intel vPro® platforms in US, UK, Germany, Japan and China. 75% either "agreed" or "strongly agreed" with the statement that computers with Intel® Core™ vPro® processors and Windows 10 are more secure than before. Read the full study at intel.com/vProPlatformTEI
Breach Level Index, Breach incidents by source, 2018 data https://breachlevelindex.com.
Data Breach Investigation Report, Verizon 2019.
8th Gen Intel® Core™ vPro® i7-8665U processors and Intel® Core™ vPro® i5-8365U processors
Performance results are based on testing as of March 21, 2019 and April 3, 2019 and may not reflect all publicly available security updates. See configuration disclosure for details. No product can be absolutely secure. Software and workloads used in performance tests may have been optimized for performance only on Intel microprocessors. Performance tests, such as SYSmark and MobileMark, are measured using specific computer systems, components, software, operations and functions. Any change to any of those factors may cause the results to vary. You should consult other information and performance tests to assist you in fully evaluating your contemplated purchases, including the performance of that product when combined with other products. For more complete information about performance and benchmark results, visit http://www.intel.com/benchmarks
Multi-tasking as measured by Office Productivity and Multitasking Workload comparing 8th Gen Intel® Core™ i7-8665U vs. 6th Gen Intel® Core™ i7-6600U. A 2.35 MB, 20 slide Microsoft PowerPoint.ppt presentation is exported as a 1920x1080 H.264 .mp4, 30MB video presentation. While the video presentation is being created 1) a 6.49 MB, 801 page, Microsoft Word .docx document is converted to a 3.7 MB, PDF file and 2) a 68.4 MB, Microsoft Excel .xlsm worksheet that is recalculated.
REFRESH CONFIGURATIONS NEW: Intel Reference Platform with Intel® Core™ i7-8665U Processor, PL1= 15W TDP, 4C8T, Turbo up to 4.8GHz, Graphics: Intel® UHD Graphics 620, Memory: 2x4GB DDR4-2400, Storage: 512GB Intel 760p SSD, OS: Microsoft Windows* 10 RS5 Build Version 1809 (Build 1763v1), BIOS: x177, MCU: A8 VS. OEM system with Intel® Core™ i7-6600U Processor, PL1=15W TDP, 2C4T, Turbo up to 3.9GHz, Intel HD Graphics 620, Display: 14" screen with 1920x1080 resolution, Memory: 8GB DDR4, Storage: 256GB SSD, Battery size: 36 WHr, OS: Microsoft Windows* 10 Pro RS5 Build Version 1809 (Build 1763v292), BIOS: v1.0.1, MCU: C2
Battery Life: Up to 11 hours' battery life for a productive workday with an 8th Gen Intel® Core™ i7-8665U processor as measured by MobileMark* 2018 workload on preproduction OEM system with Intel® Core™ i7-8665U processor, PL1= 15W TDP, 4C8T; turbo up to 4.8 GHz; graphics: Intel® UHD Graphics 620; display: 14" screen with 1920x1080 resolution; memory: 16 GB; storage: Hynix 256 GB; battery size: 52 WHr; OS: Windows® 10 Pro; BIOS: v.1.0.1; MCU: AA display brightness is set to 150 nits on DC power. System's wireless network adapter is turned on and associated to a wireless network that is not connected to the internet.
SMB PC Study, Techaisle 2018
Cost reduction scenarios described are intended as examples of how a given Intel-based product, in the specified circumstances and configurations, may affect future costs and provide cost savings. Circumstances will vary. Intel does not guarantee any costs or cost reduction.
The Total Economic Impact™ of the Intel vPro® Platform, Forrester, December 2018. A study commissioned by Intel and conducted by Forrester Consulting which surveyed 256 IT managers at mid-sized organizations (100-1,000 employees) using Intel vPro® platforms in US, UK, Germany, Japan and China. 77% either "agreed" or "strongly agreed" that computers with Intel vPro® platform and running Windows 10 are easier to manage. Read the full study at Intel.com/vProPlatformTEI
99% of Windows 7 apps are compatible with Windows 10. Hardware/software requirements apply; feature availability may vary. Internet connection required. To check for compatibility and other important installation information, visit your device manufacturer's website and www.windows.com/windows10specs. Additional requirements may apply over time for updates.
Overall System Performance: As measured by SYSmark* 2018 comparing 8th Gen Intel® Core™ i7-8665U vs. 6th Gen Intel® Core™ i7-6600U. SYSmark 2018 is published by the Business Applications Performance Corporation (BAPCo), a benchmarking consortium. SYSmark tests Windows* Desktop Applications performance using real-world scenarios: Productivity, Creativity and Responsiveness. Mainstream applications used in the scenarios include Microsoft Office*, Adobe Creative Cloud* and Google Chrome*. Each scenario produces individual metrics that roll up to an overall score.
Touchpad specialized hardware is required.
Biometrics specialized hardware, a fingerprint reader, illuminated IR sensor, or other biometric sensor is required.
Windows Ink requires touch capable tablet or PC. Pen accessory sold separately
Microsoft 365/Office 365 subscription is required for Microsoft Teams. Compare plans here.
---