Make the shift from Microsoft Windows Server 2008
Support ends 14 January 2020. Now's the time to move to Windows Server 2019
What does end of support for Windows Server 2008 mean?
IT departments will no longer receive patches or security updates. This will leave your organisation vulnerable and open to malicious attacks. Hackers are always looking for chinks in your armour; hardware and software that lack the latest security updates are prime targets. In addition, every new application created will be designed to run on the very latest operating system (OS), which is Windows Server 2019. If you're using an OS that's no longer receiving support, it can be challenging to deploy and upgrade apps. You'll be left running legacy apps that become less effective every day.
Time is running out
For organisations still using Windows Server 2008, time is running out. Like other Microsoft products, it has a 5 year lifecycle and on 14th January 2020, support ends. Whilst it won't suddenly stop functioning, you won't get any manufacturer supported fixes if any issues occur.
So how can we help?
Read on and we'll take you through the considerations your organisation should make when upgrading to Windows Server 2019. We'll guide you through the different options – and you can always talk to our friendly IT Specialists on 0370 429 3090 if you need advice.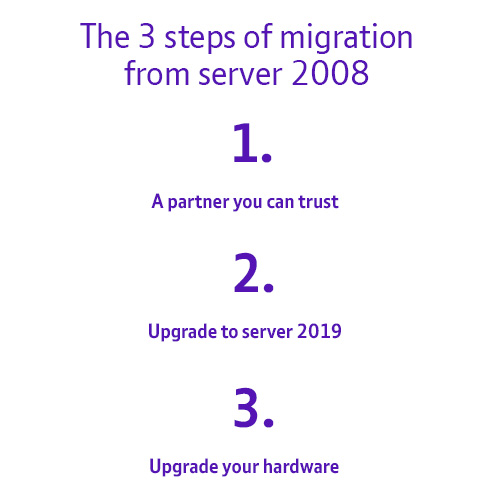 Making migration from Windows Server 2008 easy
Whatever the size of your organisation, we'll be with you every step of the way. From the first steps of weighing up the pros and cons of different server migration strategies, to designing and deploying a complete roll-out across your organisation, let us create the perfect migration solution for you.
Our team of accredited professionals in our Microsoft Technical Practice offer an end-to-end migration planning and implementation service.  Firstly they'll review your current situation, assess your future needs, then make recommendations for the steps you'll need to take for a successful migration.  They'll then manage all aspects of deploying those recommendations to modernise your server infrastructure.  And finally, they'll help you optimise for maximum return on your investment.
Review

Service discovery
Service transformation
Service migration planning
Security and governance
Infrastructure ready
Delivery capabilities
Modernise

Cloud first approach
Consultancy led
Service modernisation
Simplified migration
Cost reduction
Hybrid options
Optimise

Cost management
Automation and management
Auditing
Compliance
Now's the time to make the shift to Windows Server 2019 - Get the most from it
Windows Server 2019 is the operating system that bridges on-premise environments with Azure. It adds extra layers of security whilst helping you modernise your applications and infrastructure. Windows Server 2019 helps you grow your business and extend operations to the cloud. It maximises your existing investments and builds on Windows Server security, app innovation, and hyper-converged infrastructure capabilities to help you bridge your on-premise investments to the cloud.
Hybrid capabilities with Azure
Extend your datacentre to Azure to maximise your investments and gain new hybrid capabilities
Advanced multi-layer security
Elevate your security strategy by protecting the datacentre, starting with the operating system
Scalable business architecture
Create cloud-native apps, whilst modernising traditional apps with containers and microservices
Unprecedented hyperconverged infrastructure
Evolve your datacentre infrastructure for greater efficiency and security
What's Microsoft Azure?
Microsoft Azure is a cloud computing service which gives you access to a huge pool of computing resources. Using Azure, you can host web servers, email servers, databases, file storage servers, virtual machines, user directories, or anything else you might want. With Azure, you don't have to buy physical hardware when you need more computing resources. You pay for as many resources as you need, not a specific number of hardware servers on a rack. Services you deploy in this way can either be public servers available to everyone, or part of a "private cloud" that's just used in your organisation.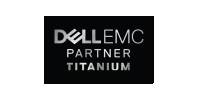 Make the shift with Dell
If you've already made the shift to Server 2019, or you're in the process of updating your infrastructure, it's a great time to consider investing in new hardware. Newer, more powerful servers will allow you to take advantage of all the features and benefits that Server 2019 offers. Dell offer industry leading servers that deliver balanced performance, integrated security and superior scalability. Dell servers have been designed with innovation in mind, modernising IT infrastructures for organisations all around the world.
Scalable business architecture
Maximise performance across a wide range of applications with scalable architectures and flexible internal storage
Intelligent automation
Automate the entire server lifecycle from deployment to retirement with embedded intelligence that helps to increase productivity
Integrated security
Protect your customers and your business with a deep layer of defence built into the hardware and firmware of every Dell server
Why choose Dell PowerEdge servers?
Dell's 14th generation PowerEdge servers are pre-installed with Server 2019, so you can upgrade your hardware and its operating system at the same time. Choosing PowerEdge servers will modernise your IT infrastructure, giving your organisation faster performance in both processing speeds and network communications. Dell PowerEdge servers also include the latest enhancements to ensure hassle-free deployment and end-to-end security for a smooth and safe upgrade.
What are the benefits?
Dell PowerEdge servers offer a range of benefits for your business, whether you want to save time for IT staff or reduce costs. Save 17 minutes1 – As PowerEdge servers come pre-installed with Server 2019, IT staff can save roughly 17 minutes during deployment. Scale up quickly by adding more servers. With PowerEdge servers, you'll also benefit from a scalable business architecture, intelligent automation and efficiency, and integrated security solutions to protect your data.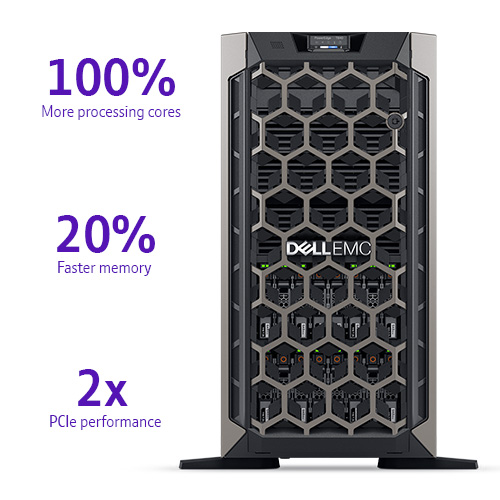 Get in touch
0370 429 3020
Get in touch with one of our IT Specialists who'll help with your sales enquiry
Leave us your details and one of our IT Specialists will call you back
Handy phone and email contact details for key teams
---