Sponsored by:

Invest for Growth
Scale-up for the digital workplace
For fast-growing organisations, investing in the right IT infrastructure is essential. You need a strong underlying network to enable scalability. Without it, you'll struggle to manage the ever-growing requirements and demands that your network throws at you. If you're looking to future proof your network, predict issues before they happen, and secure your network with policy management, then we've got solutions for you.
But that's not all. The digital workplace needs collaboration tools too. Your users can fuel your ambition for growth, and it's even easier when they're equipped with the right tech.

We're also here to help… we provide independent advice that can help you optimise your organisation, to guide you through the latest approaches to creating and managing your digital workplace.
---

Growing pains? It's time to branch out
Virtualise your infrastructure
Perhaps it's time to open a new office, but it doesn't mean you have to duplicate infrastructure and staff. With the right technology, a branch office is easier than you think. Network virtualisation solutions can consolidate multiple physical networks into one virtual network. They can also logically segment a single physical network into multiple logical networks. Partitions can be added to rapidly scale the network for business needs.

Cisco networks allow you to build a flexible architecture to support the demands of cloud, mobility, Internet of Things (IoT) and security. You can decouple hardware and software to give you the flexibility you need to support your ambitions for growth.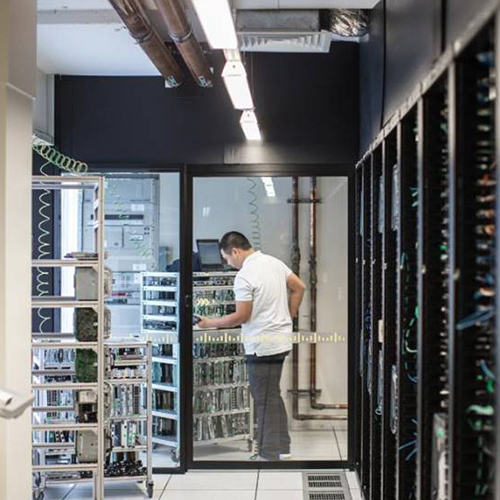 Why should you virtualise?
By using network virtualisation solutions, network resources can be deployed and managed as logical services, rather than physical resources. As a result, you can:
Enhance enterprise agility
Improve network efficiency
Reduce capital and operational costs
Roll out new virtual network services in minutes on any platform


Better connections, new possibilities
Our nearly 30 year partnership brings a history of innovation, and experience of delivering network and IT solutions globally. During this time we have seen vast changes in the market, and customers have relied on us to deliver a service and set of solutions to support their needs quickly and efficiently.

Together we have the scale, reach, financial stability and deep history of innovating together. All this underpinned with our trusted networks and security. Working with BT and Cisco, you can trust us to help you design the digital future as it becomes a reality.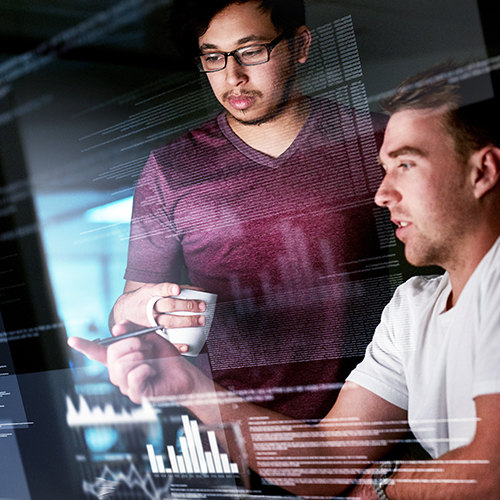 Customers who partner with BT and Cisco can:
De-risk and accelerate their digital journey to 'as-a-Service' cloud solutions
Discover reliable, secure and simple-to-use solutions
Access one of the world's biggest and strongest technology partnerships
Take advantage of cutting-edge innovation, bringing them the future of communications
Learn more
---

Connect, collaborate and share
A powerful and reliable network infrastructure opens up new possibilities for collaboration. Like using Surface Hub.
Unlock the power of the group and accelerate collaboration and innovation. Connect individuals, regardless of their location, to digital Whiteboard and integrated conferencing, apps, and more.
Collaboration for the modern workplace
Surface Hub transforms ordinary places into modern collaboration spaces. Connect multiple devices using wireless and watch your ideas come to life.
Create and brainstorm with others
Bring teams together on a big screen and discover new ways to generate ideas. Ink directly and naturally on the Whiteboard, and capture all your ideas. Pull in multimedia and content from other apps, what happens next is creativity unleashed.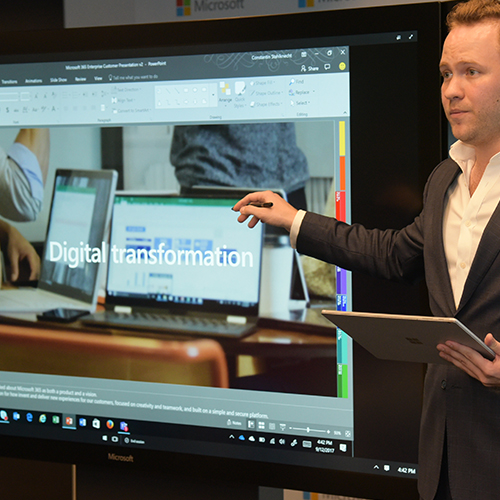 More engaging and productive meetings
Share content effortlessly and join Skype for Business meetings with a single tap. You can easily send meeting notes and content so your action plan is done in a snap.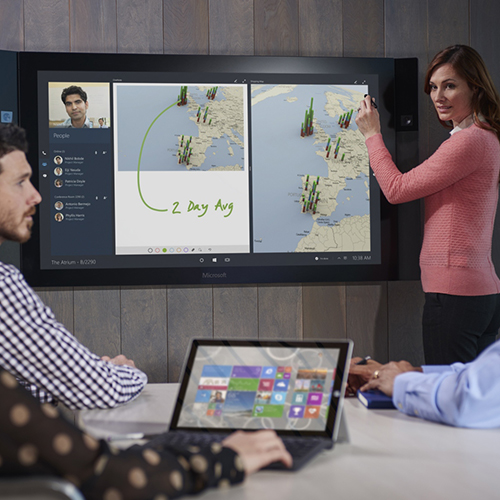 High return on collaboration with Microsoft Surface Hub
According to a Forrester Total Economic Impact™ study1, businesses using Surface Hub may achieve a 138% ROI (three-year, risk-adjusted calculation).
138% ROI
Improve network efficiency
20% improved sales
15-23 minutes saved per meeting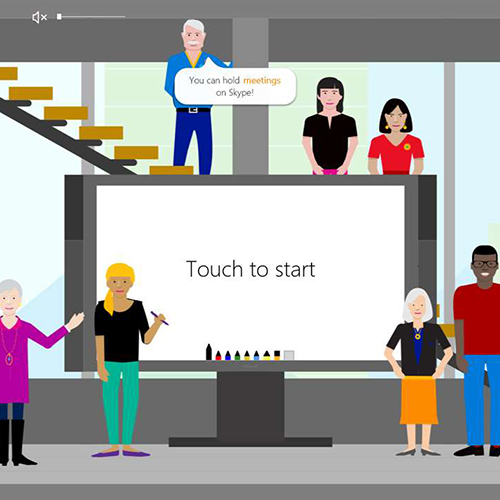 Learn all Hub features with a fun app
The 'A Surface Hub Tour' app is an easy-to-follow app to familiarise yourself with the Surface Hub's features and how you can get the most out of them through a hands on, step-by-step, fun experience.

The worlds available today in the A Surface Hub Tour app include:
Surface Hub Basics
Whiteboard Fun
Skype for Business
Office 365
Connect
The 'A Surface Hub Tour app' is now available at the Windows Store for Surface Hub administrators to download and install. A Surface Hub Tour is a universal app and can run on any Windows 10 device, but it was designed and optimised for Surface Hub to allow users access to the features and functionality being demonstrated. Install the app on your Surface Hubs today to help your users discover the capabilities of this fantastic device for collaboration, teamwork, and creativity.
Learn more
Did you know that...
...we're BT's official "centre of excellence" for unified communications devices (UCD)? Our specialist UCD team can help you choose the right devices for your UC strategy and manage your volume roll-outs and refresh programmes.
---

It started with one small step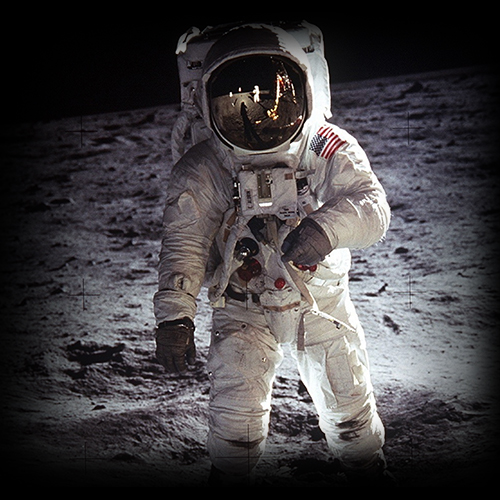 If you're reaching for the stars, your users need legendary headsets to enable great conversations. Plantronics headsets are Skype for Business certified, so your users can stay in touch, wherever they are… just like Neil Armstrong.
Professional meetings with Skype for Business
Easy to set up and join
Powerful collaboration tools
Made by Microsoft
Did you know that...
Plantronics made history when Neil Armstrong walked on the moon and uttered those legendary words: through a Plantronics headset.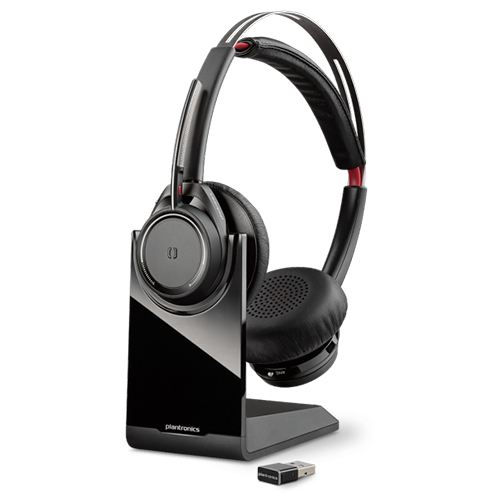 Voyager Focus UC
Keep the focus on your conversation, not background noise, with the sophisticated noise cancelling and immersive stereo sound of the Plantronics Voyager Focus UC Stereo Bluetooth headset.
Learn more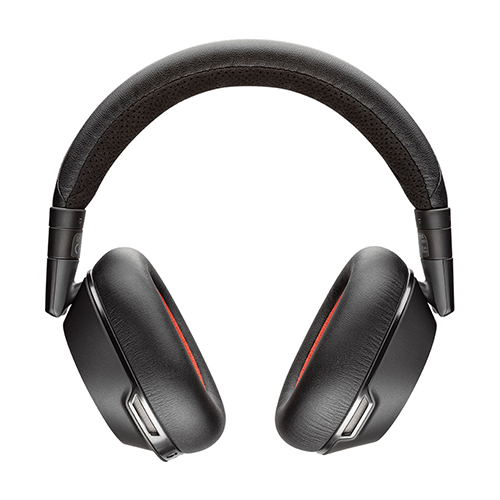 Voyager 8200 UC
Wherever you work, noise can be distracting. So whether you're in an open office or on a crowded flight, taking calls or listening to music, the boomless Voyager 8200 UC Bluetooth® headset with active noise cancelling lets you focus on what's important, in comfort and style.
Learn more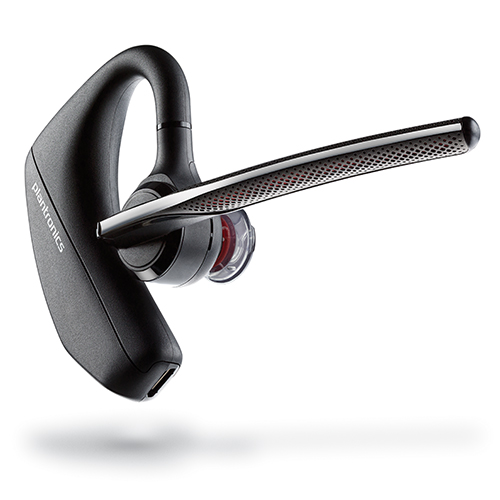 Voyager 5200 UC
Be ready to take the call, wherever you're connected. The Voyager 5200 UC Bluetooth headset offers Plantronics most advanced, adaptive noise cancelling with WindSmart technology to reduce disruptive noise.
Learn more
Invest in Plantronics Manager Pro to manage your growing headset estate from anywhere
Whatever the size of your organisation, whether you have tens, hundreds or even thousands of headsets to manage, dealing with individual needs or concerns can be time consuming and labour intensive for your IT team.
New insights, better conversations
Plantronics Manager Pro is a web-based service that gives IT Managers easy-to-use tools to configure settings and update audio device software and firmware for end-users across the enterprise. It leverages a cloud-based architecture and offers reporting tools that provide new insights into your communications environment.
---

Every word matters, clarity comes first
Growth isn't just about infrastructure, you need the right tools to enable relationships. Jabra understands what it takes to create best-in-class sound solutions. These are reflected in products that are engineered for you – giving you what you need for an unsurpassed calls and music experience.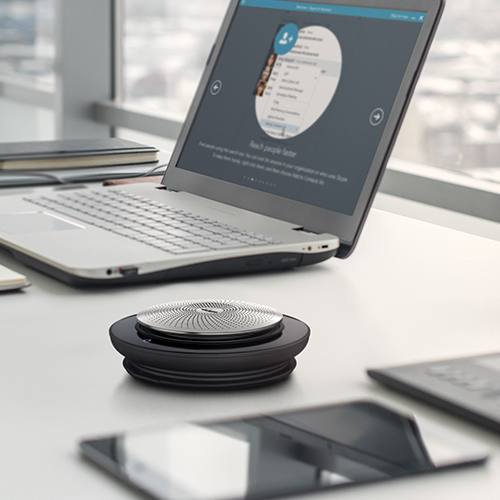 Jabra Speak 710
Enjoy high-quality sound in a premium portable design for your calls and music with the Speak 710 speakerphone. It's the first truly professional and personal conferencing device with a Hi-Fi-grade speaker for crystal clear conversation and music.
One touch button to easily pair two Speak 710 devices together for a full stereo experience for conference calls up to 12 people
In-room coverage for up to 6 people
Microphone picks up sound from all directions with HD voice
Personalise your Speak with MS Cortana, Siri or Google Now
Learn more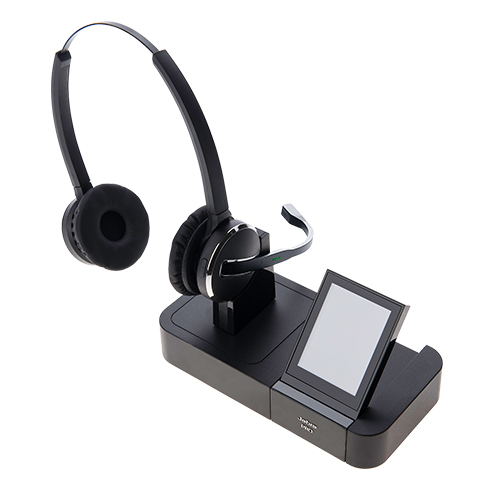 Jabra PRO 9460
The Jabra 9460 wireless headset enables employees to take calls from their desk & softphone with one headset.
Easy pairing of headset & base, ideal for hot-desking
Outstanding sound quality
True wireless freedom
Jabra's most secure DECT wireless headset
Learn more
Compatible with your platform
All Jabra USB headsets and speakerphones work with all the most popular online voice call services.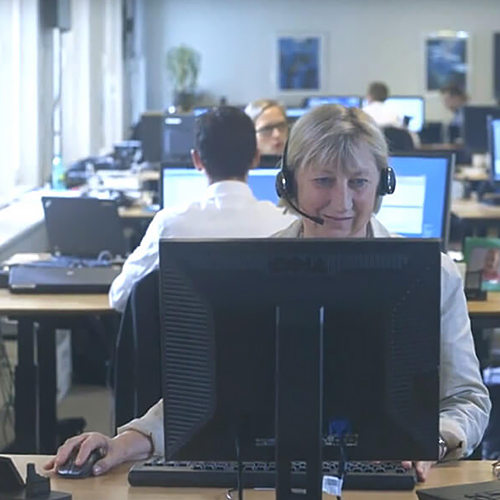 Jabra Xpress
Jabra Xpress is an online service designed for IT professionals to remotely mass deploy and manage Jabra USB audio devices in record time.

With a smart set of tools Jabra Xpress ensures:
Easy mass deployment
Smart asset management
Agile maintenance
Jabra Direct
Jabra Direct is free PC software enabling Jabra USB devices to have remote call control over most softphones. It also lets you:
Personalise your Jabra device, to improve your device with firmware upgrades
Access a dashboard with status to ensure everything is ready for the next call
Learn more
---

People move, networks must follow
The nature of work is changing, we're seeing more collaborative environments, mobile workforces, and the use of smarter spaces. You need to harness new technology such as ultra-fast Wi-Fi, the Internet of Things, and mobile UC, to move your organisation, and the people in it, faster than ever before.
Accelerate your business with the mobile-first digital workplace
Rethink your workspace design to embrace a mobile-first strategy

As you move to the digital workplace, it's critical to get your IT infrastructure ready. To meet the challenges, Aruba offers an integrated wired and wireless portfolio, with industry-leading advances in network management, security and analytics.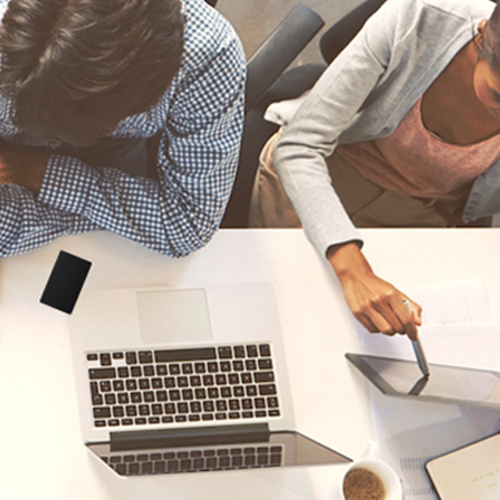 Mobility, cloud and IoT require a different design approach to connecting and securing the enterprise network – and Aruba's 360° Secure Fabric delivers three key security innovations:
Secure, trusted network infrastructure
Continuous monitoring and advanced attack detection
Analytics-driven, closed-loop policy-based attack response
Learn more
Get the conversation started
Call us for free, no obligation advice
Contact our IT Specialists:
0870 429 3010
---
---