What is hyper-converged infrastructure?

What it does
A fully software-defined IT infrastructure that virtualises all the elements of a conventional datacentre.
Benefits
Reduce costs and streamline your organisation. Combine your infrastructure and advanced data services into a single, intergrated solution.
Take your IT infrastructure to the next level in today's rapidly changing business landscape with a hyper-converged infrastructure

Hyper-converged infrastructure is the latest in an overall trend of convergence. A fully software-defined IT infrastructure that virtualises all the elements of a conventional datacentre. Hyper-convergence includes virtualised computing (a hypervisor), software-defined storage and virtualised networking. The primary difference between converged and hyper-converged infrastructure is that all of the software-defined elements are implemented virtually in software (at or via the Hypervisor) rather than physically, in hardware...
5 reasons to hyper-converge
Easily expandable
Reduces total cost of ownership (TCO)
Enables rapid application deployment
Reduces the risk of over-provisioning and over-purchasing
Reduces the amount of labour-intensive activities
Dell EMC

Transform your IT Infrastructure for greater efficiency and lower costs
The VxRail appliance architecture consists of modular nodes, including models based on Dell PowerEdge servers and VM ware Virtual SAN.
Choose from multiple VxRail configurations that include all-flash options for enhanced performance.
Configure-to-order hardware lets you cover most use cases. Deployment is quick because VxRail comes to you integrated, pre-configured and pre-tested by Dell EMC and VMware. It's also fully loaded with enterprise data services and data protection.
Key Features
Consolidates compute, storage, virtualisation and management
Delivers unmatched performance and efficiency with kernel layer integration between VMware, VSAN and the vSphere hypervisor
Scales linearly from 3 to 64 nodes, supporting from 40 VMs to thousands
Includes data replication, backup and cloud tiering
Delivers enterprise data services, resiliency and quality of service
Provides a single point of support for appliance software and hardware
HPE

Meet HPE SimpliVity 380
HPE SimpliVity is a powerful, enterprise-grade, hyper-converged platform uniting best-in-class data services with the world's best-selling server.
Key Features
The HPE SimpliVity 380 combines x86 resources, storage and storage networking in a single hyper-converged system with advanced functionality
Simplifies management and delivers outstanding cost efficiency and agility
Built-in resilience, backup and disaster recovery for data protection
Increased visibility and control with unified management
Unify virtual machines and infrastructure tasks to reduce virtual machines (VM) sprawl and over-provisioning
Delivers always-on-de-duplication and compression to significantly reduce capacity utilisation

Microsoft

Why choose Windows Server 2016?
Key Features
Easily manage and share files
Protect your data and system availability
Run your applications with confidence
Optimise your IT with built-in virtualisation
Enable secure remote access
Simple management with a single dashboard
Provide a consistent experience across devices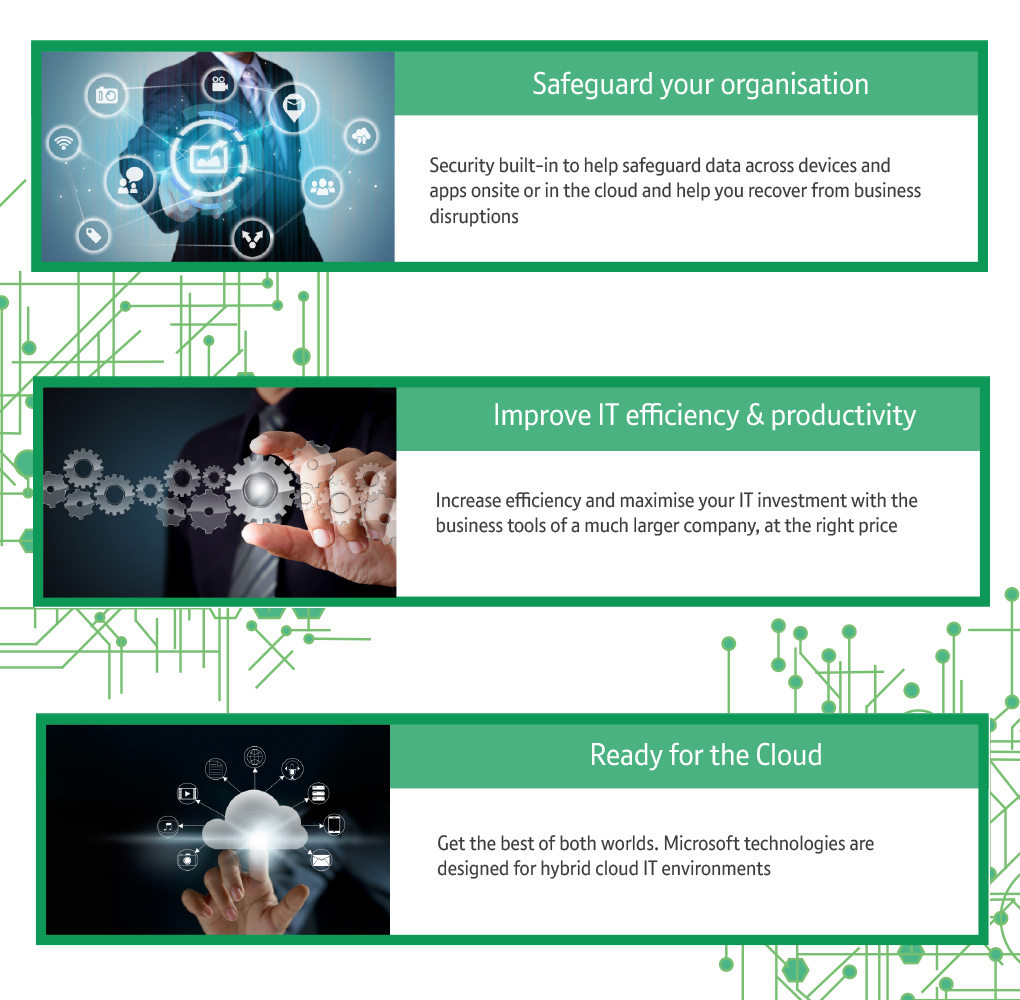 All our hyper-converged infrastructure and software solutions are custom-built.
Speak to our IT Specialists for your bespoke solution
0370 429 3010
Things you need to know
IDCwhitepaper IDC.
EvaluatorGroupstudy
---
---