HP-ink-and-toner

Ink and Toner
Save time and money without compromising performance or quality with Original HP Ink and Toner. For exceptional reliability and print quality you can rely on, choose HP.
Original HP technology delivers exceptional reliability and superior print quality. Reduce service calls and interruptions, and maximize your printer life1 with Original HP toner and ink cartridges. Choose HP ink and toner for quality printing your business can rely on! Up to 70%2 of print quality is determined by the ink or toner cartridge. Only Original HP technology delivers exceptional reliability and superior print quality, compared to its competitors.3
JetIntelligence
More. Pages, Performance, and Protection.
Introducing Original HP Toner cartridges with JetIntelligence, specially engineered to help your printer print faster and print up to 33% more pages.4
Page maximiser technology
Page maximiser technology helps HP LaserJet colour printers work with HP JetIntelligence toner cartridges to intelligently detect cartridge system wear, providing improved performance and ultimately more pages to the customer.
ColorSphere 3
HP ColorSphere 3 toner has been reformulated to accommodate smaller, faster printers. Combined with the New HP LaserJets, ColorSphere 3 supports higher page yield and exceptional performance from the first page to the last.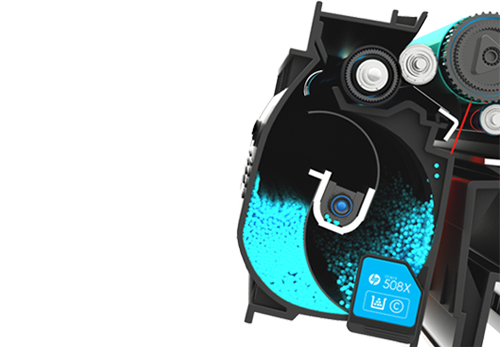 Anti-fraud technology
HP's exclusive anti-fraud technology works with HP LaserJet printers and MFPs to provide cartridge authentication and help customers protect themselves from fraud. It also supports printer fleet policies, helping customers manage their fleet with confidence.
Print gauge technology
Print gauge technology dynamically gathers key cartridge information to deliver a simple gauge that intelligently predicts cartridge life by measuring component rotations, toner used, toner wear, and environmental conditions.
Auto seal removal
The toner seal is now inside the toner cartridge and is automatically removed during installation, so customers can print without delays.
Precision black toner
Produce sharp text, bold blacks, and crisp graphics with precision black toner that's specially engineered to help your HP printer or MFP work its best.
See the science behind HP JetIntelligence technology.
What are the benefits of using HP Original Toner?
You don't compromise performance
Original HP Toner cartridges provide dependable reliability and impressive page quality. Especially when compared with compatibles.
You get more for your money
Avoid hidden costs associated with reprinting, printer downtime and work disruption. Original HP Toner doesn't damage your hardware, the way compatibles can.
You reduce your environmental impact
Thanks to the HP Planet Partners recycling programme, no Original HP cartridges go to a landfill. So you've got a convenient way to recycle at no additional cost.
You benefit from the extremely low melt point
Original HP toner melts and fuses quickly, protecting your print-outs and your printer. No more worries about smudges thanks to quicker drying speeds!
You'll get static electricity at its best
That's the force that's used to fuse your print onto the page. While static can often be a problem, Original HP toner cartridges have turned it into a flawless printing solution.
You'll find a perfect fit
Each Original HP cartridge model is designed to match your printer's size and speed, fusing temperature, and paper type. This is key to HP's legendary reliability and print quality.
You won't get a lemon when you're after oranges
For lifelike orange, you need to combine yellow and magenta precisely. With the correct colour provided by Original HP toner, you'll easily keep your oranges looking orange, not lemony.
You can benefit from superior security
HP Original Toner is designed with anti-fraud technology that helps users to identify the difference between Original HP and used or counterfeit cartridges. This technology also supports set-up of policies for printing fleets.
You get uncompromising reliability
Businesses run at a high speed, so it's important to use equipment your people can rely on. When you use Original HP Toner, you don't need to worry about damaging your print fleet in the way some compatibles can.
You get increased productivity
Enable users to work seamlessly without worrying about damage to the toner or printer. Your people will be more engaged with attractive quality prints.
You'll saves resources
With Original HP Toner, designed for HP printers, you can expect quality that matches your hardware's capabilities. Counterfeit toner can ruin printers. Plus it costs extra budget to buy replacements – including paper, which will be wasted in the meantime by poor quality prints.
More pages, performance, and protection
Original HP Toner cartridges with JetIntelligence
Give your business more professional-quality pages, peak printing performance, and the added protection of anti-fraud technology— something the competition simply can't match.
Up to 33% more pages than predecessor4
Count on Original HP Toner cartridges with JetIntelligence to deliver up to 33%4 more professional-quality pages. Help reduce costs with high-yield options and page maximise technology. Consistently predict toner levels with print gauge technology, so you can be confident you're getting the most out of every cartridge you buy.
Print at top speeds without sacrificing quality
Produce even more of the top-quality documents you expect from HP, at speeds your printer was built to achieve. HP ColorSphere 3 toner is specially engineered to match your printer's high-speed performance thanks to its low melting point, achieving the quality you depend on to look professional.
Peace of mind with cartridge authentication
HP's exclusive anti-fraud technology protects you from potential counterfeit cartridges and it's built in to every Original HP Toner cartridge with JetIntelligence. Your cartridge will authenticate as it is installed and notifies you if a used or counterfeit cartridge is detected. It also helps you support fleet printing policies, so you can help your business manage costs and maintain high-quality standards.
Protect your investment
Only Original HP Toner cartridges with JetIntelligence are precisely engineered for your HP LaserJet printer or MFP—so you can spend less time troubleshooting device problems and more time on what matters most to your business.
Protect your printers. Recognise and report counterfeit toner
Today, with counterfeit toner on the rise, it's vital for organisations to safeguard their supplies and technology. HP has taken precautions when it comes to their packaging, so that customers can easily identify Original HP Toner from illegal, counterfeit toner. It's now easier than ever to spot the fakes!

Counterfeit manufacturers sell fake toner to businesses to cheat them out of their money. The moment you realise you're using counterfeit toner is when it's already in the printer, damaging your device.

Counterfeit cartridges are refilled or remanufactured print cartridges packed in unauthorized or fake reproductions of HP packaging. The manufacturers of fake toners sell them to cheat customers out of their money, and it's only obvious when customers experience the poor performance of the counterfeit cartridges. HP is constantly striving to protect customers from counterfeiters with new security measures.
There are three ways to spot the fake toners:
1. Scan the code
Locate your HP security seal5 and open your QR code scanner app. If you don't have a QR code6 scanner, you can use our HP SureSupply app.

Use your smartphone's camera to scan the QR code on the cartridge's security seal. After your scanner processes the QR code, you'll see a validation screen from HP.
2. Inspect the security label
Look for these 3 tell-tale signs that your cartridge may have been tampered with:
The lines in the pattern do not match
The label is coloured rather than transparent
The text changes on the label to show 'seal is void'
Page maximizer technology
"OK" and "√" move in opposite directions when tilting the box top to bottom.
"OK" and "√" move in opposite directions when tilting the box left to right.
3. Check online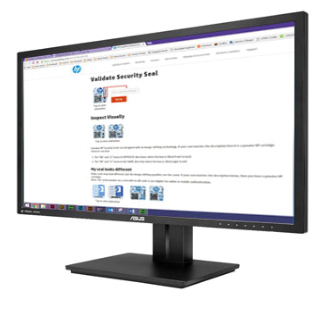 To validate, visit hp.com/go/ok and enter the serial number from the security label.
Anti-Counterfeit Toner FAQs
What's a QR code?
A QR code is a Quick Response barcode. QR codes can be encoded with text, a URL, or other data and decoded at high-speed by smartphones with built-in cameras. The QR codes on the new HP security seals contain serial numbers to allow quick verification of product authenticity.
When should customers become suspicious that they may have bought counterfeit products?
HP has very high quality standards for all products, including printing supplies. Original HP printing supplies are always delivered new – never refilled or remanufactured – and usually come in unopened, high quality packaging. Therefore, the following indicators might point to counterfeit products:
The print quality of a print cartridge is poor and/or inconsistent.
Printing supplies are delivered in packaging that appears to have been tampered with or the packaging is of poor quality.
Print cartridges are covered with toner dust or ink or they leak inside the printer.
The print cartridge fails – the failure rate of a counterfeit product is extremely high.
The yield of a print cartridge (number of possible printouts) is very low
Are counterfeit print cartridges and remanufactured/refilled print cartridges the same thing?
No. Customers should not confuse counterfeiting with legitimate refilled/remanufactured products, which are sold or offered in such a way that does not confuse or potentially confuse customers into believing they are brand new genuine HP products. An example of a legitimate refilled product would be a product which clearly states "refill" or "remanufactured", which does not misuse the HP logo to give the impression it has been made by HP, but uses a refiller company name; and generally does not misuse the design elements of an original HP print cartridge and its packaging.
View our full our range of anti-counterfeit, Original HP Toner
Save money with HP multipacks

Toner
More toner. More quality. More savings. Dual packs have twice the printing power and greater savings over standard cartridges. Dual Packs are ideal for high-volume printing.
Ink
Combine quality and savings with Original HP Ink Multi-packs. By buying two or more cartridges in one package, you get all the unbeatable quality and reliability you expect, and you save money.
Get the conversation started
Call us for free, no obligation advice
Contact our IT Specialists:
0370 429 3010
View things you need to know
A 2014 Market Strategies International study commissioned by HP. Results based on 206 surveys from HP ServiceOne Partners who have at least 6 months of experience servicing HP monochrome and Color LaserJet printers with HP and non-HP toner cartridges installed, and have done so within the previous 12 months of the study. Study was conducted in 26 countries: UK, IE, FR, DE, IT, LU, AT, CH, BE, PT, ES, SE, RU, UA, PL, HU, CZ, HR, RO, ZA, SA, AE, EG, MA, QA, and TR. For details, see: www.marketstrategies.com/hp/emeaSOPstudy.pdf (PDF, 193KB).
Based on Original HP colour and monochrome All-in-One cartridges and the EP process steps required to print a page.
A SpencerLab 2014 Colour and a 2013 Monochrome Reliability studies for Europe, Middle East and Africa, both commissioned by HP. The colour study compared Original HP color LaserJet cartridges with 5 brands of non-HP cartridges for the HP LaserJet Enterprise 500 Color M551, CE400AX/01A/02A/03A cartridges. For details, see www.spencerlab.com/reports/HP-CLR-Reliability-EMEA-2013.pdf. The monochrome study compared Original HP LaserJet cartridges with 10 brands of non-HP cartridges for the HP LaserJet P2035 and P1102 printers, 05A and 85A cartridges. For details, see www.spencerlab.com/reports/HP-CLR-Reliability-EMEA-2013.pdf
Based on HP internal testing. For full details see hp.com/go/LJclaims or hp.com/go/learnaboutsupplies
The new Tamper Evident Label is available in the following SKUs from April 2014: HP 12A Black LaserJet Toner Cartridge, HP 85A Black LaserJet Toner Cartridge, HP 78A Black LaserJet Toner Cartridge, and HP 05A Black LaserJet Toner Cartridge. For China only: HP 12A Black LaserJet Toner Cartridge, HP 78A Black LaserJet Toner Cartridge, HP 05A Black LaserJet Toner Cartridge, HP 88A Black LaserJet Toner Cartridge.
The HP Mobile Authentication QR code may be read with any standard QR code reader or with the reader included with the HP eSupplies app for iPhone® available at the iTunes App Store. HP eSupplies app is currently available in selected Asia Pacific countries only.
---