HP-scan-solutions

HP Scan Solutions - easy to use, share and digitise
Healthcare providers today need to run more efficiently. You're probably considering every alternative to help your organization stay competitive. Look at how your organization manages paper-based processes to reduce costs, improve patient outcomes, address regulatory compliance guidelines, and improve operational efficiencies. HP Scan solutions will seamlessly integrate into your existing network vastly improving all aspects of scanning.
Get simple productivity for any scanning project.

Automate your workflow with fast and easy HP Scan software.

Turn scans into editable or searchable text.

Enhance, send and store your scanned documents and images.

Use convenient built-in scan shortcuts or customize settings for the jobs you use most often.
What features are available?
Save time and get right to work with a friendly interface
Designed with productivity in mind, HP Scan features an easy-to-use interface that lets you quickly set up and review selected settings, then preview and modify your images before saving the scan. Store scanned files locally, on a network folder, or in the cloud Or, you can easily send scans as an attachment via email. Predefined shortcuts are provided for the most common scanning tasks.
Add value by customizing results
Save scans as PDF, searchable PDF, rich or plain text (RTF or TXT), JPEG, PNG, BMP, or TIFF. Save files just as you want them—automatically adjust brightness, contrast and exposure, erase edges, and remove or smooth background colour and irregularities to get the smallest file size and clear, readable scans. Use powerful image preview and editing tools to view and zoom in on thumbnails to check quality and adjust settings to help ensure optimum results. Embedded optical character recognition (OCR) automatically activates to produce fully editable text or PDF files that allow you to search for text content.
Simplify workflows for maximum productivity
Create new scan profiles (or "shortcuts") for the types of scan jobs you perform most often, with settings such as paper size, resolution, file format, and much more. Name the shortcuts to reflect the type of document, the task being performed, or whatever best meets your needs. Scanned images can be sent to a local or network folder, attached directly to an email, or sent to, Google Drive™, Dropbox, Microsoft® SharePoint®, Microsoft OneDrive or FTP. For one-time or repeated jobs that need specific settings, you can easily modify one of the predefined shortcuts. Just select an existing shortcut and change settings as needed (for example, select black-and-white instead of colour). With just a click of the mouse, you can save the modified shortcut settings, or discard all changes.
Why choose a scanner over a multi-function printer?
With HP's range of scanners and multifunction products (MFP), you can find the hardware scanning solution that fits your organisation. You can implement an efficient and effective document capture workflow based on your needs and activities. MFPs offer device consolidation and good value when scanning is not a priority. Where you have higher scan volumes or advanced workflow needs, you will want to look to a dedicated scanner. See below for our scanner recommendations.
Choose the right scanner for your organisation. We recommend the following scanners for healthcare applications
HP ScanJet Enterprise Flow 5000 S4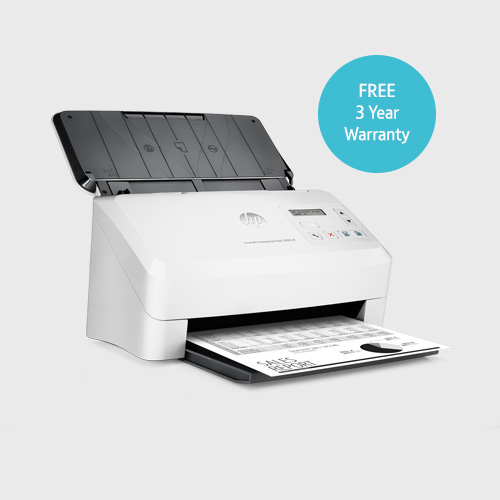 Fast, smooth scanning – even unattended
Peak workflow performance. Smarter scanning.
Professional-grade scanning that helps save time
Learn more
HP ScanJet Enterprise Flow 7000 S3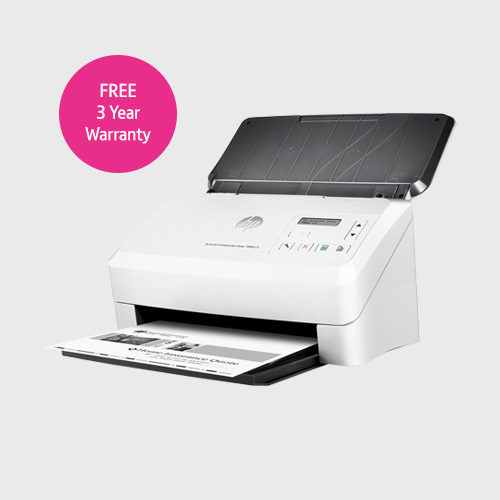 One-pass duplex scanning
7,500-page duty cycle
HP EveryPage, ultrasonic sensor
80-page ADF
Learn more
---