What can HP do for the Healthcare industry?

The major shifts in the healthcare industry today require innovation. Innovation that not only keeps pace with unprecedented levels of change, but that enables healthcare teams to work more efficiently as they adapt to this change. HP has developed innovative solutions that give healthcare providers the opportunity to achieve efficiencies in key workflows.
These innovative solutions can help save tangible costs and improve patient outcomes with improved security, patient privacy, and patient safety.
In addition, people expect more from healthcare providers than of any other type of public institution. As understandable as this is, it places hospitals under tremendous pressure. How can you meet your targets in a real world of budget constraints, staff shortages, and higher patient expectations? HP multi-function devices can help:
Increase security with user authentication and secure hard disks.

Increase patient privacy with optional pull printing solutions.

Improve patient safety with colour wristband patient identification printing solutions.

Save valuable desk space with a single multi-function device that can do the work of a scanner, copier, printer, fax, thermal printer, and addressograph machine—all-in-one.
HP Prescription Printing
Learn more
HP Scan Solutions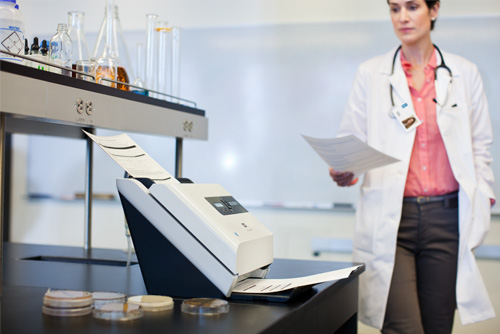 Learn more
Get the conversation started
Call us for free, no obligation advice
---
---