HP Print
Print more engaging classroom materials, save cash and go greener
With fastest first-page-out times, duplex print speeds, lowest energy consumption and the smallest footprint around, HP are industry leaders.
Even better, you can introduce breakthrough technology to your campus without breaking your budget. Market leading first-page-out time - no other printer in its class will start its print jobs as quick. Allow your educators and students to print articles of interest from virtually anywhere, ready for their next class or lecture, with HP ePrint!

From creating vibrant classroom materials, providing supplemental learning activities, or running the morning attendance report, HP provides the print solutions you need to keep your learning environment on track. Ideal for the education environment, HP printers are fast-performing, unmatched in colour quality, secure, and more eco-friendly with innovations in Original HP toner. Also consider multi-function devices from HP, so your teachers and students can easily scan, print, fax, and copy all on one device.
---
Experience HP printers that are faster, more energy-efficient, more productive, and more affordable. HP PageWide technology has improved performance in every way, increasing productivity and efficiency in schools.

HP PageWide Technology is HP's most environmentally friendly way to print. So you can increase efficiency and save your school's resources. New HP PageWide printers are able to print across an entire page in a single pass. This provides you with the ultimate combination of value, speed and up to 84% less energy consumption than lasers. HP's innovative technology means you can reallocate some of your consumables budget elsewhere, without worrying about your printing.
How do you get such professional quality prints from HP PageWide?
With 42,240 nozzles, PageWide printers produce ink drops with uniform drop weight, speed, and trajectory
Each of your CYMK colours have 10,560 nozzles that are nominally overlapped, resulting in 1,200 nozzles-per-inch native resolution
The pigment inks by HP provide controlled ink-paper interaction. So you get high black and colour saturation, dark, sharp, crisp text, and rapid drying
Precise paper motion enables dependable print quality and reliable operation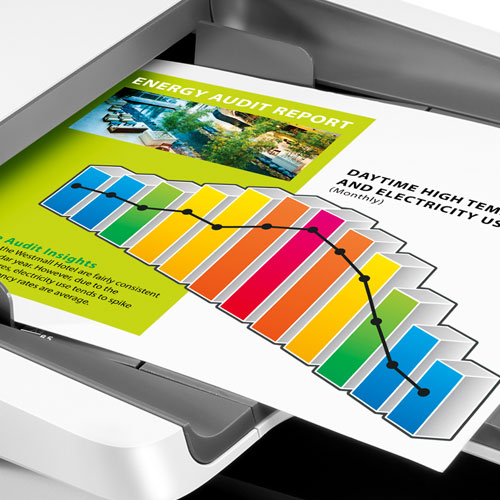 Enhance learning outcomes with HP
Your staff can create and print vibrant classroom materials.
Your educators can turn their amazing ideas into learning tools and activities.
Your administrators can run their daily reports and attendance checks with ease.
With HP you can...
Improve your campus carbon footprint, 53% less energy than its predecessor42
Reclaim desk space, 40% smaller than its predecessor43
Get more for your money, 33% more pages from cartridges than its predecessor44
Cut paper usage by 50% with automatic two-sided printing
Discover all the benefits of an HP LaserJet with JetIntelligence technology Original HP Toner cartridges with JetIntelligence are specially engineered to help your printer print faster and print up to 33% more prints.45 Give everyone: More pages, Performance, Protection.
---
LaserJet or OfficeJet for your academic organisation?
Today's printers are designed to reduce your print and power costs, protect the environment and give you fast, great quality print. Even better, technology advancements from HP have enabled all kinds of new features that can help make your staff and students more productive.

Accomplish more with your time. Enable your staff and students to rely on easy mobile printing options. Get more pages, performance and protection. Meet every day IT challenges head-on.
LaserJet
Improve your carbon footprint 53% less energy than its predecessor46
Reclaim your desk space 40% smaller than its predecessor47
Get more for your money 33% more pages from cartridges than predecessor48
OfficeJet
Laser performance, half the cost 50% saving on printing costs49
Get your prints faster x2 the speed of colour lasers50
Help the environment 50% less energy used than colour lasers51
---
Save money with HP multipacks
Toner
More toner. More quality. More savings.
Dual packs have twice the printing power and greater savings over standard cartridges. Dual Packs are ideal for high-volume printing.
Ink
Combine quality and savings with Original HP Ink Multi-packs. By buying two or more cartridges in one package, you get all the unbeatable quality and reliability you expect, and you save money.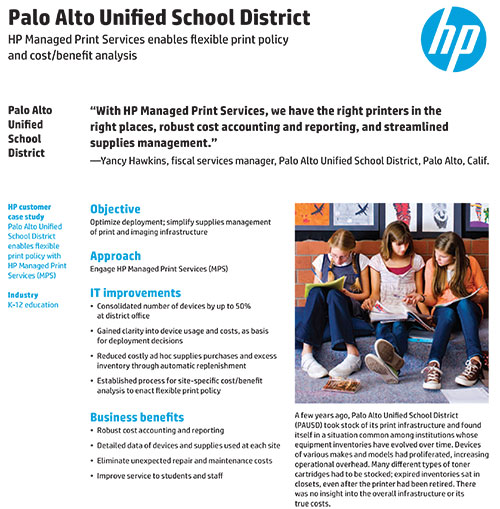 Managed print from HP enabled Palo Alto Unified School District (PAUSD) to improve service and create robust cost reporting - case study
HP Sprout was deployed by the Pioneer Center for Human Services, a multi-location non-profit organisation in Illinois in the United States. The aim was to use the technology of the Sprout to enhance learning, to improve their people's life skills and to help them with work-related opportunities.PAUSD is a collection of 12 elementary schools, 3 middle schools, 2 high school and 5 additional sites close in California, USA. They turned to HP for a solution when they realised their print infrastructure could do with a refresh and they needed a much better way to manage their consumables. With HP Managed Print Services, they've been able to consolidate their devices, reduce consumables costs and better understand the print needs of staff and students so deployment decisions are more informed.
With HP Managed Print Services, we have the right printers in the right places and streamlined supplies management.
Yancy Hawkins | Fiscal Services manager | Palo Alto Unified School District
---
Get the conversation started
Call us for free, no obligation advice
Contact our Education IT Specialists:
0870 429 3020
btbd.publicsector@bt.com
View things you need to know
Based on HP internal testing of top three leading competitors' first page out from sleep mode and duplex print speed completed 8/2015. Subject to device settings. Actual results may vary. For details see http://www.hp.com/go/Ljclaims.
As of September 2014, based on the HP PageWide Technology printhead life cycle assessment (LCA) results. LCA of HP PageWide Technology printhead commissioned by HP and conducted by PE International.
As of September 2014, based on the HP PageWide Technology printhead life cycle assessment (LCA) results. LCA of HP PageWide Technology printhead commissioned by HP and conducted by PE International.
As of September 2014, based on the HP PageWide Technology printhead life cycle assessment (LCA) results. LCA of HP PageWide Technology printhead commissioned by HP and conducted by PE International.
Comparison based on manufacturer's published specifications of fastest available colour mode of all colour business A4 printers €300–€1,249 and A4 MFPs €400–€3,000 as of November 2015, excluding products with 1% or lower market share using market share as reported by IDC as of Q3 2015. HP PageWide speeds based on General Office mode and exclude first page. HP PageWide speeds based on General Office mode and exclude first page. Learn more at hp.com/go/printerspeeds.
Based on comparisons made by HP against previous generations of HP LaserJets. Comparison based on manufacturers' published specifications of fastest available colour mode (as of March 2012) and includes colour laser MFPs less than $1000 USD and colour laser printers less than $800 USD as of March 2012, based on market share as reported by IDC as of Q1 2012 and HP internal testing of printer in fastest available colour mode (sample 4-page category documents tested from ISO24734). For more information, see www.hp.com/go/printerspeeds.
Based on comparisons made by HP against previous generations of HP LaserJets. Comparison based on manufacturers' published specifications of fastest available colour mode (as of March 2012) and includes colour laser MFPs less than $1000 USD and colour laser printers less than $800 USD as of March 2012, based on market share as reported by IDC as of Q1 2012 and HP internal testing of printer in fastest available colour mode (sample 4-page category documents tested from ISO24734). For more information, see www.hp.com/go/printerspeeds.
Based on comparisons made by HP against previous generations of HP LaserJets. Comparison based on manufacturers' published specifications of fastest available colour mode (as of March 2012) and includes colour laser MFPs less than $1000 USD and colour laser printers less than $800 USD as of March 2012, based on market share as reported by IDC as of Q1 2012 and HP internal testing of printer in fastest available colour mode (sample 4-page category documents tested from ISO24734). For more information, see www.hp.com/go/printerspeeds.
Based on comparisons made by HP against previous generations of HP LaserJets. Comparison based on manufacturers' published specifications of fastest available colour mode (as of March 2012) and includes colour laser MFPs less than $1000 USD and colour laser printers less than $800 USD as of March 2012, based on market share as reported by IDC as of Q1 2012 and HP internal testing of printer in fastest available colour mode (sample 4-page category documents tested from ISO24734). For more information, see www.hp.com/go/printerspeeds.
Based on comparisons made by HP against previous generations of HP LaserJets.
Based on comparisons made by HP against previous generations of HP LaserJets.
Based on comparisons made by HP against previous generations of HP LaserJets.
Cost per page (CPP) claim is based on the majority of colour laser MFPs less than $1000 USD and colour laser printers less than $800 USD as of March 2012, ISO yield based on continuous printing in default mode based on market share as reported by IDC as of Q1 2012. CPP comparisons for laser supplies are based on published specifications of the manufacturers' highest-capacity cartridges. CPP based on HP 970XL/971XL ink cartridges' estimated street price. For more information, see HP.com
Comparison based on manufacturers' published specifications of fastest available colour mode (as of March 2012) and includes colour laser MFPs less than $1000 USD and colour laser printers less than $800 USD as of March 2012, based on market share as reported by IDC as of Q1 2012 and HP internal testing of printer in fastest available colour mode (sample 4-page category documents tested from ISO24734). For more information, see HP.com
Majority of colour laser printers less than $800 USD and colour laser MFPs less than $1000 as of August 2012. Energy use based on HP and HP commissioned third-party testing. Actual cost and energy usage may vary. For details, see HP.com
A 2014 Market Strategies International study commissioned by HP. Results based on 206 surveys from HP ServiceOne Partners who have at least 6 months of experience servicing HP monochrome and Color LaserJet printers with HP and non-HP toner cartridges installed, and have done so within the previous 12 months of the study. Study was conducted in 26 countries: UK, IE, FR, DE, IT, LU, AT, CH, BE, PT, ES, SE, RU, UA, PL, HU, CZ, HR, RO, ZA, SA, AE, EG, MA, QA, and TR. For details, see: www.marketstrategies.com/hp/emeaSOPstudy.pdf (PDF, 193KB).
Based on Original HP colour and monochrome All-in-One cartridges and the EP process steps required to print a page.
A SpencerLab 2014 Colour and a 2013 Monochrome Reliability studies for Europe, Middle East and Africa, both commissioned by HP. The colour study compared Original HP color LaserJet cartridges with 5 brands of non-HP cartridges for the HP LaserJet Enterprise 500 Color M551, CE400AX/01A/02A/03A cartridges. For details, see www.spencerlab.com/reports/HP-CLR-Reliability-EMEA-2013.pdf. The monochrome study compared Original HP LaserJet cartridges with 10 brands of non-HP cartridges for the HP LaserJet P2035 and P1102 printers, 05A and 85A cartridges. For details, see www.spencerlab.com/reports/HP-CLR-Reliability-EMEA-2013.pdf
---