How can you prepare students for a career that doesn't exist yet?
The chances are that a huge proportion of the jobs that we do today will have changed significantly, or won't exist in 10 years – Microsoft and The Future Laboratory published a report which stated that 65% of today's students will be doing jobs that don't exist yet!1
And the truth is, whilst there may be lots of speculation and predictions floating around, we actually have no idea what these jobs will be. Think back 10 years, did you ever think that creating videos on YouTube and being a professional 'Vlogger' would be a career? Not many did.
Therefore, in order to readily prepare your students, you need to teach them skills which will allow them to adapt to whatever the future has in store, or that sets them apart as unique. In turn, making them more likely to be future_proof.
What do we think we know?
As mentioned earlier, there are no guarantees that what we 'think we know' will come into fruition, as no one can predict the future (yet). But there have been tonnes of research on the subject and in-depth analyses of social, technology, and workplace trends which have been used to derive some assumptions about the future. A leading Futurist listed the following as things which will drive changes in the future workplace.2
Our lives and work lives will be swept by regular waves of change

More work will involve international connections and citizenship will gain a more global focus

More work will be multidisciplinary, involving new kinds of collaboration

Far more jobs will mean working intimately with digital machines and intelligent systems
More elements of work and life will use visual communications

The world will be battling sustainability issues in ways that will affect most workers

Citizenship responsibilities will only grow more complicated as societies confront new issues
Working for longer in an ever changing workplace
Many of these changes and shifts allude to the fact that the students of today will most likely have several different types of jobs throughout their lifetime.
In fact, it's been predicted that workers will stay in jobs for an average of only 4.4 years and will change jobs more than 10 times3. Due to increasing lifespans, your students will be in their workplace longer and so will see more significant shifts happening, especially in technology. All of this means that students are going to have to be multi-skilled and have the ability to understand concepts across multiple disciplines. The ideal worker of the next decade will have to be "T-shaped".
They'll bring deep understanding in one field, but have the capacity to converse in the language of broader disciplines4. Ask yourself, who's going to stand the test of time more… the student who excelled in maths and went on to be an engineer? Or the student who excelled in maths, but also had a deep understanding of science and went on to be a space engineer?
Lifelong learning
In order to succeed in this ever changing landscape, your students are going to have to learn new skills later in their life. They'll have to stay relevant to the world around them and therefore will probably have to reinvent themselves over and over again. This means that instead of just teaching them learning materials and how to use tools that are useful now, we should help students know how to learn and understand new tools themselves – a skill that will endure. In order to do this, you need to create within them a love of learning. Students need to want to learn independently in order to succeed in a job market which requires lifelong learning.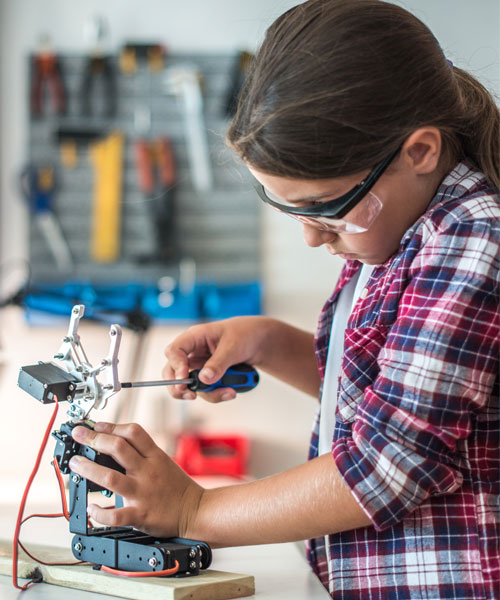 To achieve this, you need to make learning challenging, interesting, rewarding and fun for your students. In turn students will take more control of their own learning in their own time. There are many tools available to help you create this type of learning environment - 1:1 devices, collaboration tools through e-boards and apps, e-learning – including gamification of e-learning, virtual, augmented and mixed realities – all of these will help you transform learning into something that's exciting and that your students actually want to do.
Prioritising skills which are robot-proof
One thing we're certain of in the future, is the rise of smart machines and systems. With this rise, many jobs will be replaced by 'robots' that can do the job quicker and more efficiently. But in turn this opens up a whole new job market where people can either create, or work with these smart machines to make them better.
It's these jobs which will stand the test of time, alongside jobs which focus on creativity, or social and empathy skills; these are skills which robots will not be able to replicate any time soon – put simply, your students will do best to find 'robot-proof' lines of work.
The rapid advances in machine learning means we'll be able to answer many more challenging problems than before. This will result in much more emphasis being placed on 'problem solving' as it will be a human task to decide what questions to ask and how to approach and tackle them. Prof Rose Luckin, an expert on AI and education at University College London claims that the school curriculum needs to be brought up to date to reflect that we now live in a world where problem-solving and creativity are becoming more important assets. "Regurgitating knowledge is something that you can automate very easily, that doesn't prepare children for the modern workforce."5
The Institute for the Future identified six drivers or disruptive shifts that will reshape the workplace and the skills needed to adapt to them:6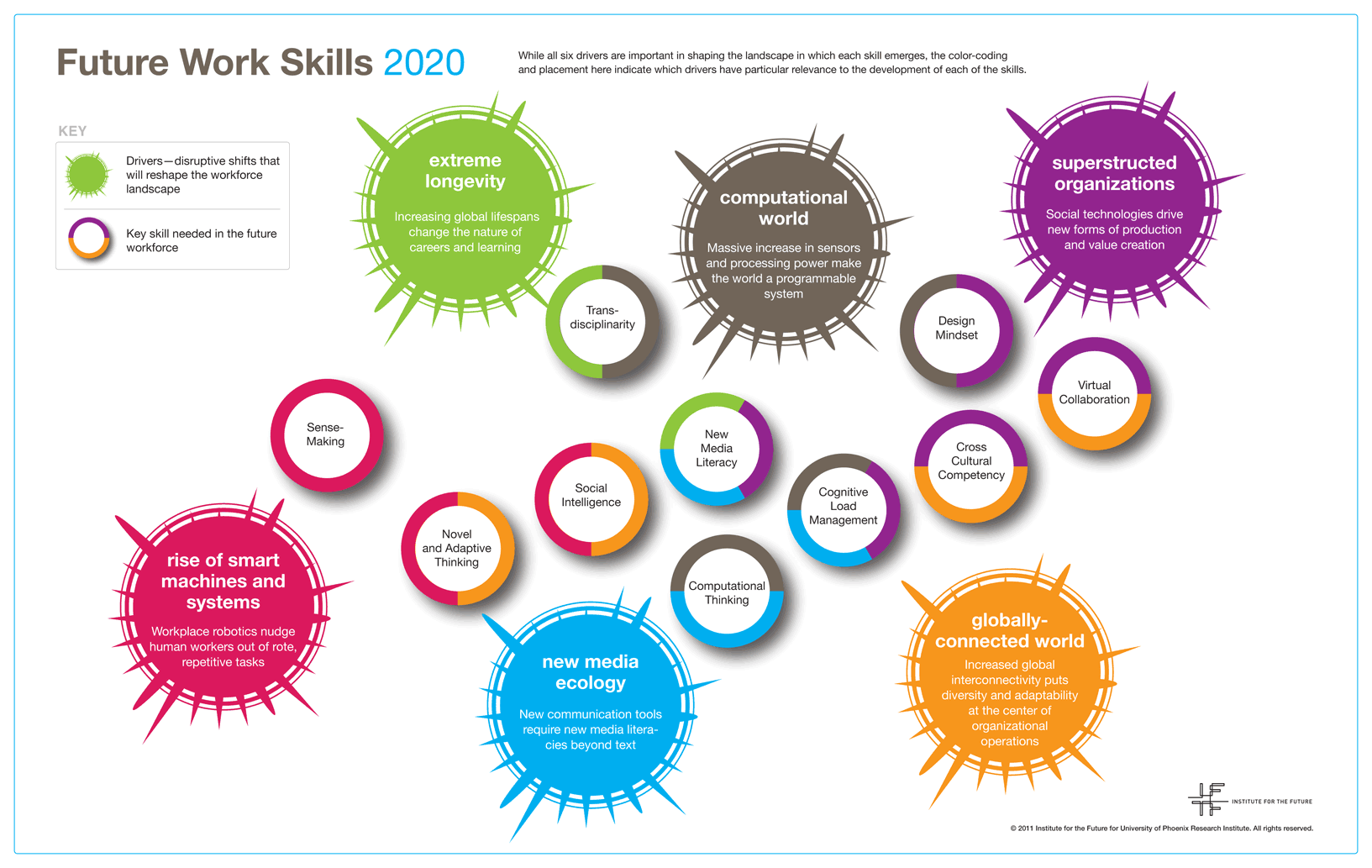 How can you use cutting edge technology to future_proof your pupils?
Which brands are providing these technologies?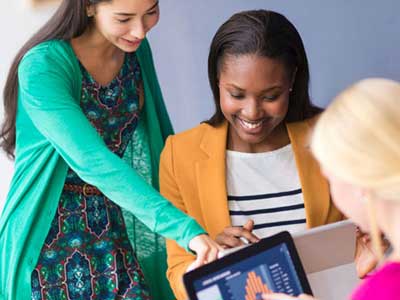 Microsoft
Windows 10 provides your students with the tools to work across devices seamlessly. It delivers a personalised experience that adapts to the way your students' learn - touch, type or write. Learning tools within the Windows app store, and Office 365 Education, help your students to better collaborate and communicate. Their learning can be taken beyond the classroom with tools that assist with flipped learning models; allowing students to watch videos, answer quizzes, take part in courses and e-learning, and much more - outside of school hours...
Microsoft has a huge focus on getting students more engaged with, and excited by their learning through coding. They have numerous resources which can help you to teach the computing curriculum, making it fun and interactive for your students. Getting your students hands-on with coding now, will teach them future_proof skills which will help them to design and interact with smart technology and machines in the future...
Learn more about Office365
Learn more about Coding with Microsoft
---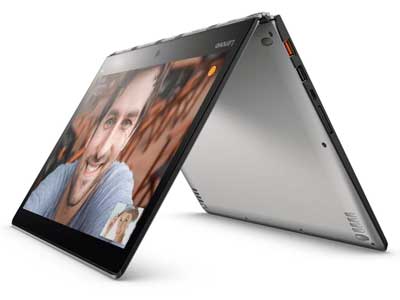 Lenovo
Lenovo 2-in-1 devices provide your students with the best of both worlds; the power of a laptop and the diversity of a tablet – in one single, versatile device. They offer your students the flexibility to use in any learning environment – at home, in the classroom, and elsewhere in school. Lenovo build devices that fit the way students want and need to create and consume educational content, complete assignments, and collaborate with their teachers and other students...
Intuitive multi-touch screens that make it easy for students to complete assignments and navigate applications
Digital pens which enable students to jot down notes and draw diagrams on their touch enabled devices
Laptops which are powerful enough to easily replace desktops
Battery life which lasts the full school day, and beyond, without the need for recharge
Devices which are easily connected and cloud-ready
Rugged durability in all devices, making them long lasting even in a demanding school environment
Desktop PC which are capable of running powerful and advanced programmes
Powerful devices which are VR ready
Learn more
---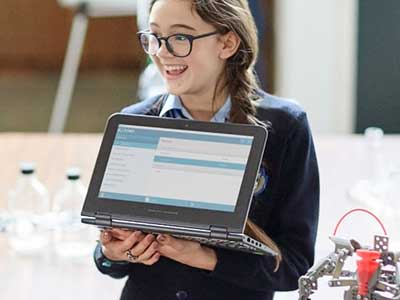 HP
HP provide a huge portfolio of devices to help get your students future ready. Their 2-in-1 and convertible devices run on either Windows or Chromebook and range from low end, entry level devices, to high end devices with higher specs and a higher price point. They even provide Education Edition models which are built exclusively for education, with education specific features. HP is passionate about creating flexible, collaborative and personal learning devices for your students. They combine the best of classroom learning and digital content, in order to help you to create a blended learning environment and a love of learning.
Their HP School Pack 2.0 is an out-of-the-box solution of digital tools and content designed for collaboration, aligning standards, and personalised learning. This comes pre-installed on all Windows 10 HP devices, and includes tools to help you get hands on with STEM learning and bring STEM lessons to life. It even includes Codecademy, so that your students can learn coding and programming at their own pace.

In addition to flexible computing devices, HP also provide future_proof technology with their 3D and VR ready devices such as the HP Sprout, HP ZVR and powerful VR ready desktop PCs. They even have VR enabled headsets coming very soon, so watch this space!
Learn more
---
---
This report from Microsoft and The Future Laboratory identifies and investigates ten exciting, inspiring and astounding jobs which could be available in the workplace of the future. From creating new and exciting virtual worlds, to negotiating and building ethical relationships between us and robots.

Visit Microsoft's Futureproof Yourself webpage for a more in-depth look at what some of these jobs might entail.
More info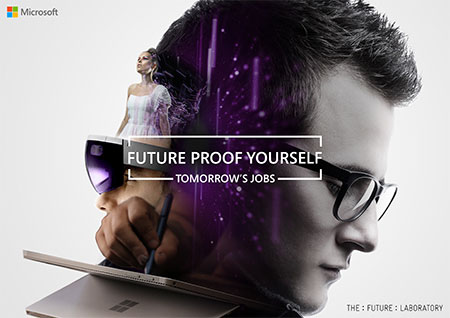 ---
Watch how Microsoft is empowering the students of today to create the world of tomorrow, with modern tools that are intuitive and collaborative:
Get the conversation started
Contact our Education IT Specialists for free, no obligation advice:

0870 429 3020
btbd.publicsector@bt.com

Or complete the form below and we'll call you back
Thank you, your form has been submitted successfully
Sorry, there is an issue with your form submission
Please see the below errors
Sorry, this form has failed to submit
---
---