Open up a world of possibilities for students with special educational needs or disabilities (SEND)
Assistive technology can be used to increase, maintain, or improve the capabilities of students with SEND

As educators, it's your duty to provide all your students with the same opportunities and access to a broad and balanced curriculum throughout their education. Therefore, removing any potential difficulties or barriers to learning for students with SEND is crucial. At BT Business Direct, we're passionate about helping you to achieve this through the use of assistive technology. Together we can strive to close the attainment gap between those pupils with SEND and those without.
Assistive technology refers to any device, piece of equipment or system that helps you bypass, work around or compensate for a pupil's specific learning difficulties.
Modern technology has provided us with the tools we need to ensure that students with SEND are able to participate and engage in lessons and activities alongside the rest of their peers. In many cases, enabling them to study the full curriculum, where previously this would've been impossible.
---
14.4% of students in the UK have SEN or Disabilities1
11.6% have a statement of SEN or an Education, Health and Care plan1
Whilst 42% of the UK pupil population are on SEND provisions1
---
How can assistive technology improve the happiness and wellbeing of students with SEND?
Allows them to become more self-reliant and increase their sense of independence
Helps them to communicate with teachers and classmates and become more involved with lessons
Boosts their confidence and helps them to expand their comfort zone
Helps them master life skills which lead to a more successful transition into adulthood
Assistive technology will not cure or eliminate learning difficulties, but it can be used to benefit students massively and improve their capabilities. Technology can be used to assist all students with SEND; from those with mild learning difficulties, to those with more extreme disabilities which affect their ability to communicate. When managing your SEND provision, there are four broad areas of need which you have to plan and provide support for:
Communication and interaction

How can this affect your students?
Students with speech, language and communication needs (SLCN) will most likely have difficulty in communicating with both teachers and fellow students. They may struggle saying what they want to, understanding what's being said to them, or understanding the social aspects of communication. All students with SLCN will have their own unique capabilities and needs and these may change over time. You need to make it as easy as possible for them to find a means of communicating that's comfortable for them. Whether that's improving their own speech, finding a way of better understanding social cues, or using an augmentative and alternate method of communicating (AAC). AAC refers to all the ways a person uses to communicate. This includes pointing, signing, eye gaze, finger spelling, facial expressions, and assistive technology.
How can assistive technology help?
Text to speech software can be used for students who struggle to communicate with speech, but are more capable of typing. Personal touch-screen devices such as tablets and laptops can facilitate this form of communication, making it as easy as possible for them to type what they want to say using big, clear, on-screen keyboards and word prediction software. With interactive touch-screen devices like whiteboards and tablets, you can help students better understand what they are being taught by giving them visuals to relate to the words. You can attach and move pictures to illustrate words and sentences, and point to the letters as you speak them, and students can do the same vice versa. Attaching visuals is particularly useful for students who struggle to understand the meaning behind words or find it difficult to explain themselves clearly, and for those whose first language is not English.
---
Cognition and learning
How can this affect your students?
Support for cognition and learning difficulties may be required when students are learning at a slower pace than their peers. Learning difficulties refers to a wide range of needs. Students in your class may range from having moderate learning difficulties (MLD), severe learning difficulties (SLD), associated difficulties with mobility and communication, through to profound and multiple learning difficulties (PMLD). This means that the level of support you need to give them will differ widely according to their level of need. For instance, students with mild learning difficulties may need only a little assistance in order to study the full curriculum, whereas students with more severe learning difficulties are likely to need more in-depth support in all areas of the curriculum.
How can assistive technology help?
For students with mild cognitive and learning difficulties, hearing a word as it's being read can help with comprehension, so using text to speech software can really improve their reading level. Students who have difficulties processing text may benefit from visual reinforcement when reading. Interactive storybooks provide valuable context that can help students relate to the text. Students who have impairments in writing will benefit from using voice recognition and dictation software. This will allow them to speak their notes and assignments, which will then be translated into text for them. Many teachers shy away from allowing students access to the internet, as they know that for some students who have trouble with staying focused, it can be a sensory overload. You can combat this by providing them with a restricted view in which you can remove any clutter, allowing students to navigate the web without the worry of distractions.
---
Social, emotion, and mental health

How can this affect your students?
You may find that in your classes you have students who suffer from a wide range of social and emotional difficulties which manifest themselves in many ways. This can result in them becoming withdrawn or isolated, as well as displaying challenging, disruptive or disturbing behaviour. These behaviours may reflect underlying mental health difficulties such as anxiety or depression. Other explanations may be that they have disorders such as attention deficit disorder, attention deficit hyperactive disorder or attachment disorder. For students who display these types of behaviours, you need to ensure that they're kept calm as much as possible and that you have measures in place for if they start to become anxious or upset. Sometimes, simply allowing these students to remove themselves from the situation can help, and once they feel calm enough they can be reintroduced to the lesson. But other times more intensive measures are needed.
How can assistive technology help?
When students are starting to become disruptive or stressed during collaborative lessons, equipping them with headphones can stop them from becoming more anxious by blocking out the noise of their peers. Setting them a task to watch a video, listen to a recording, or take part in an online lesson will ensure they work individually but stay productive. With immersive technology you can encourage participation from those students who are more withdrawn or isolated, and grow their confidence in group situations. You might find that some students find it unsettling when something new or unexpected is introduced to their day. With 1:1 devices you can plan into their calendar exactly what they're doing at each time of the day. Providing personal devices can also give students a more private way of communicating to their teacher any difficulties they're having. In addition, progress and behaviour patterns can be easily tracked and monitored, allowing teachers to be more prepared and to develop prevention techniques based on the student's triggers.
---
Sensory and/or physical disabilities
How can this affect your students?
Students may have a disability which prevents or hinders them from being able to take part in the full curriculum alongside their peers. These difficulties can be age related and may fluctuate over time. Many students with vision impairment (VI), hearing impairment (HI), multi-sensory impairment (MSI), or a physical disability (PD) will require specialist support and/or specialist equipment to aid their learning. Enabling them to access all of the learning and opportunities available to their peers. This area of need is probably the one where advancements in technology have made the most difference, both in improving the quality of life and in education. Assisting students to study alongside their peers and to be able to get involved in tasks which they never would've been able to do otherwise. Assistive technology can also in some cases, remove or reduce the need for the student to have their own teaching assistant or dictation buddy. This can all improve both the happiness and mental well-being of these students, helping them to become more independent and transform the most disengaged student into a fully involved member of your class. 
How can assistive technology help?
For students who have sensory aversion or difficulties with their motor skills, they might find that they struggle with the physical aspects of using a pen and paper. Providing them with a computer gives these students an alternate method of producing their work. A PC can also help students who don't have the full use of their hands. Speech recognition software allows them to dictate their work aloud and have it written up for them, meaning that they can produce the same work as the rest of their class. This software, alongside text to speech software can also help students who have sensory disabilities which affect their vision, such as blindness. For visually impaired students, personalised computer screens with features like screen magnification and inverted colours can help them to see their work better. For students with sensory disabilities which affect their hearing, using headphones permits them to listen to an audio clip as loud as they need to, without disturbing the rest of the class. They can also adjust the sound so that it is louder in a particular ear if they are harder of hearing in one of their ears. Immersive and touch-screen technology can be used to engage all of a student's senses, as well as improve motor skills such as hand eye coordination.
Take a look at our SEND festivals
Register for a festival with a theme that supports your students. Run with Tablet Academy facilitators and creators, take the opportunity to learn more about adopting technology in a way that drives your learning environment's IT strategy. Discover how with BT's help, you can use transformational tech to support your students and improve learning outcomes. Register your interest in similar events. We'll contact you when there's one in your area.
Register
There are also lots of apps available to assist students with all different types of SEND with their learning. Here are our top picks:
This highly visual app provides a great, fun way for students with learning disabilities to get engaged with learning mental maths; they simply feed the fish and move up levels by solving maths questions. Pinching the bubbles together adds the numbers inside whilst also working on fine motor skills.
A unique app revolving around providing lessons for students with special needs. They contain picture flash cards designed to teach vocabulary and new forms of self-expression. You can create and access custom exercises and lessons, automatically track performance, and carry your entire library collection with you at all times.
This app has been created by a certified Speech-Language Pathologist to help students with language impairments speak and pronounce their sounds more clearly. It enables practice at letter, word and sentence level, to improve pronunciation and phonological awareness - with over 1,000 target words.
This symbol-supported communication app can provide a voice for your students who have difficulty speaking. Students are able to express themselves by selecting their vocabulary through symbols and then choosing from a variety of text to speech voices to read it out loud.
This recording app allows students who find it difficult to concentrate, or who have difficulty recalling what they've learnt, to record their lessons and their notes. They can then listen back as many times as they need to, in order for them to fully understand and learn the information.
This Cognitive Behavioural Therapy app provides a tool to manage students' anxiety, stress and depression. They can track their mood throughout the school day and add notes for why they felt that way. Audio exercises such as breathing techniques are also included to help calm them in moments of stress or anxiety.
---
Our top recommended brands which provide assistive technology for SEND students
Apple
Built-in solutions that break down and remove barriers to learning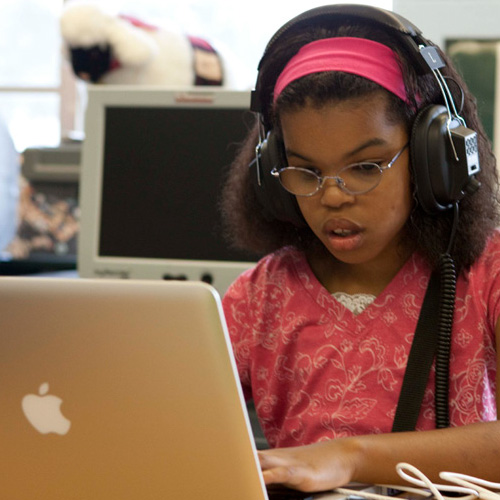 Apple products are designed to help every student succeed – regardless of physical or learning disability. With no hidden costs, Apple includes assistive technology in all of their products as standard features. In addition to this, they also provide access to a full collection of special education apps, developed specifically to help students with SEND study alongside their peers.
Find out more
Microsoft
Technology that is accessible to everyone - of all ages and abilities
Microsoft is committed to developing products and services that are accessible to everyone and help all students to realise their full potential. They provide accessibility options included in all of their products, which allow you to personalise the user experience based on your particular student. Enabling them to access, process and present information in ways that are the easiest and most efficient for their learning needs.
Find out more
Get the conversation started
Contact our Education IT Specialists for free, no obligation advice:

0370 429 3020
btbd.publicsector@bt.com

Or complete the form below and we'll call you back
Thank you, your form has been submitted successfully
Sorry, there is an issue with your form submission
Please see the below errors
Sorry, this form has failed to submit
---
---