Mac-family
Mac
Powering the best work everywhere.

Not only is Mac built with the best hardware and software, it's also designed to work seamlessly with iPhone and iPad. Productivity has also never been better on Mac with a new generation of apps for business. And macOS makes it easy for IT to deploy at scale.
Mac family
Powering the best work everywhere
No matter which Mac you choose, you get incredible performance and capability with the world's most advanced OS - all so you can do your best work.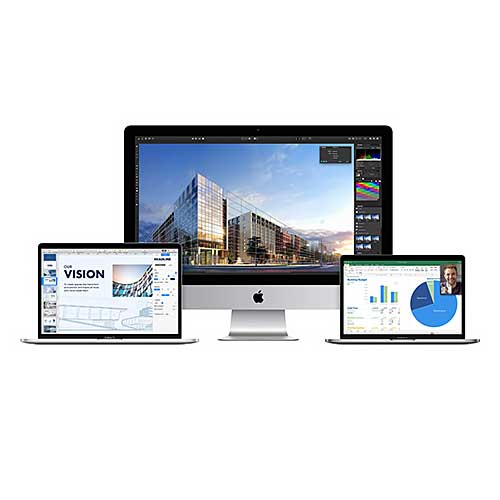 From powerful processors to brilliant displays to high-performance storage - Mac is built to enhance your productivity. Power through your work with speed and ease thanks to built-in software that makes every Mac a pleasure to use. Craft presentations. Crunch numbers. Communicate and collaborate with your team. Interface with key business systems. Work seamlessly with your iPhone and iPad. Every Mac is engineered for the way you want to work.
More info
New ways for employees to get work done.
With macOS and the built-in apps that come with every Mac, employees can be productive straightaway — on a platform they love. And with innovative new types of business apps, employees are able to collaborate in new ways and manage their work like never before.
A breath of fresh air for IT.
With easy integration into corporate environments, organisations everywhere are managing Mac much like they manage iPhone and iPad. macOS is designed with advanced security technologies that work together to constantly monitor, encrypt and update each Mac. And with an over-the-air deployment process, IT can automatically configure each Mac out of the box.
At Business Direct we offer a range of services for your Mac solution, including: DEP, MDM, finance and more. Over 15,000 organisations are already using Business Direct to enhance the way they work. All this experience means BT really understands the challenges that you face – and how Apple solutions can help to overcome them.
More info
Get the conversation started on your Apple solution
Call our team of Apple experts
0370 429 3010
---