Same great products, packaged for Business
Microsoft's full line of products for business — from webcams and headsets to keyboards and mice — are designed to work seamlessly with Microsoft software and help save you money, increase productivity, and improve employee comfort.
Webcams & Headsets
Microsoft's LifeCam webcams and Lifechat headsets are part of a Unified Communications approach that helps you save on travel costs and communicate more clearly. With Microsoft Lync it takes just one click to make a call, and another to add video.
Webcams
Click to view full range of Microsoft Webcams >
Headsets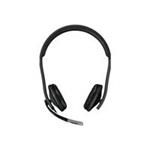 Click to view full range of Microsoft Headsets>
Mice
The right mouse for business becomes part of your hand. You won't want to work without it. Choose from many options and experience a mouse that delivers comfort and precise control all day long.
Click to view full range of Microsoft Mice >
Keyboards & Desktop Sets
Improve employee comfort, productivity and health with ergonomically influenced designs.
Click to view full range of Microsoft Keyboards & Desktop Sets >

Love your laptop computer but hate using the trackpad when away from a traditional desk? Now, you can use a mouse on more surfaces than ever before with Microsoft BlueTrack Technology.1
Exciting, exceptional accuracy
Use a mouse with BlueTrack Technology that outperforms laser and optical mice. The large, blue beam, combined with an image sensor and pixel geometry designed by Microsoft, generates a high-contrast picture of the surface that allows exceptional tracking accuracy.
Track on just about anything
Navigate your computer by using a BlueTrack Technology mouse on a picnic table, your living room floor, the armrest of a lobby chair, or even your pant leg. With BlueTrack Technology, you can use the mouse on almost any type of surface.
Stronger sensitivity
See that blue light coming from under the mouse? The BlueTrack Technology light beam is more than four times larger than the average laser beam used in other laser mice, so you can point, click, and scroll with precision, no matter where you are.
A selection of Microsoft products that use BlueTrack technology
1 BlueTrack Technology does not work on clear glass or mirrored surfaces.