Journey to Microsoft Teams with Jabra
Your journey from Skype for Business to Microsoft Teams starts here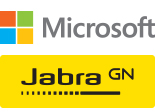 Microsoft Teams is replacing Skype for Business – helping businesses all over the world to collaborate more effectively and turbo-charge productivity. Jabra solutions are a critical component of the journey to adoption. Jabra Skype for Business certified devices are supported in Microsoft Teams. This means you can use call controls on your Jabra devices such as mute, unmute, answer, and volume up or down.
Do more with Microsoft teams
Microsoft Teams is the hub for teamwork that brings together all the collaboration and communications capabilities using the full breadth and depth of Office 365. Collaborate, meet, and share in a more open, fluid, and modern workspace.
Chat
In teams you can add flavour to your chats with emoji, GIFs and memes and even convert a chat into an audio or video call. In addition, Teams offers persistent chat, so you can find and resume any conversation.
Collaboration
In Teams, an @mention is like a tap on the shoulder, the perfect way to get someone's attention in a channel conversation or chat.
Meetings
Audio conferencing in Office 365 allows participants to join your Teams meetings from any telephone.
Calling
Join calls and meetings with Teams. Initiate, receive or join 1:1 calls and scheduled meetings with team members or others outside your organisation.
Mobile
In Teams, you can now use your computer and phone together as companions in online meetings to present live mobile video, photos, your mobile screen, remote control PowerPoint, and even seamlessly move your meeting between devices.
Your journey to Microsoft teams with Jabra
Here's how one business is getting the most out of the transition to teams with brilliant sound and a great user experience.
Jabra offer a full range of superior sound solutions that significantly increase the benefits of adopting Microsoft Teams. For the full range, visit our Jabra store
Get in touch
0370 429 3020
Get in touch with one of our IT Specialists who'll help with your sales enquiry
Leave us your details and one of our IT Specialists will call you back
Handy phone and email contact details for key teams
For the Jabra solution that's right for you, speak to your IT Specialist: 0370 429 3010