Samsung Store
Slim bezel, ultra-lightweight design (up to 2.28 kg / 5.02 lbs)
Anti-reflective HD LED display with an anti- mirror effect
Battery Life Plus - up to 6.5 hours battery life. With an extended battery life of up to 6.5 hours on a single charge
Anti-aging battery technology - keeps up to 80% of its original capacity for up to 1,000 recharges
Fast start technology
Optimised Intel ® Core ™ processor
NVIDIA ® OptimusTM graphics card*
Easy Migration
Full-size, high quality island keyboard with numeric keypad
Scratch-resistant and anti-fingerprint surface
* Factory option
Samsung Series 3 Notebooks
Exceptional quality combined with essential features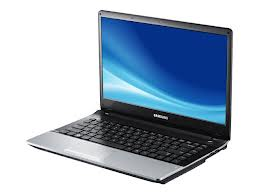 Slim and ultra-lightweight, for maximum portability, the Series 3 is the perfect mobile work base.
Stylish and durable in design it features an anti-reflective HD LED display to produce sharp, bold images, even outside. Speed up your work with fast start technology so no time is wasted. Designed for ultimate usability, the Series 3 combines reliability, value and long lasting performance.
Products available in the Series 3 range...
---
Intel ® Pentium ® Dual Core processor
Greater efficiency to reduce power costs
Space saving compact design
Handy centralised ports for convenience in connection
Includes wired keyboard and mouse
Samsung Series 3 All in Ones
Ultimate small business solution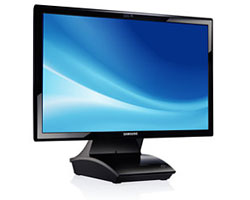 Streamlined for your convenience, the Samsung All-in-One is perfect for small businesses.
The sleek, compact design combined with the ultimate user experience makes an impressive feature of any reception as well as an ideal desktop replacement.
Products available in the Series 3 All in One range...
---
Duracase Pro chassis with a solid metal hinge, spill-resistant keyboard and anti-shock HDD
PowerPlus Battery lasts up to 3x longer than a typical battery
SuperBright LED display technology and anti- reflective screen
Intel ® Core ™™ processor technology
NVIDIA or Intel HD graphics card
Built-in security
Comfort Ergo-Plus keyboard with a larger touchpad and integrated TrackPoint
Integrated docking station connecto
* Factory option
Samsung Series 4 Notebooks
Reliable performance, usability and solid protection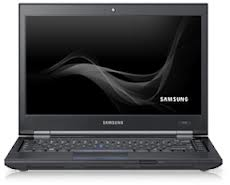 Engineered for superior usability and performance, the Series 4 transforms the working day.
Enjoy increased performance with the next-generation Intel ™ Processor and work longer on the move with the PowerPlus battery. The ergonomic, responsive keyboard a much larger touchpad offers ultimate ease of use. Your eyes will also benefit thanks to a 40% brighter than conventional, anti-reflective display. The series 4 is expertly engineered to streamline your working day.
Products available in the Series 4 range...
---
Portable, thin design -(14.9 ~ 17.6mm) and lightweight (1.49kg with SSD / 1.52kg with HDD)
Ultra large capacity HDD (up to 500GB) and up to 8GB of upgradable memory
Battery Life Plus - up to 6.5 hours battery life. With an extended battery life of up to 6.5 hours on a single charge
Samsung Fast Solutions
BatteryLife Plus technology
Full HDMI port and VGA adapter
Intel ® Core ™™ processor technology
Samsung Series 5 Notebooks
Performance and portability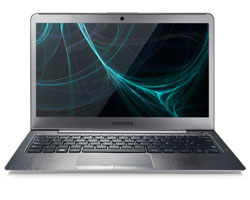 Ultra-light, ultra-thin and ultra-sleek, the Series 5 is designed for enhanced mobility.
Sophisticated and durable, this notebook boasts a high capacity hard drive, fast start up time and long battery life to increase efficiency. Enjoy sharp images, anytime and anywhere with the HD anti-reflective SuperBright screen which is 50% brighter, minimising eye strain. From ultra-fast USB, to a full size memory card reader, you have all the ports that you need to get things done on the move.
Products available in the Series 5 range...
---
Full Windows 8 Pro Experience with TPM
Intel Atom ™ Processor for PC performance
Detachable clamshell experience with full keyboard
Magnetic form factor for flexible Laptop to Tablet mode
S-Pen included for note annotationy
Wi-Fi and Optional 4G/3G/LTE connectivity
Samsung Series 5 ATIV
Desktop Replacement for an Optimised Experience
Flexible and highly efficient, the ATIV Smart PC combines the versatility of a tablet with the processing power of a PC.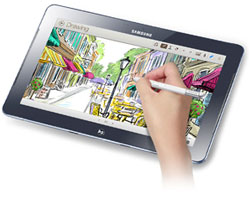 Extremely thin and light the ATIV Smart PC is perfect for business users on the move. Experience a powerful Windows 8 working environment and a host of easy to use input devices for maximum productivity. It features a full sized keyboard and touchpad, so simply attach and you've got the heavy-duty performance, compatibility and creative capability of a notebook.
Products available in the Series 5 ATIV range...
---
ExpressCache ™ technology
NVIDIA ® GeForce ® GT 640M Graphics, Optimus ™
DirectX ® 11 evolved technology
BatteryLife Plus
Third-generation quad-core Intel ® Core ™ processor
Anti-reflective screen
Samsung Series 7 Notebooks
Extremely light. Supremely durable. Ultra-fast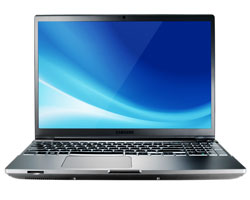 Ultra-fast and super durable the Series 7 is the perfect solution for a mobile, multi-tasking workplace.
Work efficiently on the go with ExpressCache ™ technology and the latest Intel ® Core ™ processor. The anti-reflective screen produces stunning, clear images even outdoors. Enjoy an enhanced viewing experience in high-definition video and stereoscopic 3D. It's powerful, elegant, durable and able to run multiple applications simultaneously for added best-in-class performance wherever you go.
Products available in the Series 3 range...
---
S pen - 1024 level pressure sensitivity suitable for professional designers
S note - the most advanced note-taking
Advanced 10-finger multi-touch capability
5 megapixel S Camera
AllShare Play feature
Windows ® 8 operating system
USB 3.0, uHDMI and Micro SD card ports
Full sized keyboard and touchpad
Samsung Series 7 ATIV
More than a tablet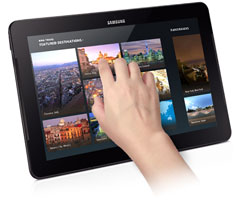 Uniting the power of a notebook with the convenience of tablet, The Samsung ATIV smart PC provides outstanding mobility and performance.
This powerful workhorse, with the latest generation Intel ® Core ™ i5 Processor, can cope with even the most demanding applications and delivers faster web browsing and heavy multi-tasking. It features the S pen that emulates the real experience of writing and drawing with total accuracy, whilst the advanced 10-finger multi-touch capability provides a technological leap in interactivity.
Products available in the Series 7 ATIV range...
---
Up to only 0.6 inch (14.9mm) deep and weighs up to just 3.48lbs (1.58kg)
Samsung Fast Solutions - starts up within in as few as 1.4 seconds, boots up in just 9.3 seconds
Solid State Drive (SSD)
SuperBright LED display technology and anti- reflective screen
Auto-Adjusting Screen Brightness and Backlit Keyboard
Large multi-touch clickpad
MaxScreen technology
Optimised Intel ® Core ™ processor
Samsung Series 9 Notebooks
A Premium Notebook for Executive Use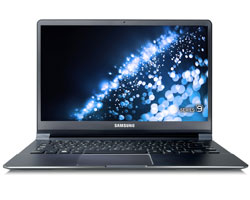 The Samsung Series 9 is amazingly thin, slim and lightweight, thanks to its super-slim components, like the memory, fan and LCD panel.
Designed with a broad range of innovative features including the latest Intel ® Core ™ processor and SuperBright Plus display, the Series 9 is crafted to meet the rigorous demands of mobile business users.
Products available in the Series 9 range...