Enterprise Mobility + Security (EMS)
Protect your business in a mobile world
Microsoft Enterprise Mobility + Security (EMS) and Intune
Microsoft's EMS solution is designed to provide businesses with enhanced security, productivity, and peace of mind, reassuring customers that business data is traveling safely with employees wherever they go. EMS works well with Office 365 to ensure that businesses of all sizes can stay secure and improve employee productivity working with a mobile strategy.
Mobile security with EMS

Risks employees face without a secure mobility strategy in place:
Business anywhere – Whether in the office, café, train, or home – employees work from anywhere, but how safe is their device? Anybody could be peeking over their shoulder, tapping into the untrusted and poorly-secured WIFI, or planning to steal their device.
Stolen laptop – An employee's device has been stolen containing sensitive customer data and, despite asking employees to choose strong passwords, 123Password is not going to stop unwanted hands getting into their data.
Cybercrime - Employees might think small businesses could slip under the radar of organised cybercrime, but it's not true. Small businesses have valuable data and many clients who do work with them will need reassurance that their data is protected and safe
Control – Who has access to what? Applications and data within businesses needs to be managed. But how do you do this without disrupting productivity?
Contractors – For some small businesses, the ability to spin up teams remotely and work from any location has created a huge competitive advantage. What happens when employees no longer need that contractor, but they still have access to all your business applications and data?
Scenario #1
How can you ensure that mobile devices are protected and well-managed?
The sales team at a construction company is always on the go, and they often use personal mobile devices for work. The company wants to ensure company data and apps on employee devices is secure—whether they are using their own mobile phones or company-issued laptops.
Scenario #2
How can you ensure that mobile devices are protected and well-managed?
A holiday resort is using multiple social media and online travel sites to promote their offers, and to stay in touch with travellers. Due to the seasonality of their business, their staff changes a lot during a year, including many interns during high season. All of them require easy access to these websites.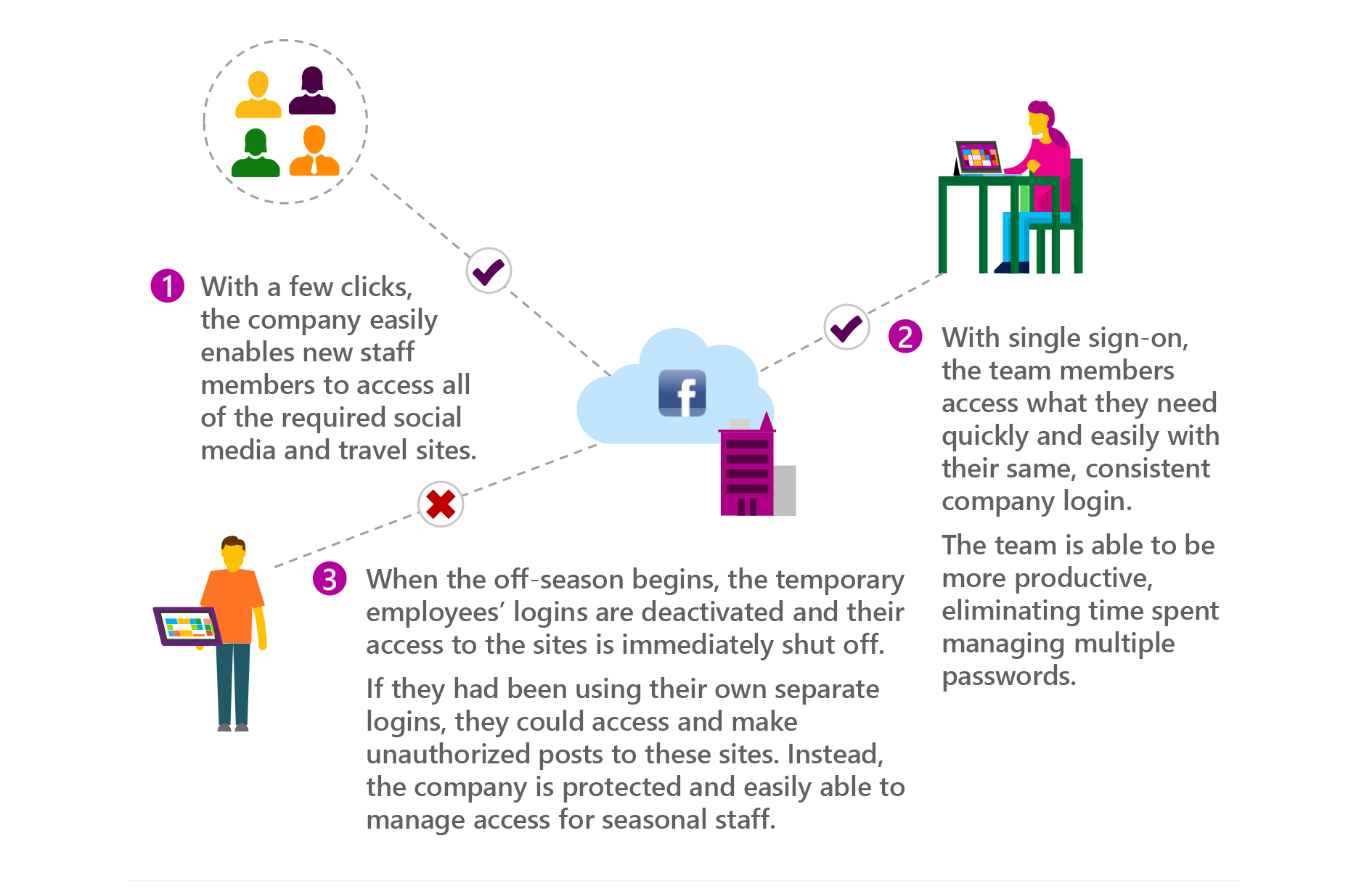 Protect your business in a mobile world:
Protect data on mobile devices for peace of mind that a lost/ stolen device is not a disaster for your business.
Give employees easy, protected access to connect the right people for the right information resources.
Easily manage devices and apps, and get control over the mobile devices and apps your employees use at work.
Protect shared information, and protect your sensitive business information wherever it goes.
Strengthen access security and go beyond the password for added protection.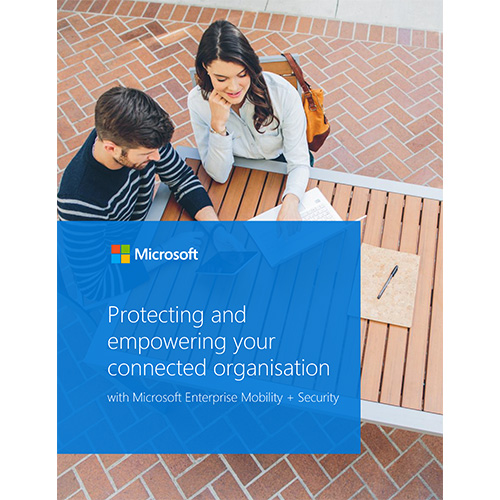 There's a big change happening in IT as companies undergo a digital transformation to mobility and the cloud. This has significant impacts on how IT thinks about security.
What was once largely limited to the confines of an on-premises world now extends to the cloud and myriad mobile devices. Employee interactions with other users, devices, apps and data have become increasingly more complex, generating new blind spots for IT.
Register
Microsoft Intune - Meet your data protection needs while delivering the best user experience
Meet the challenges of digital transformation
With more devices than ever - smartphones, tablets, laptops and PCs - people have an increasing number of options for getting and staying connected. Your people expect the freedom to access their work email and documents from anywhere and on any device and they expect seamless, modern experiences.
A modern approach to mobile productivity - A diverse set of tools for managing your complex mobile environment. Intune's innovative combination of mobile application management and device management options gives you flexibility in how you manage and secure mobile productivity.
The best experiences for IT pros and end-users - deliver the experience your users expect, while providing the security and control IT requires.
Flexibility, choice and scale - delivered from the cloud, Intune meets your immediate needs and adapts to your evolving IT strategy.
Delivering a unified Microsoft vision - Transforming the way enterprise secures mobility productivity.
Delivering a unified Microsoft vision
Microsoft plays a leading role helping organisations take advantage of the digital transformation of business by empowering your people to be more productive and collaborative. Working together with the other solutions in Enterprise Mobility + Security (EMS), Office 365 and Windows 10. Intune is a critical part of Microsoft's vision for a secure productive enterprise.
An essential part of Microsoft EMS - Intune provides device and application management and works seamlessly to deliver cross-EMS capabilities sich as conditional access with Azure Active Directory Premium.
Provide secure access to the best mobile productivity experience - manageability and data protection are built directly into the Office mobile apps your people are most familiar with. Your data stays protected and your people stay productive.
Windows management choice - with the different options in Windows 10, plus Configuration Manager and Intune, you have the flexibility to stage implementation of modern management scenarios while targeting different devices the way that best suits the needs of your organisation.
Flexibility, choice and
scale
With Intune you get flexibility in how you manage mobile productivity. Delivered from the cloud, Intune is a future-proof choice that will solve your needs today and easily scale as they change in the future.
In a complex device landscape, you need choices - every day we face an array of challenges to keep data secure on corporate-owned, employee-owned and foreign-owned devices. Intune offers choices, allowing you to choose whether to use device managment, application management or a combination of the two, depending on your needs.
Partner ready and extensible - Microsoft partnerships are designed to enhance our core functionality by delivering interoperability with popular point solutions that you're using today. The Intune App SDK allows you to easily add mobile application management to your apps for iOS and Android.
Easy to get started and grows with you - Because Intune is built from the cloud, getting started managing apps and devices is quick, easy and affordable. No need to purchase and maintain on premise hardware and software. And Intune is updated automatically, freeing you to focus on what's important.
---
Get the conversation started
Call us for free, no obligation advice
Contact our IT Specialists:
0370 429 3010
---